37 militant suspects among 3,192 held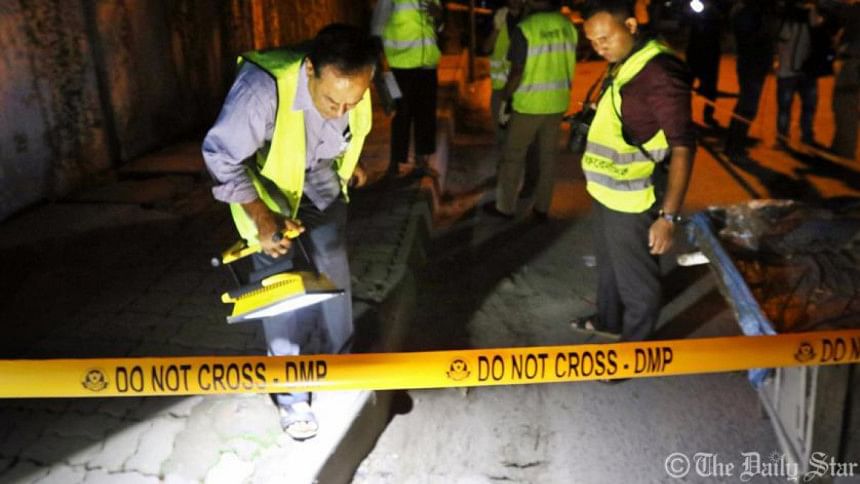 As part of a weeklong special crackdown, police in the first 24 hours arrested as many as 3,192 persons, including 37 suspected militants, from different parts of the country.
Although the nationwide operation beginning early Friday was to deal with militants and other criminals, a handful of BNP-Jamaat activists were among the arrestees, according to police sources in different districts and the parties.
In the wake of a string of targeted killings, especially the gruesome murder of SP Babul Akter's wife Mahmuda Khanam Mitu, the police headquarters at a meeting chaired by Inspector General AKM Shahidul Hoque on Thursday decided to launch the hunt.
Top police officials said suspected militants were behind her murder as Babul Akter led several successful anti-militancy drives that might have enraged terror outfits. Links of Islamist extremists are suspected also in other targeted killings. 
In connection with Mitu's murder, Chittagong Metropolitan Police nabbed a person yesterday.
BNP's Senior Joint Secretary General Rizvi Ahmed claimed law enforcers have arrested over 1,200 people since the special drive began and most of them are leaders and activists of BNP and other opposition parties.
Addressing a press conference yesterday, he alleged that police have indulged in a widespread "arrest trade". He also said cops are mainly nabbing common people and opposition men to extort money ahead of the Eid.
A statement of Jamaat-e-Islami says at least 37 leaders and activists of the party were arrested on Friday night alone. 
According to reports received from our correspondents, at least 1,585 people were arrested across the country yesterday.
Of them, 465 were arrested in Rajshahi division, 126 in Sylhet division and 161 in Barisal division.
The Dhaka Metropolitan Police arrested 58 persons, while police in Cox's Bazar nabbed 62.
About 35 were arrested in Gaibandha, 42 in Jhenidah, 21 in Magura, 35 in Satkhira, 40 in Jamalpur, 12 in Mymensingh, 21 in Netrakona and 66 in Tangail.
Around 65 people were arrested in Kushtia, taking the number of arrestees in the district to 132 since Thursday. Also in the district, 74 suspected Jamaat-Shibir men were arrested in the last two days.
Police officials in a number of districts said many of the arrestees were accused in violence- and arson-related cases.
Nisharul Arif, superintendent of police in Rajshahi, said in the massive hunt they are looking for those involved in militant activities since 2005 and those accused in different criminal cases.
Police in Chittagong district nabbed 376 persons, including at least 100 from the CMP area, reports our correspondent quoting police sources.
Additional Superintendent of Police Rezaul Masud said police held 276 people from different spots under 16 police stations in the district.
CMP Additional Deputy Commissioner Anwar Hossain said 100 more were held from different areas under the CMP.
At least 62 persons were arrested between Friday morning and yesterday morning in Cox's Bazar district, reports our correspondent.
Deputy Commissioner (media) Masudur Rahman of Dhaka Metropolitan Police (DMP) said they nabbed 58 persons, including four suspected militants, in 24 hours since Friday morning and also recovered a foreign-made revolver.
In Rajshahi division, 24 suspected militants and five Jamaat-Shibir men were among those arrested in eight districts yesterday.
Police arrested eight suspected members of Jama'atul Mujahideen Bangladesh (JMB), and an operative of Jagrata Muslim Janata Bangladesh (JMJB) in Rajshahi district, three suspected JMB operatives in Chapainawabganj, 11 JMB operatives in Bogra and another JMB man in Sirajganj.
Arrests were also made in Naogaon, Natore, Pabna and Joypurhat districts of the division.
In Sylhet division, police arrested 24 BNP-Jamaat men.
According to a police headquarters statement, of the 3,192 persons nabbed in the first 24 hours of the combing operation, 27 are members of the banned militant outfit JMB, seven from JMJB and the three are from other militant groups.
The rest 3,155 are mostly accused and wanted in criminal cases. There were arrest warrants on 1,861 of them. Besides, 917 are accused in regular cases, 19 in illegal firearms-related and 358 in narcotics cases.
Police also recovered a gun, 500 grams of gunpowder, 15 crude bombs, 21 Jihadi books and 15 diaries from the arrestees, it says.