Targeted Killings, Attacks
A good initiative to protect people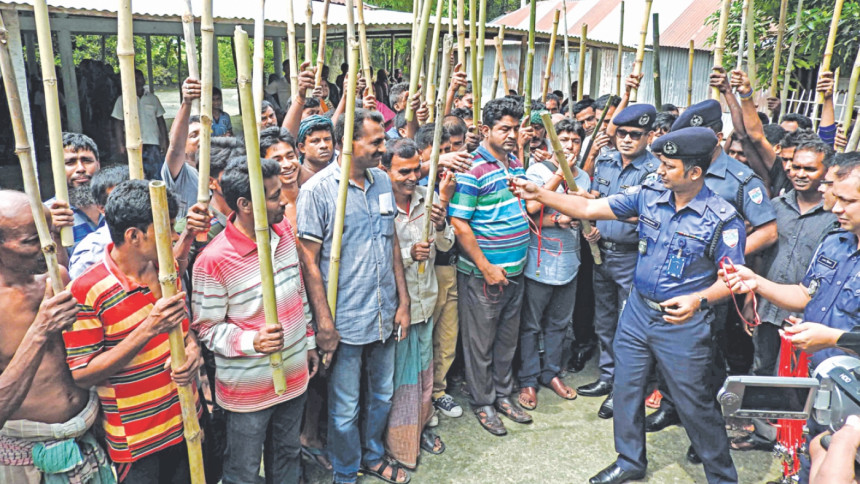 Amid the recent attacks and killings in the country, the superintendent of police in Magura has taken a unique initiative to protect the people in his district.
He is forming "Lathi-Bashi Defence Party" (stick-whistle defence party) in every village of the district to counter the incidents of targeted killings.
On Sunday, SP AKM Ehsan Ullah inaugurated three vigilance teams at Gobindapur, Tengarkhali in Sadar upazila and at Jaria Temple in Sreepur upazila. The team is composed of elected UP members, members of village defence party, social, political and religious leaders, traders, farmers and homemakers.
The Lathi-Bashi team will protect the people from criminals and their targeted killings and attacks, Ehsan told The Daily Star. More such teams would be formed in each village within two or three days, he added.
Members of the group will move together and keep watch on the temples and priests. The police will help them in this regard, he added.
Arun Biswas, headmaster of Bagdanga Secondary School, said it was a good initiative. If such teams are formed and the members do their duties, the villagers would feel safer.
"We will be able to move freely without any hesitation and fear," he said.
Abdul Jalil, a villager of Gobindapur, told this correspondent that they were very happy to see such an innovative step taken by the SP.
Magura Additional SP Trikul Islam, Sadar Police Station's Officer-in-Charge Ajmal Huda, and Sreepur Police Station's Officer-in-Charge Rezaul Islam Reza, among others, were present at the inauguration.