Govt shifting blame on opposition
Fakhrul protests PM's remarks on recent killings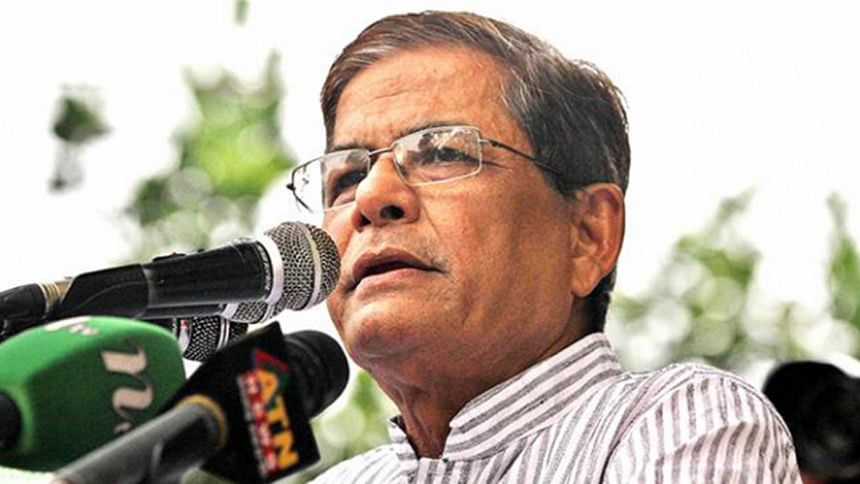 The BNP yesterday came down heavily on Prime Minister Sheikh Hasina for her comment that the government has information on BNP-Jamaat's links with the recent secret killings.
The prime minister's comments are provocative, unexpected and unacceptable, said BNP Secretary General Mirza Fakhrul Islam Alamgir.
Addressing a press conference at the party's Nayapaltan central office, he said that having miserably failed to unearth the clue to the heinous incidents, the prime minister was shifting the blame on the opposition.
Fakhrul alleged that it was not possible to carry out such planned killings and vanish into thin air soon after without the signal from the state's top level, that is, the ruling party.
He also said it is as if the government's main objective is to achieve political mileage by putting the blame on the opposition rather than identifying the real killers.
At a press conference at the Gono Bhaban on Wednesday, Prime Minister Sheikh Hasina hinted that BNP-Jamaat men had links with the recent secret killings and that the government had substantial evidence in that regard.
Referring to the PM's statements, the BNP secretary general said her comments would widen the division in society and encourage militants to be more active and organised.
"The prime minister's comments are tantamount to sparing militancy," he said, adding, "I firmly reject the prime minister's comments and strongly protest and condemn those."
He questioned what effective steps the Awami League government had taken over the last few years to combat militancy and control extremism.
In a statement, Fakhrul asked the PM why she couldn't get information on journalist couple Sagar-Runi murder and the BDR carnage if she had so many pieces of information.
"Why didn't she, as the head of the government, get information before on the Bangladesh Bank reserve heist? People want to know all these," Fakhrul said.
Mentioning the disappearance of BNP leaders M Ilias Ali, Saiful Islam Hiru, Chowdhury Alam and many others, and the abduction and killing of seven people in Narayanganj, Fakhrul said there was a close similarity between the militants and those who did such inhuman acts.