Crackdown on, so is killing
Hindu ashram volunteer hacked to death in Pabna; cops detain around 1,600 on the first day of combing operation to hunt down militants
Targeted killing continues. Even on the first day of a nationwide special crackdown on militancy yesterday, a volunteer of a Hindu monastery was hacked to death, the latest in a spate of such killings in the country.
The victim, Nityaranjan Pandey, 60, was a sebak at Sree Sree Thakur Anukulchandra Satsang ashram in Pabna Sadar upazila.
"Nityaranjan was murdered in a fashion similar to that of the recent killings carried out by suspected Islamist militants," Alamgir Kabir, superintendent of police in Pabna, told The Daily Star.
"We cannot say anything for sure before investigation, but the style of the attack suggests that religious extremisms might have been involved in the incident."
Over the last two years or so, suspected militants have attacked and killed university professors, writers, publishers, secular bloggers, gay rights activists, foreigners, policemen and members of religious minorities, including Shia and Sufi Muslims, Christians and Hindus.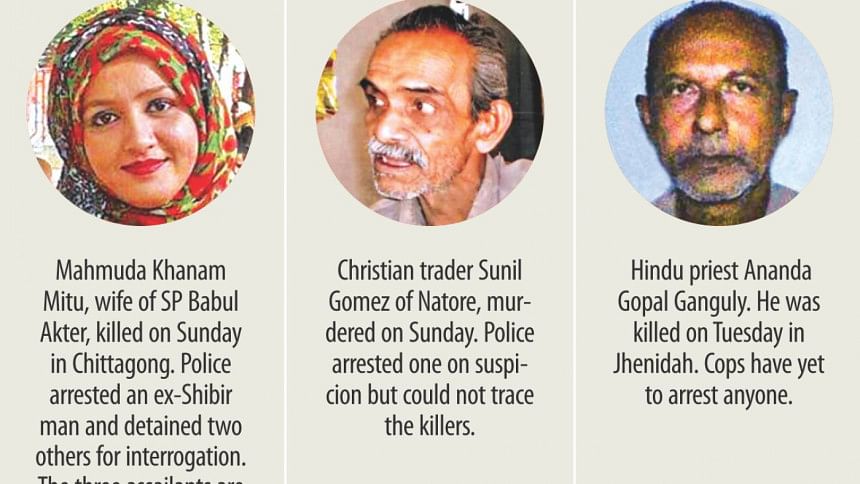 At least eight people have become victims of such killings since May 1. They include a Christian grocer, a Hindu priest and the wife of a police superintendent hailed for successful anti-militancy drives.
In the wake of these targeted killings, the police headquarters at a meeting of top officials with Inspector General of Police AKM Shahidul Hoque in the chair on Thursday decided to launch the countrywide crackdown from early yesterday against militants and other criminals.
On the first day of the week-long drive, around 1,600 people were arrested across the country. Officials in the police headquarters said usually 1,000 to 1,100 people are arrested every day.
Talking about Nityaranjan's murder, the Pabna SP said the investigation is going to be difficult as "there is no single witness."
No group has claimed credit for the killing. 
Nityaranjan was hacked around 5:00am when he was taking his morning walk about half a kilometre away from the ashram, a few yards off the Hemayetpur Mental Hospital, according to police, locals and ashram officials.
"Criminals hacked the victim in the neck, leaving him dead on the spot," said Abdullah Al Hasan, officer-in-charge of Pabna Sadar Police Station.
On information, cops rushed to the spot and sent the body to Pabna Medical College Hospital morgue for autopsy, reports our district correspondent. 
Nityaranjan, who hailed from Gopalganj, had no personal enmity with anybody, Jugol Kishor, acting secretary of the ashram, told The Daily Star.
He used to take a morning walk every day as he was a serious diabetic patient. Sometimes he walked alone, sometimes devotees accompanied him, but nobody was with him this morning, Jugol said.
THE SPECIAL DRIVE
Of those arrested yesterday, 592 were from eight districts under Rangpur range, 248 from five of the eight districts under Rajshahi range, 86 from six districts of Barisal Range, 171 from different districts of Sylhet division, 177 were from Dhaka Metropolitan Police area, 31 from Khulna Metropolitan Police area, 135 in Chittagong district, 67 in Kushtia, 21 in Chuadanga, 35 were from Satkhira, two each from Sherpur and Comilla, report our correspondents.
Information of arrests from many districts under Dhaka, Khulna and Chittagong ranges could not be found as officials from those ranges said they were yet to compile the information. The police headquarters also could not give any statistics about the arrests.
BNP senior joint secretary general Rizvi Ahmed last night told the Daily Star that more than one hundred leaders and activists of the party were arrested countrywide during the crackdown programme.
JMB MEN ARRESTED
Those arrested in the operations include three suspected members of militant outfit Jama'atul Mujahideen Bangladesh (JMB), a number of accused wanted by law enforcers and some Jamaat-Shibir activists.
Police Bureau of Investigation (PBI) of Bogra said they arrested Sagor Ahmed Rony, 30, in Baganbari area of Sherpur municipality of the district early Thursday.
According to police, Sagor is a member of the JMB killing squad.
Son of Kamruzzaman alias Lal Chan of Dasmari village under Motihar upazila of Rajshahi, Sagor worked as an employee at a shop owned by JMB leader Mujahid. Police said Mujahid's motorbike was used for the killing of RU teacher Prof Rezaul Karim Siddiquee.
Sagor had been planning sabotage along with some fellow militants, said Akhter Hossain, additional superintendent of police of PBI, Bogra.
The arrestee is the younger brother of Mamun, a death-row convict in the murder case filed for the killing of two Jhalakathi judges in 2007.
He is also a relative of Fardin, one of the two JMB leaders who, according to police, were killed while making grenades at a house in Sherpur upazila of Bogra. Fardin was a military commander of JMB in Chittagong region, PBI sources said.
Police said they arrested Maruf Hossain Rony, 30, an active member of banned militant outfit JMB, in Sherpur district.
Maruf was nabbed from his home in Nawhata area in the town. He   was an accused in a case filed in connection with the JMB's countrywide synchronised bomb attacks in 2005.
He was later acquitted of the charge.
Police also arrested a listed JMB man from Phulbaria upazila of Mymensingh yesterday evening.
The arrestee is Md Toel, 35, son of Abdul Kashem of Radhakanai village in Phulbaria upazila of the district. He is an accused in two militancy cases filed with Phulbaria Police Station.