Arrest 'trade' goes on
Errant policemen make money from arbitrary detention, release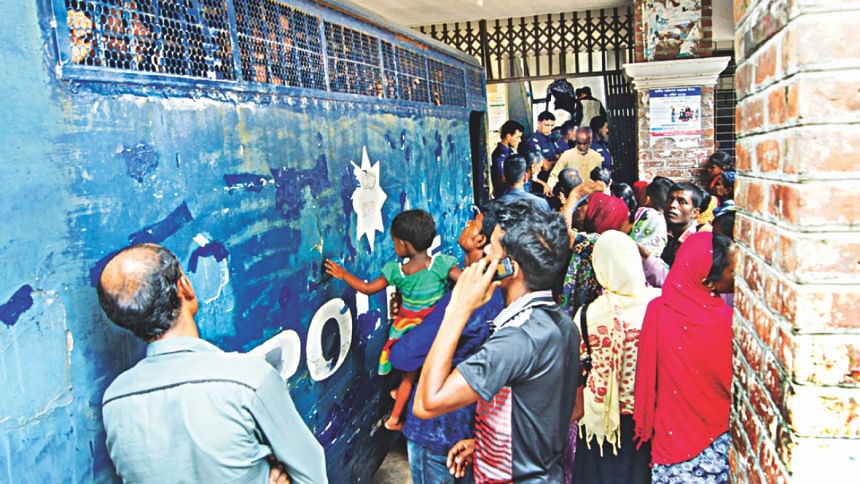 Muhammad Jahidul Islam is an activist of Bangladesh Chhatra League. His entire family strongly supports the Awami League.
Yet, in the case filed against Jahid, Sub-Inspector Anwarul Islam of Khoksa Police Station mentioned that the accused was held on suspicion that he and some others had met to plan subversive activities to topple the government.
Jahid, who appeared in this year's HSC examinations, was returning to his home in Satpakhia village of Khoksa upazila, Kushtia, around 10:30pm on Friday when a team of police detained him.  
Jahid was never accused in any case before this, family members said.
Jahid's father Shafiullah alleged that he gave Tk 10,000 to SI Anwar as the official assured him of pressing a petty charge against his son.
The SI had threatened to file a case against Jahid under the Special Powers Act if he was not paid. In such a case, Jahid would not get bail even in a month, he had warned.
Jahid is another victim of the arrest trade police allegedly indulged in after launching a special crackdown against militants and criminals across the country on Friday.
The weeklong operation came in the wake of a string of targeted killings, especially the murder of SP Babul Akter's wife in Chittagong on June 5. 
As part of the drive, police arrested 11,684 people, including 145 suspected militants, till yesterday morning. As many as 3,155 people, including 26 suspected militants, were nabbed in 24 hours till yesterday morning.
There are allegations that police are releasing many of the arrestees taking money from families.
"We always vote for Awami League. How come my son was involved in a plot to topple the government?" said Jahid's father while talking to our correspondent on the court premises in Kushtia.
Khoksa unit AL General Secretary Torikul Islam too says that Jahid's family members are diehard AL supporters.
Jahid was released on bail granted by the chief judicial magistrate yesterday.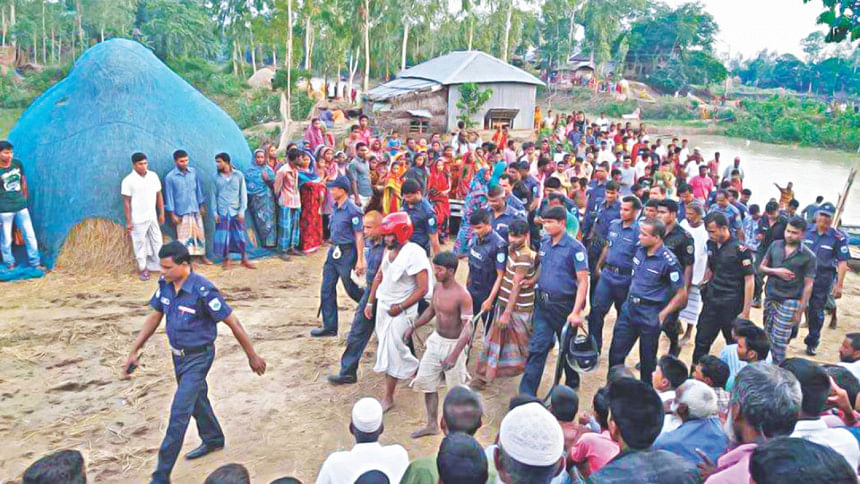 "I have been harassed socially with this incident," said Saifullah, who also spent additional Tk 15,000 for other expenditures related to the case.
SI Anwarul denied receiving any money. "If I had taken the money, Jahidul would have been released already," he added.
Contacted, eminent jurist Shahdeen Malik said he is not surprised at such malpractices relating to arrests.
A rising number of allegations against law enforcers of taking bribe and being involved in extortion were already anticipated, he said.
MONEY BUYS FREEDOM
Nurunnabi, 55, is a utensil shop owner of Bazalia Bazar in Satkania.
He was asked by some cops to go to Satkania Police Station with them to have some talks while returning home after closing the shop around 4:00pm on Monday.
At the police station, he was confined to the lock-up, and his family was asked to come over.
As the family members went to the police station, some officials said Nurunnabi is a Jamaat man and he would be made accused in several cases if Tk 50 thousand is not paid.
"The family members paid the cops accordingly and he was released from police custody," a neighbour of Nurunnabi told The Daily Star, wishing anonymity since he was involved in the whole process.
Contacted over the phone, Nurunnabi said he does not want to go through further harassment by describing what police did to him.
Maulana Sahabuddin, a madrasa teacher in Purangar union under Satkania upazila in Chittagong, was released from custody around two hours after his detention. His family had to pay a hefty amount of money to cops.
Seven policemen picked him up from a tea stall at Purangar Bazar around 10:00pm on Sunday.
Sahabuddin declined to give further details and disclose the amount he gave to police fearing trouble again.
Mahmudul Huq, 30, a hardware store owner at Bazalia Bazar, however, is not fortunate enough to get released although he provided a good amount to police. He, however, was implicated in a simple case which helped him get bail from court.
He said three policemen asked him on Sunday afternoon to go with them to be a witness in a case. As soon as they reached the police station, he was detained in a lock-up and his family was informed.
"When my elder brother came to the police station they said to him that I am a Jamaat man," Mahmudul said, adding that he was never involved in politics and has no case against him.
Sub-Inspector Najmul Hossain of Satkania Police Station admitted that there was no case against Mahmudul. He was arrested on suspicion of taking drugs and creating chaos.
Asked about the amount given to police, Mahmudul said, he does not know as his brother paid it. "I am a small businessman. I want no trouble with police," he added.
Farid Uddin Khandakar, officer-in-charge of Satkania Police Station, however, denied all the allegations, saying that they only arrest the criminals and arrestees were sent to court.
"None was released in exchange for money. This allegation is completely false," he said. 
PRO-BNP MEN ARRESTED
Monirul Islam, 20, a diploma student at Agriculture Training Institute in Ishwardi, Pabna, was picked up on Monday and made accused in a case filed earlier against unnamed persons for stealing an electric transformer in his locality.
Monirul, who is from Debottar village in Atghoria upazila, is the information affairs secretary of Pabna district Jatiyatabadi Chhatra Dal, a pro-BNP student body, according to his elder brother Md Mahabub Alam.
Mahbub claimed his brother is innocent.
Faruk Hossain, officer-in-charge of Atghoria Police Station, said Monirul was arrested as there are specific allegations against him.
Cops of Kawkhali Police Station in Pirojpur arrested Jakir Hossain Jewel, 40, in front of a mosque in his village Keundiya around 8:30pm on Monday when he went there to offer Tarabih prayers.
Jakir, son of late Abdul Mannan, is the organising secretary of ward-6 unit BNP in Kawkhali union.
Although Jakir was arrested at 8:30om on Monday, police in the case mentioned that it was 2:00am yesterday, said his cousin Nizamuddin.
Jewel was shown arrested in a case relating to a ballot paper snatching incident in the first phase of UP polls held on March 22. There are around 200 unnamed accused in the case.
ASI MALEK TRANSFERRED
Meanwhile, ASI Malek of Naldanga Police Station was transferred to Range Reserve Force (RRI), a day after he demanded Tk 20,000 from a union parishad chairman for the release of Milon Hossain, a shop owner in Natore's Naldanga upazila.
Police picked up Milon on Saturday and produced before a court after 48 hours.
Natore SP Shyamal Kumar Mukherjee said Malek was transferred following the allegation and step would be taken if the allegation against him is proved in investigation.
[Shariful Islam wrote the story based on reports from Amanur Aman of Kushtia, Minhaj Uddin of Chittagong, Ahmed Humayun Kabir Tapu of Pabna and Habibur Rahman of Pirojpur]