40 lakh left off Assam citizen list
Deportation fear grows in the Indian state; uproar in Lok Sabha; Mamata asks if it's an oust-Bangalee campaign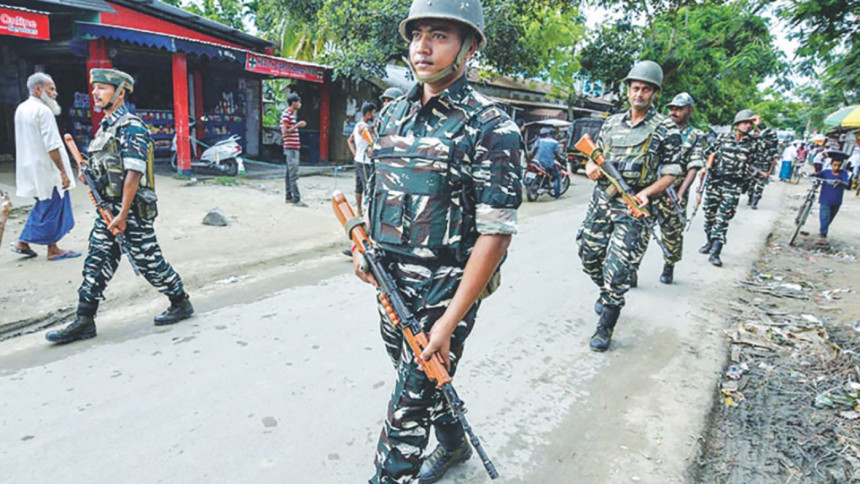 India has stripped 40 lakh people in Assam of citizenship, sparking fears of mass deportations of Muslims from the north-eastern state.
A new draft register of citizens includes only those able to prove they were in Assam before 1971, when millions fled Bangladesh's Liberation War into the state, and their descendants, reports AFP.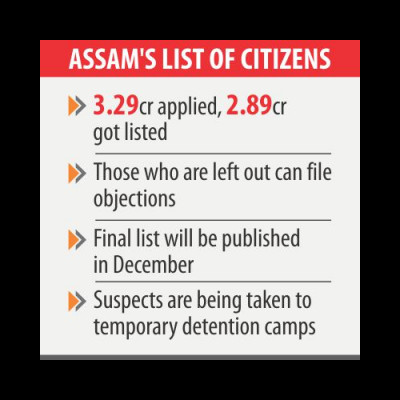 Critics say it is the latest move by the right-wing government of Prime Minister Narendra Modi to bolster India's Hindu majority at the expense of minorities, including Assam's Muslim population, on the pretext of weeding out Bangladeshi migrants. India will hold a national election next year.
The draft of Assam's National Registration of Citizens (NRC) was released amid tight security in Guwahati yesterday, incorporating 2.89 crore people out of 3.29 crore applicants.
It provoked anger among opposition parties.
Bengal Chief Minister Mamata Banerjee accused the ruling BJP of trying to identify and isolate people who do not vote for the BJP. "Are Bangalees being forced out of Assam?" West Bengal's Anandabazar Patrika quoted her yesterday.
"As many as four million Bangalees have been declared non-Indians. Bengal and Assam share borders. Other states would not be as adversely affected as Bengal. Bengal and Bangladesh will be the most affected by this decision," the Hindustan Times quoted her.
"They are turning Indian people into refugees in their own country," she said at a press meet, adding that she would try to meet Home Minister Rajnath Singh. "I am sending a team of party MPs to Assam and if necessary, I will go there too."
Mamata said many people have been identified as foreigners and they are to be sent back.
"There are many children and women among them ... So many Bengalis, Biharis, Hindus, Muslims ... they are very much Indians," she said, terming the move a game plan to evict human beings forcibly and an attempt to isolate them in order to get votes, NDTV reports.
Amid an uproar in Lok Sabha, Home Minister Rajnath Singh asked the opposition not to politicise the "sensitive" issue.
In the face of criticism by Trinamool, Congress, CPI (M) and Samawadi Party that the draft puts "human rights and democratic rights" of people at stake, he said the NRC was being done as per a Supreme Court order.
Unsatisfied with his answers, the opposition walked out of the House.
Registrar General of India Sailesh, while releasing the NRC draft, said no one would be deported or arrested. He said those left out could appeal and the process would begin on August 30 and continue until September 28.
Assam Chief Minister Sabananda Sonowal also said no one would be sent to any detention camp.
But West Bengal's Anandabazar Patrika yesterday reported that the authorities started putting people in temporary detention camps. It said 900 people, including some women and children, were put in six detention camps in Assam.
On Sunday, 52 people who went to Assam between 2012 and 2017, as claimed by the authorities, were sent back to Bangladesh, reported India's Bangla newspaper Dainik Jugasankha.
The NRC is an exercise first carried out in 1951 to enumerate the citizens, their houses and holdings. The list was updated to weed out illegal immigrants as per a provision of the Assam Accord. It was decided that anyone residing illegally in Assam from March 25, 1971 (as per the accord) would be kept out of the list, reported Hindustan Times.
The first draft was published on December 31, 2017, and the names of 1.9 crore of the 3.29 crore applicants were incorporated.
BANGLADESH MUM
Bangladesh has been silent about the developments in Assam but a foreign affairs expert in Dhaka warned that the issue could have "dangerous" implications, like that of the Rohingya crisis.
Former ambassador Humayun Kabir said Bangladesh should not be silent and it should take steps while there was still time.
"As of now, this is an internal matter of India, but Bangladesh government should officially seek information on the situation in Assam," he told The Daily Star.
He said Bangladesh had taken a similar stance when the crisis in Rakhine State was brewing and it had said it was an "internal matter" of Myanmar; but ultimately the burden of over 1.1 million Rohingyas fell on its shoulder.
He believes the government should immediately ask New Delhi to inform Dhaka about developments, India's plans, and how they intend to accommodate the 40 lakh people excluded in the NRC.
International affairs expert Prof Imtiaz Ahmed of Dhaka University, however, said Bangladesh should convey the message to India that the problem in Assam was its own and India itself must resolve it.
He endorsed the stance of the foreign ministry that Bangladesh should not react or take up the issue with India.
A government high official said the issue has not been raised at any official level by India at any stage, so "why would Bangladesh raise it in advance?"
Asked about the latest development, a senior foreign ministry official referred to the July 24 comment of Bangladesh High Commissioner in New Delhi Syed Muazzem Ali. He told reporters in Kolkata that the publication of the draft NRC in Assam was an "internal matter" of India and Bangladesh would not interfere.
The official said the issue could become "bilateral" only after India took it up with Bangladesh.