Europe's dilemma is a stark closer to Asia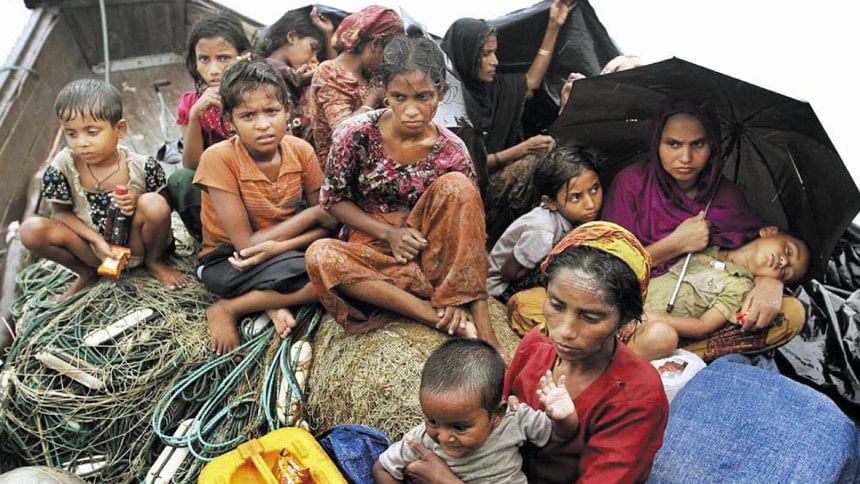 Europe is facing an unprecedented refugee situation as desperate families from war-torn Syria and political crises-ridden Hungary are making a beeline for various countries there, travelling long distances by train, road, rickety boats and even walking to reach a "safe haven". More than 19 million people have been forced to flee their home countries because of war, persecution or oppression and every day another 42,500 join the ever-growing numbers. Most of them look at Europe as their next home.
But no one cares to know about the thousands of refugees who are floating in the Andaman Sea, seeking a place to land in the hope of finding food and jobs. In May and June this year, an estimated 6,000 refugees were helplessly stranded in overcrowded boats in the Andaman Sea without drinking water, food or medical supplies.

When Thailand navy helicopters dropped food packets in the Andaman Sea for a large number of Rohingyas and Bangladeshis abandoned by human traffickers, the refugees jumped into the water to grab them. They had a proper meal after many days as the crew of the ship had escaped because of a crackdown from the Thai government to prevent the entry of illegal Rohingyas. They have striking similarities with Bangladeshis, particularly the Muslims, among the Rohingyas (an ethnic people from Myanmar) by dint of speaking Bengali, dress and food habits. Such Bengali-speaking Rohingyas and Bangladeshis were found stranded not only in the Andaman Sea but also along the coast of Thailand, Malaysia and Indonesia. These "
boat people
", as they are called, are human traffic tricked by agents with promises of a better future in those Southeast Asian countries.
"Bengalis" is a term often used pejoratively by Myanmar officials to describe the Muslim Rohingya minority, 1.3 million of whom live in the predominantly Buddhist country but are not recognised citizens. The widespread persecution of the impoverished community in the Rakhine state of Myanmar is one of the primary causes for the current regional exodus alongside growing numbers trying to escape poverty in neighbouring Bangladesh.
A majority of the Rohingyas have faced the wrath of Myanmar's Buddhist rulers and are fleeing Arakan in the face of persecution. Several thousand Rohingyas died in Arakan and more than 150,000 of them have been herded into the so-called "internally displaced people camps" with no adequate provisions for food, clothing or health care and without future prospects of livelihood. All these reasons have forced the Rohingyas to migrate to neighbouring countries as illegal migrants after abandoning their centuries-old homes in the hope of a better future. In India, more than 130,000 of them live in Andhra Pradesh, West Bengal, Assam, Orissa, Maharashtra, Bihar and even Kashmir.
These Rohingyas are recognised as Bangladeshis and a large number of them have entered the Kashmir valley and married natives, creating ethnic strife. So much so that the Union government recently called a meeting of the chief secretaries of all the states where they reside in large numbers. The government is trying to frame a uniform policy to confront the illegal Rohingyas who enter India.
The Rohingya Muslims are stateless and live in apartheid-like conditions in Rakhine state, denied Myanmarese citizenship. Three years back, 140,000 of them were displaced in deadly clashes with majority Buddhists ans, later, over 100,000 fled overseas, to mainly Thailand, Malaysia and Indonesia. "For years, the Rohingyas have been subjected to maltreatment that has been described by international watchers as 'crimes against humanity' or 'manifest genocide'. Unmindful, the Myanmar government has been completely ignoring these ethnic people who look different and resemble Bangladeshis. The apathy of the Myanmar government has forced them to become floating coffins on the sea," says Maji-Ul- Haque, a former Foreign Service official.
Bangladesh, which created problems by flooding India with its citizens, is now facing the music as millions have migrated to its shores. The Bangladesh Bureau of Statistics even launched a headcount of such Rohingyas, who live in five districts bordering India. Several years ago,
the USA had taken the initiative of accepting Rohingyas and even resettling them
in other "third countries" that include Canada, Australia, the UK, Ireland, New Zealand, Sweden and Norway. In what then that 309 Rohingyas went to Canada, 242 to Australia, 190 to the UK, 82 to Ireland, 56 to New Zealand, 19 to Sweden, 14 to the USA and four to Norway. But the process, which started in 2006, has now been stalled. The USA initiated the move again but Australia has refused to take them as this would further encourage illegal migration of the "boat people".
"The Australians now feel that by giving asylum to such Rohingyas it would be committing a grave mistake. If they are provided refugee status, it would encourage more such illegal migrants," says Muhammed Zameer, a former Bangladesh ambassador.
In Bangladesh, there is a documented case load of 32,713 Rohingya refugees, which the authorities want interested "third countries" to adopt. But as they are uneducated, most countries find it difficult to resettle them. They can only be accepted as labourers, sweepers or cleaners, at best. Gambia being an Islamic nation has offered to take the Rohingyas as they are "Muslim brethren" and Gambians feel they cannot turn a blind eye to Muslims starving. The Philippines has signalled that it is ready to take in thousands of migrants stranded on Asia's seas, thus becoming the first country to announce such a move. It is a signatory to the UN Refugee Convention and the government has taken this stand on emotional lines as, being a Catholic nation, it feels that serving suffering humanity is a noble cause. The Philippines' stand is laudable but it has also clarified that genuine asylum seekers need to be sorted from those who are simply looking for greener pastures.
Bangladesh's state minister for home affairs Asaduzzaman Khan clarified that
the majority of boat people are Rohingyas
, while the Myanmar government has countered the claim by saying they are Bangladeshis. The Bangladesh government feel threatened with a large influx of Rohingyas, who, in turn, feel that since Bangladesh has a Muslim majority they could fit into the system more easily. But to prevent the Rohingyas from entering Bangladesh, the government has decided to set up border operation posts in the Chittagong Hill Tracts.
A sizeable number of Bangladesh's fortune seekers, who earn handsomely by working abroad, are held in high esteem socially and serve as an inspiration to many starving people back home. Prime Minister Sheikh Hasina was critical of the large number of "boat people" who were abandoned in the Andaman Sea by human traffickers. She said, "It is not true that everybody is moving this way because of want. Many people put their lives in danger to go abroad by illegal means, chasing the proverbial 'golden deer'."
The official document –
The Bangladeshi Country Report 2012 on human trafficking
— says that continuing disparities and discriminations against marginalised communities, especially women, are some of the major reasons for the forced migrations. Factors like poverty, unemployment, illiteracy, lack of awareness, gender discrimination, gender-based violence, natural disasters and lack of proper implementation of the 2012 Prevention of Human Trafficking Act are also to blame.
Thousands of Rohingyas and Bangladeshis chose this path of entering the so-called "land of opportunities". But does the European situation differ from the one in the Andaman Sea? EU members have all ratified the Refugee Convention on top of the 1967 Protocol, while Bangladesh, Indonesia, Malaysia, Myanmar and Thailand have not. Similarly, the 1954 Convention Relating to the Status of Stateless Persons was signed by most EU member-states, but again not by those Asian countries. Both conventions are relevant to the situation of the Rohingyas as they fit the definition of "stateless persons" and "refugees". Even though the Asian countries involved have not signed the conventions, most of the rights enshrined in them have become part of international human rights law and should, therefore, be respected by all countries. This means that countries cannot, for example, force refugees to return to their country of origin or discriminate against stateless persons in their immigration policies.
The recent experience of refugees trying to reach Europe and also the case of the Rohingyas and Bangladeshis warrant a relook at the UN's old conventions and protocols.
Copyright: The Statesman/ANN