Russia air strikes 'kill 200 Syria civilians'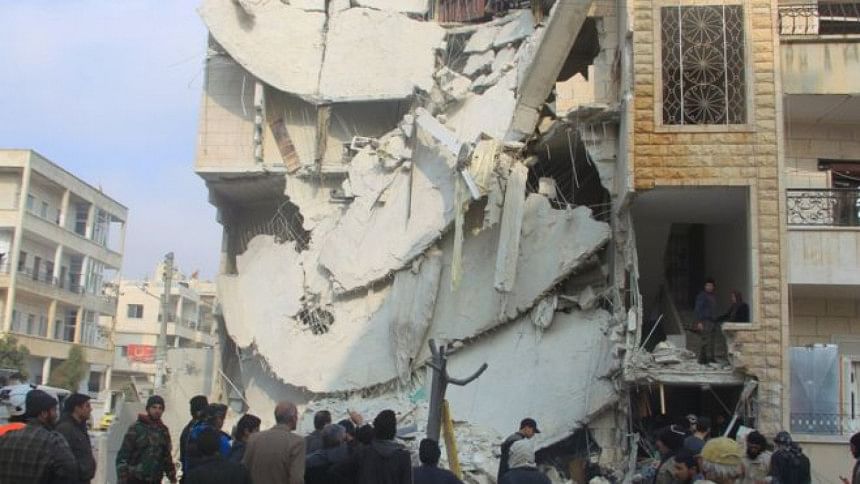 At least 200 civilians have been killed in Russian air strikes in Syria, an Amnesty International report says, quoting witnesses and activists.
It says it "researched remotely" more than 25 Russian attacks in five areas between 30 September and 29 November.
The findings indicate "serious failures [by Russia] to respect international humanitarian law", Amnesty says.
Moscow has repeatedly denied causing civilian deaths, describing such claims as part of "information warfare".
Russia began air strikes targeting Islamic State militants (IS) and other groups on 30 September, saying it was acting at the request of Syrian President Bashar al-Assad.
Moscow has also been accused of bombing rebel groups opposed to Assad but backed by the West.
In the report, Amnesty said it had researched the Russian attacks in Homs, Hama, Idlib, Latakia and Aleppo.
The group said it had "interviewed by phone or over the internet 16 witnesses to attacks and their aftermath", including doctors and human rights activists.
In addition, Amnesty "obtained and reviewed audiovisual imagery" relating to the attacks and "commissioned advice from weapons experts".
The report gives more details about six attacks.
On 29 November, for example, 49 civilians were killed and many others injured when three missiles hit a public market in Ariha, Idlib province, Amnesty said.
It added that testimony by witnesses and research by human rights activists had shown that "there were no military targets in the vicinity".
Amnesty said there was also evidence that Russia's military "unlawfully used unguided bombs in densely populated areas and inherently indiscriminate cluster munitions".
Russian officials have so far made no public comments on the report's accusations.
The Kremlin has previously described similar reports as attempts to discredit its operations in Syria.
President Vladimir Putin said in October that reports of alleged civilian casualties had emerged before the first air strikes were even carried out.
Russia's air campaign comes as a US-led coalition continues its own air strikes against IS targets in Syria.