Putin and Trump agree on Syria at brief meeting in Vietnam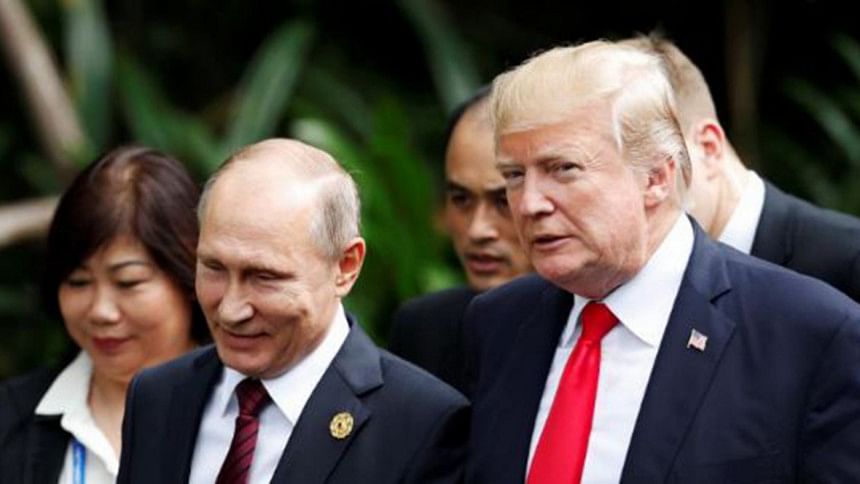 US President Donald Trump and Russian President Vladimir Putin met briefly on the sidelines of a summit of Asia-Pacific leaders in Vietnam on Saturday and agreed on the need for a political solution to Syria's conflict.
A joint statement on Syria followed their first meeting since July at a time that US-Russia relations have been battered and Trump is haunted by allegations that Putin meddled in last year's election that brought him to the White House.
Their statement called for a political solution to Syria's conflict and said they would continue joint efforts to fight Islamic State. Trump said it would save "tremendous numbers of lives".
"We did it very quickly," Trump told reporters aboard Air Force One after leaving the Asia-Pacific Economic Cooperation (APEC) summit in the resort of Danang for Hanoi, Vietnam's capital. "We seem to have a very good feeling for each other, a good relationship considering we don't know each other well."
Talking after their meeting, Putin described Trump as "a well-mannered person and comfortable to deal with".
"We know each other little, but the US president is highly civil in his behavior, friendly. We have a normal dialogue but unfortunately little time," he said.
Scheduling and unspecified protocol issues were to blame for the fact that a mooted sit-down meeting did not happen in Danang, he said.
Trump said they had two or three very short conversations.
They were seen chatting amicably as they walked to the position where the traditional APEC summit photo was being taken at a viewpoint looking over the South China Sea.
Pictures from the APEC meeting also showed Trump walking up to Putin as he sat at the summit table and patting him on the back. They also shook hands at the summit dinner on Friday evening.
The Kremlin had sought a one-on-one meeting ahead of the summit. Although the White House had said no official meeting was planned, it had also said it was possible they would bump into each other.
LIMITED CONTACT
After emphasising last year on the campaign trail that it would be nice if the United States and Russia could work together on world problems, Trump has had limited contact with Putin since taking office.
The sight of Trump sitting down with Putin in public also revives the issue of Russian meddling in last year's US presidential election, which remains under investigation.
Trump's former campaign manager, Paul Manafort, has been indicted in the probe along with his former deputy, Rick Gates.
Trump said Putin had told him again that he hadn't meddled in the election.
"I really believe that when he tells me that, he means it," Trump said of the accusations. "I think he's very insulted by it, which is not a good thing for our country."
It would be a great thing to have a good relationship with Russia, Trump said.
"He could really help us in North Korea," Trump said. "If Russia helped us in addition to China that problem would go away a lot faster."
The Kremlin said the statement on Syria was coordinated by Russian Foreign Minister Sergei Lavrov and US Secretary of State Rex Tillerson especially for the meeting in Danang.
With Islamic State having suffered losses in Syria and beyond, greater attention is turning to the broader conflict between President Bashar al-Assad's forces and rebel factions.
They confirmed their commitment to Syria's sovereignty, independence and territorial integrity and called on all parties to the Syrian conflict to take an active part in the Geneva political process, it said.