Yoga for peace, harmony and progress: Modi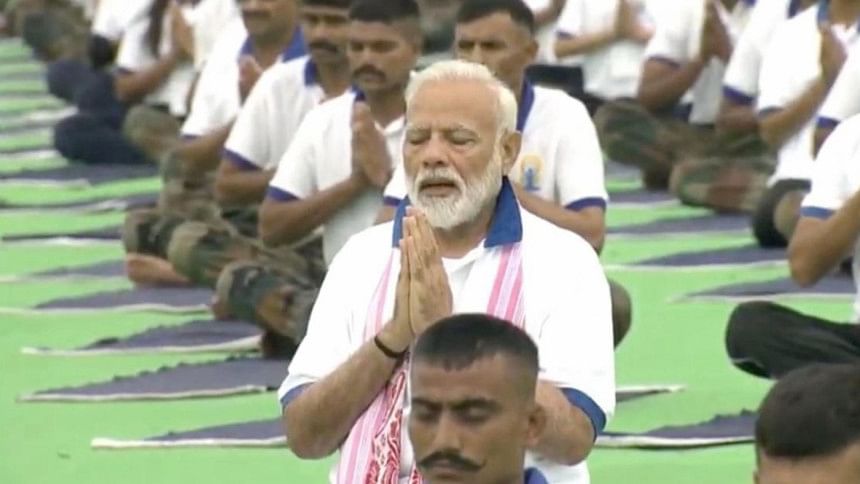 Indian Prime Minister Narendra Modi today led mass Yoga demonstration to mark the 5th International Day of Yoga.
"Let our motto be Yoga for peace, harmony and progress," said Modi shortly before the Yoga session began at Prabhat Tara ground in the eastern Indian town of Ranchi where he led an estimated 40,000 Yoga enthusiasts at the demonstration of various 'asanas', reports our New Delhi correspondent.
The UN General Assembly had in 2014 declared that June 21 would be observed as International Day of Yoga every year following a request from Modi who has led a concerted effort to push yoga into the mainstream as a symbol of India's soft power in the world.
The prime minister said he wants to take the message of modern Yoga from cities to villages and to the homes of the poor and tribal communities.
Yoga must become part of the lives of the poor and the tribals, because they suffer the most on account of illness and diseases make a poor person poorer, Modi added.
"Yoga is not accomplished merely by the activities that we perform for a while on the ground or the mat. Yoga implies discipline and dedication and this must be practiced throughout our lives," he said.
Modi also said Yoga transcends the barriers of age, colour, caste, community, thought, sect, rich or poor, state and border and it has caught the imagination of people from drawing rooms to board rooms, parks to sports complexes and streets to wellness centres.
The prime minister said that as the world adopts Yoga, it should connect with disciplines such as medicine, physiotherapy, and artificial intelligence.
Home Minister Amit Shah, Defence Minister Rajnath Singh, and other top ministers attended Yoga events in different parts of the country as part of Yoga Day celebrations whose theme this year is "climate action".
Bharatiya Janata Party (BJP) lawmakers and ministers Meenakshi Lekhi, Finance Minister Nirmala Sitharaman and Smriti Irani also attended the yoga sessions.