Paris attacks: Police in deadly swoop on apartment in northern suburb
Explosions and heavy gunfire were heard in Paris as armed police searching for suspects from Friday's attacks raided a flat in the suburb of Saint Denis.
A female suspect blew herself up with a suicide belt, and some reports suggest two suspects died. Seven people are said to have been arrested.
Unconfirmed reports say at least one suspect remains at large. The focus of the operation is said to be the alleged mastermind of Friday's attacks that killed 129 people.
Abdelhamid Abaaoud, a 27-year-old Belgian of Moroccan origin, was originally suspected of organising Friday's attacks from Syria.
Roads have been blocked off around Rue de la Republique in Saint Denis, in the same district as the Stade de France where suicide attackers detonated bombs on Friday.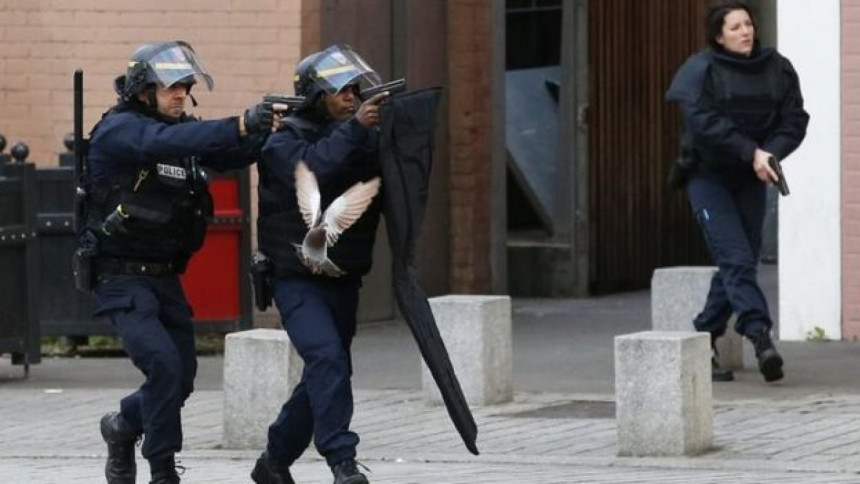 Truckloads of soldiers joined armed police at the scene. AFP news agency quotes police as saying the operation, which began at 04:20 local time (03.20 GMT), is now over.
"I've been hearing gunshots continuously, like fireworks... There have been some breaks but... to me it sounds like continuous gunshots," one resident, Benson Hoi, told the BBC earlier.
Another witness, Amine Guizani, told the Associated Press he heard the sounds of grenades and automatic gunfire. "They were shooting for an hour, non-stop. There were grenades. It was going, stopping, Kalashnikovs, Starting again," he said.
At least five people were believed to have been in the targeted third floor flat, French media report. A woman inside the apartment set off an explosives vest at the beginning of the raid and died, the Paris prosecutor's office said.
The prosecutor said that, among the arrests, three men were detained in the apartment and a man and woman were stopped nearby. France's BFMTV reports a second suspect killed by sniper fire.
Five police officers were injured and a police dog was killed after entering the flat, police said. There are unconfirmed reports that at least one suspect is still being sought - either holed up in the flat or on the run.
Earlier, Deputy Mayor Stephane Peu urged local residents to stay indoors, saying "it is not a new attack but a police intervention". Security sources said on Tuesday that surveillance video showed a possible ninth assailant during Friday's attacks. The video reportedly shows a third figure in the car carrying the group which attacked several bars and restaurants.
It is not clear if this ninth attacker is one of two suspected accomplices detained in Belgium or is someone still on the run.The near simultaneous attacks on bars and restaurants, a concert hall and the Stade du France left more than 400 people wounded, with 221 still in hospital, 57 of them in intensive care.
European countries are on high alert. On Tuesday evening, a football friendly between Germany and the Netherlands was cancelled shortly before kick-off and the stadium in Hannover evacuated after "concrete" information about a bomb threat, according to the city's police chief.
Part of Hanover railway station was also closed while a suspicious object was investigated.
Meanwhile, two Air France planes heading to Paris from the US were diverted because of security threats. One was sent to Halifax in Canada, the other flew to Salt Lake City in the US state of Utah. Both planes landed safely and the passengers were unharmed.
What is Islamic State?
IS is a notoriously violent Islamist group which controls large parts of Syria and Iraq. It has declared its territory a caliphate - a state governed in accordance with Islamic law - under its leader Abu Bakr al-Baghdadi.
What does it want?
IS demands allegiance from all Muslims, rejects national borders and seeks to expand its territory. It follows its own extreme version of Sunni Islam and regards non-believers as deserving of death.
How strong is IS?
IS projects a powerful image, partly through propaganda and sheer brutality, and is the world's richest insurgent group. It has about 30,000 fighters but is facing daily bombing by a US-led multi-national coalition, which has vowed to destroy it.