France warns of chem attack
Experts says West needs 20 times more air strikes to contain militants in Syria, Iraq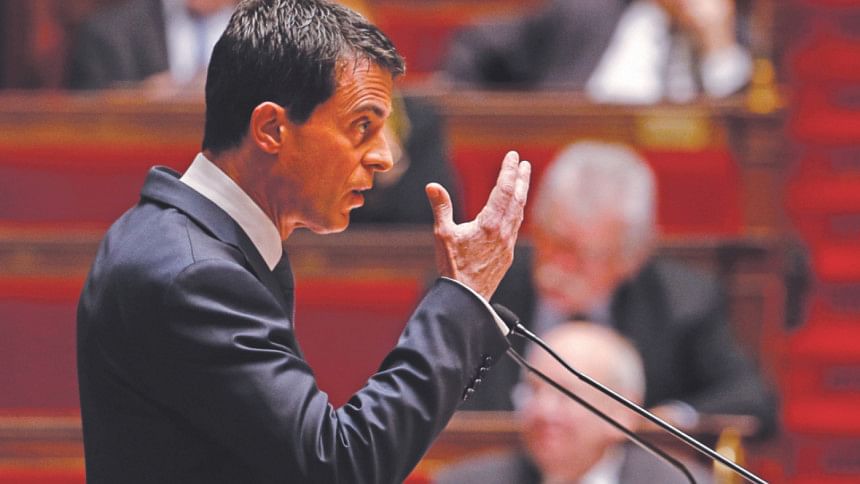 Prime Minister Manuel Valls yesterday warned that France was at risk of a chemical or biological weapons attack, as lawmakers voted to extend a state of emergency imposed after the Paris carnage.
Valls warned of the dangers still faced by France as he opened a parliamentary debate that later saw lawmakers extend an extraordinary package of security measures for three months.
"We must not rule anything out," Valls said. "There is also the risk from chemical or biological weapons."
He called on France's European Union partners to urgently adopt measures to share airline passenger information.
"More than ever, it's time for Europe to adopt the text... to guarantee the traceability of movements, including within the union. It's a condition of our collective security," he said.
The state of emergency will be in place from November 26.
At least 129 people were killed in the shootings and suicide bombings that targeted a concert hall, bars and restaurants and the Stade de France national stadium, Europe's second deadliest terror attack in history.
As the Paris probe widened to countries across Europe, Belgian police staged six raids in the Brussels area linked to a suicide bomber who blew himself outside the French stadium, prosecutors said.
Italy was also looking for five suspects after an FBI tip-off about possible jihadist attacks on landmark sites including St Peter's cathedral in the Vatican, the foreign minister said.
Under one of the measures being adopted in France, police officers will be allowed to carry weapons when they are off duty.
Officers will be allowed to use their guns in the event of an attack providing they wear a police armband to avoid "any confusion", according to a directive seen by AFP.
France is coming to terms with being attacked for a second time in less than year. In January, jihadist gunmen killed 17 people at Charlie Hebdo satirical magazine, on the streets and in a Jewish supermarket.
Citing security fears, the government has cancelled two mass rallies scheduled for November 29 and December 12 -- the days before and after a key UN climate summit to be held outside Paris.
Meanwhile, Western powers must ramp up air strikes by 10 to 20 times to have any hope of disrupting the Islamic State group, which risks turning Europe into an urban guerrilla warzone, warned one of the world's leading counter-terrorism experts.
David Kilcullen, an Australian army veteran, became the senior counter-insurgency advisor to US General David Petraeus during the Iraq War and is considered a key architect of the "Awakening" strategy that helped turn the conflict around.
In an exclusive interview, he told AFP the Paris attacks showed the Islamic State group (IS) was morphing from a terrorist threat into a "structured organisation" like the IRA in Ireland or ETA in Spain during the 20th century.
"It's early days but I think we are starting to see the emergence of a fairly widespread paramilitary underground movement in Western Europe," he told AFP from Washington, where he now leads research firm Caerus Global Solutions.
Kilcullen rejected suggestions from some analysts and politicians that the West should deploy tens of thousands of troops.
What is really needed, said Kilcullen, is "a serious air campaign".