N Korea nuke site collapse kills 200 after latest test
Says report; China, S Korea agree to warm frosty ties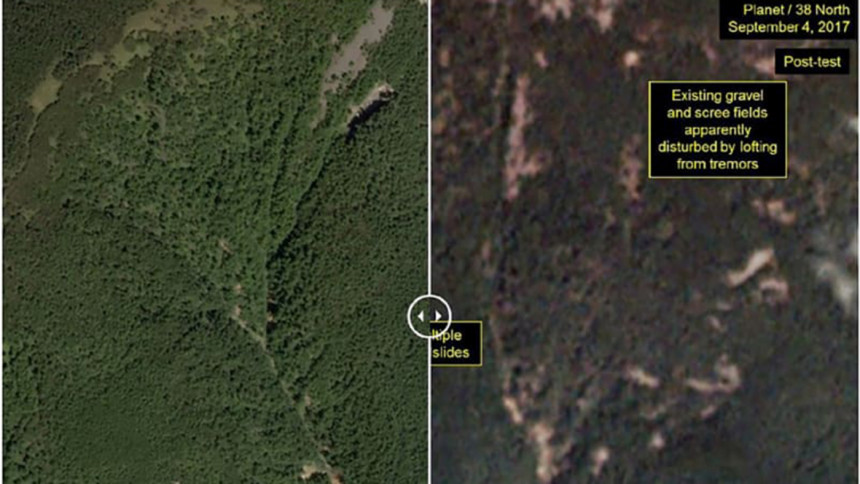 More than 200 people are feared to have died when a tunnel caved in at North Korea's nuclear test site after its latest detonation, a Japanese news report said yesterday.
A tunnel collapsed at Punggye-ri in early September, days after North Korea conducted its sixth and largest underground nuclear test on September 3, TV Asahi said, quoting unnamed North Korean sources.
Some 100 workers were involved in an initial collapse. Another cave-in occurred during rescue operations, leaving at least 200 people feared dead in total, the Japanese broadcaster said.
The accident was triggered by the test, TV Asahi added.
Experts have warned that the underground tests could cause the mountain to collapse and leak radiation into the atmosphere near China's border, reported AFP.
The latest test -- the sixth at the site since 2006 -- triggered landslides in the detonation area and beyond, according to satellite pictures taken the day after.
The blast caused a 6.3-magnitude earthquake, according to the US Geological Survey, followed a few minutes later by another with a magnitude of 4.1.
Meanwhile, Seoul and Beijing yesterday agreed to move beyond a year-long stand-off over the deployment of a US anti-missile system in South Korea, a dispute that has been devastating to South Korean businesses that rely on Chinese consumers.
The installation of the US Terminal High Altitude Area Defense (THAAD) system had angered China, with South Korea's tourism, cosmetics and entertainment industries bearing the brunt of a Chinese backlash.
Beijing worries the THAAD system's powerful radar can penetrate into Chinese territory. "Both sides shared the view that the strengthening of exchange and cooperation between Korea and China serves their common interests and agreed to expeditiously bring exchange and cooperation in all areas back on a normal development track," South Korea's foreign ministry said in a statement.