Wild geese find safe haven for breeding, nesting at Baikka Beel
In the vast expanse of Moulvibazar's Baikka Beel, there are wooden boxes painstakingly set up some distance apart from each other.
These are handmade boxes, set up years back to facilitate nesting and breeding of Cotton Pygmy-goose.
Moniruzzaman Chowdhury, site officer of the Centre for Natural Resource Studies (CNRS), in-charge of Baikka Beel maintenance, says every year Cotton Pygmy-goose lay eggs in these boxes.
The chicks can grow up safely, thanks to these boxes. This monsoon too, the birds came and laid eggs in at least six houses.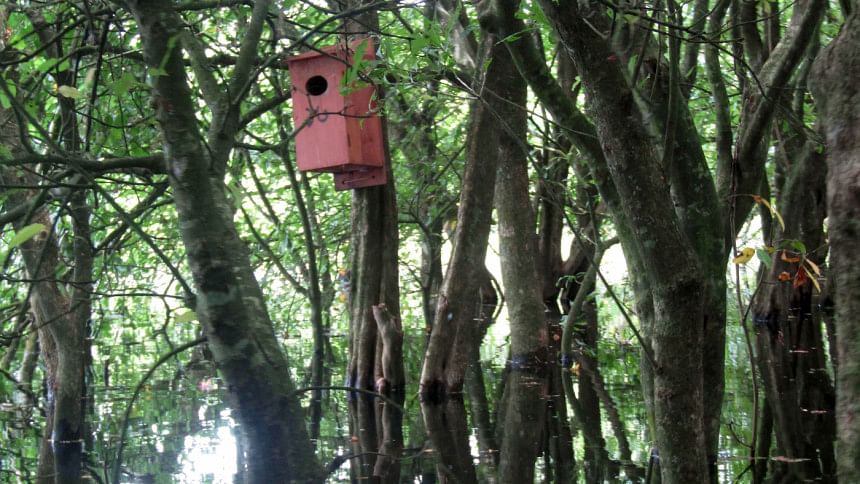 Smaller in size than domestic ducks, the Cotton Pygmy-goose can go up to 36 centimeters in size.
Inam Al Haque, researcher and founder of Bangladesh Bird Club, spoke in details of installing the artificial wooden boxes in Baikka Beel.
Traditional places to lay eggs have been eradicated because there are no old-growth trees, old monasteries or spaces left for nesting.
At least a hundred schoolchildren worked on constructing these boxes around 2003. Back then the project started on an experimental basis. Then in 2007, a project was kicked off.
Wooden boxes were also established at Hakaluki Haor but it did not see any success.
The process of making these boxes is unique and even though boxes were installed in other places, Baikka Beel seems to be the only one where everything worked out.
CNRS' site officer Moniruzzaman Chowdhury continues to observe the boxes every 15 to 20 days.