To leapfrog, Bangladesh must adopt AI
Artificial intelligence will benefit our scientific, technological, and socioeconomic research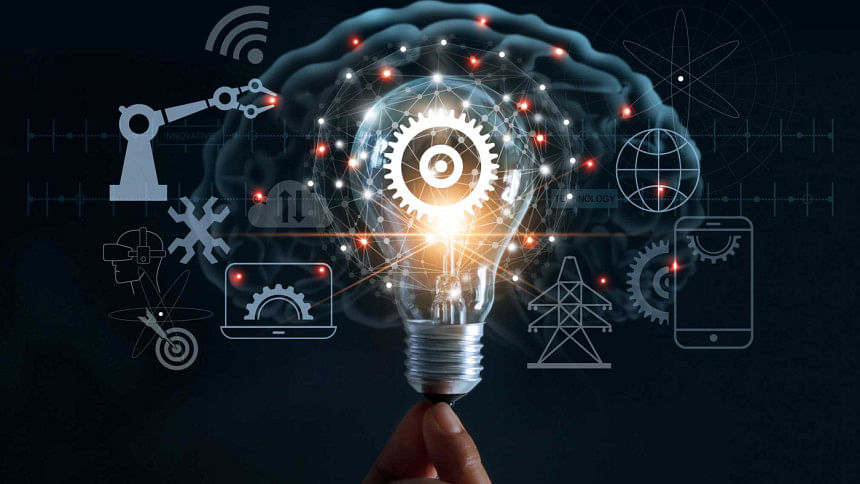 The year 2019 was a turning point in Bangladesh's history when it achieved self-sufficiency in rice production, more so considering that rice provides over 70 percent of the national calorie supply. That year, the annual rice production rose to 3.5 times as much compared to what it was in 1971. Although Bangladesh still needs to import a small amount every year, the days of any major rice shortage are practically over. How did the country achieve this miracle, especially when the available cultivable land has been shrinking?
Most of this credit goes to our farmers, but another major contributor to this spectacular achievement is our scientific community. Bangladeshi scientists are continuously developing new rice varieties at different research centres. For instance, Bangladesh Rice Research Institute (BRRI) has so far released over 100 varieties with higher yield, better salinity and stress tolerance, and greater micronutrient content. One way to identify a new variety is to improve its genetic potential with research in biotechnology and genetic engineering. However, such a research process is painstaking—it takes almost 16 years, followed by another three for field-testing and adoption by the farmers. But genetic potentials can start deteriorating quickly. Therefore, scientists must continuously work on more varieties before the existing ones lose their yield potential. That means the research must speed up.
This is where artificial intelligence (AI) can help. A research process comprises routine tasks and intellectual endeavour, both of which are essential for a successful outcome. AI can relieve researchers from routine tasks (such as reviewing existing literature and analysing large data volumes), freeing up valuable time for intellectual endeavours. AI can also offer different ways to investigate the same problem, radically accelerating the discovery process and enabling breakthroughs.
The most common benefit researchers have reported from the use of AI is that it helps to reveal patterns, increase speed and scale of data analysis, and form new hypotheses. Additionally, searching through online journal repositories and documents (such as patents and reports) is much easier and faster with AI-based tools. One of the greatest benefits of AI is, however, the synergy obtained from multidisciplinary research works, where relevant information is spread across several domains. AI-based tools search through all of them in no time to bring out relevant information. Another such benefit is the development of complex algorithms and correlations between many parameters, which is otherwise extremely difficult, time-consuming, and often humanly impossible. All these features of AI-based tools can strengthen and expedite research works in every conceivable discipline, such as science, technology, engineering, social science, public health, finance, and medicine.
The power of artificial intelligence in facilitating research programmes is amply demonstrated in the speed with which Covid-19 vaccines were developed. Sars-CoV-2, the virus behind Covid, was first identified in December 2019. By December 11, 2020, the Pfizer-BioNTech vaccine received emergency use authorisation from the Food and Drug Administration (FDA) of the US. Previously, the fastest developed vaccine was for mumps, which took four years. AI was an essential tool in Covid vaccine development. It expedited analysis of large volumes of data, risk identification, performance improvement, and efficient production and distribution.
Globally, the use of AI in research activities is increasing exponentially. It has become an essential tool for any knowledge economy. A PwC report stated that by 2030, AI would contribute USD 15.7 trillion to the global economy. Potentially, a nation can increase its wealth by as much as 26 percent from deploying AI. Bangladesh could also benefit from AI—provided it uses this emerging technology prudently—in its journey to becoming a developing country by 2026 and beyond.
But the path to becoming a developing country is not a smooth one. It can potentially lead to dead ends, as has happened to many countries. They have fallen into what is called the "middle-income trap." Such countries have failed to make the transition from resource-driven growth with low-cost labour to production-driven growth. Bangladesh must move up the Global Value Chain (GVC) by undertaking knowledge-based research and development. AI offers an opportunity to do just that, avoiding falling into the middle-income trap. Once AI-based tools are introduced in research programmes, they will soon spread everywhere, including industry, education, governance, and service delivery. All these will help Bangladesh achieve a higher competitive edge in the global arena.
As the Fourth Industrial Revolution (4IR) is unfolding, Bangladesh stands at a critical juncture of history. Its transition from a least developed country to a developing country and beyond has coincided with an enormous opportunity for technological leapfrogging by adopting AI-based tools. This is an opportunity not to be missed.
Dr Sayeed Ahmed is a consulting engineer and the CEO of Bayside Analytix, a technology-focused strategy and management consulting organisation.