South Carolina shooting spree leaves cop dead, 6 wounded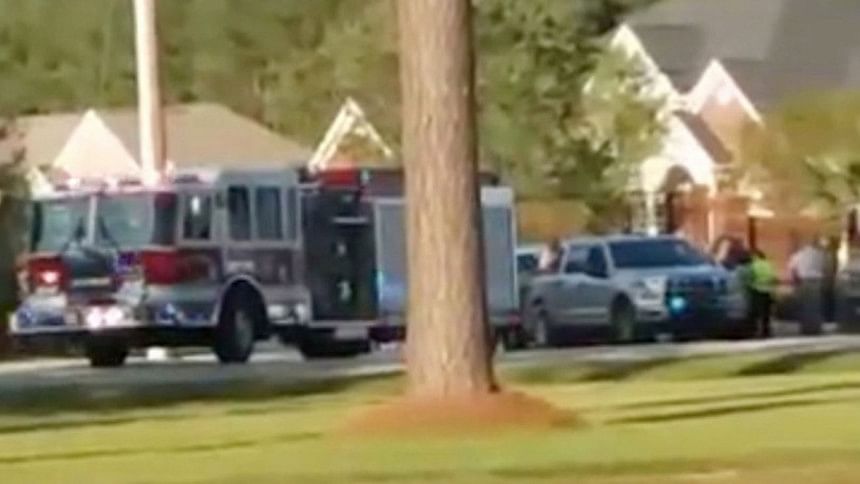 Seven law enforcement officers were shot, one fatally, when a gunman unleashed a hail of fire on police from inside a home on Wednesday near Florence, South Carolina, sparking a two-hour siege that ended with the suspect's arrest, authorities said.
Details of the shooting and how it ended remained sketchy. But Florence County Sheriff Kenney Boone said several of his deputies came under attack as they tried to serve an otherwise routine search warrant in the Vintage Place subdivision on the city's western edge.
Withering gunfire continued as scores of police converged on the area amid reports of an "active shooter" and deployed armored personnel carriers to provide cover for the wounded and move them from harm's way, officials said.
"Fire was being shot all over," Boone told reporters. "The way the suspect was positioned, his view of fire was several hundred yards, so he had an advantage."
An unspecified number of children who were inside the home with the gunman were all accounted for and safe after the suspect was taken into custody, ending a two-hour standoff, said Major Michael Nunn, a spokesman for the sheriff's office.
The outset of the confrontation was captured in a recording of emergency radio transmissions posted online by The State newspaper, in which a dispatcher is heard saying: "Have an officer down," before warning rescue units that access to the victim was limited.
"They advise the patient is going to be behind a residence, and the suspect was still firing. Units be advised, shots are still being fired at this time," the dispatcher said.
At a news conference hours later, Boone confirmed that three county sheriff's deputies and four Florence city police officers were struck by gunfire in the incident, and that one of the city officers had died.
The conditions of the six surviving wounded officers was not immediately known, though officials indicated some were badly injured.
Florence, a city of about 38,000 people, is in the Pee Dee region of northeastern South Carolina that was drenched by heavy rains and flooding from Hurricane Florence last month.
"This is simply devastating news from Florence. The selfless acts of bravery from the men and women in law enforcement is real, just like the power of prayer is real," Governor Henry McMaster said on Twitter.
President Donald Trump added in his own tweet: "My thoughts and prayers are with the Florence County Sheriff's Office and the Florence Police Department tonight, in South Carolina. We are forever grateful for what our Law Enforcement Officers do 24/7/365."