Iran holds anti-Islamic State cartoon contest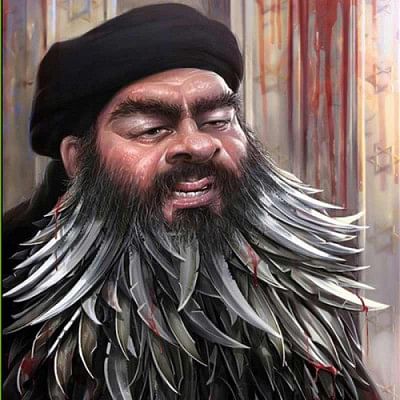 Not long after staging a cartoon contest satirizing the Holocaust, a group in Iran launched another event — this time, aimed at the Islamic State extremist group.
According to its organizers, Iran's House of Cartoon, the anti-Islamic State cartoon contest has received more than 800 submissions from countries as far afield as Brazil and Australia reports Ishaan Tharoor in The Washington Post. The entries, some of which can be seen in this video by Iran's Press TV, attack the militant group for its bloodlust and perfidy.
One image depicts the wild beard of the Islamic State's shadowy leader, Abu Bakr al-Baghdadi, as a nest of sharp, blood-stained knives.
A number of images point to the supposed role of the United States and countries in the region in enabling the rise of the militant group, which emerged after the 2003 U.S.-led invasion of Iraq and the unraveling of the Baathist regime of Iraqi dictator Saddam Hussein.
"In order to reveal the true nature of the Islamic State, we decided to hold this contest and have people submit their cartoons or caricatures," event organizer Masoud Shojaei Tabatabai told Press TV. "The Islamic State tries to associate itself with Islam but in essence it has no idea about Islam."
Social media forum, Twitter has also been awash with pictures of the caricatures applauding the submissions that have poured in. Negar Mortazavi, Iranian-American Journalist tweeted "Iran holds anti-ISIS cartoon contest (Taking the war to the next level...)"
Earlier this year, Tabatabai also presided over the Holocaust cartoon contest, which he claimed was Iran's attempt to showcase Western double standards about freedom of speech.
He now claims that the anti-Islamic State cartoons will be exhibited in Syria, Iraq and Lebanon, countries that are directly affected by the group's brutal campaign and are home to Iranian proxy militias.