Our picks for room heaters this winter
With the temperature continuing to fall every passing day, snuggling up in our jackets and comforters doesn't always cut it. Waking up to foggy windows and cold feet also makes it hard to go on with our usual days. As such, a room heater is the perfect solution to combat this cold, dark winter. Here are our picks for room heaters you can buy right now. Keep in mind that price and availability will differ across stores.  
Vision Room Comforter
Price: Tk. 1,580/-
Wattage: 2000 watts
Power supply: 220 V
Heat setting: 1000/2000 watts
If you're looking for an affordable room heater to reduce your financial burden, the Vision Room Comforter is a good option to consider. This heater offers a recessed carry handle for a non-obtrusive look. It also comes with a safety tip-over switch, overheating protection and a power indicator light. You can also adjust the settings to get cold, warm or hot air based on your needs.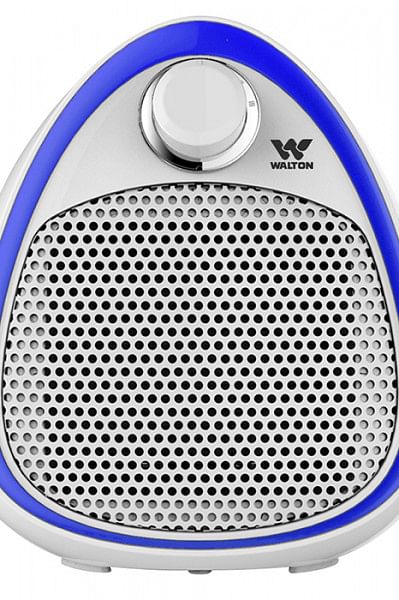 Walton WRH-PTC007
Price: Tk. 1,690 /-
Wattage: 1000 watts
Power supply: 220-240V
Heat setting: 500/1000 watts
The Walton WRH-PTC007 is an ideal mini-room heater for a cosy day. The model is budget-friendly, making it a favourite among students and freshers. The heater has three adjustment choices along with safety overheat protection. You can switch between two heat settings – 500 Watt and 1000 Watt. Apart from these, they have a long-life heating element and thermostat control.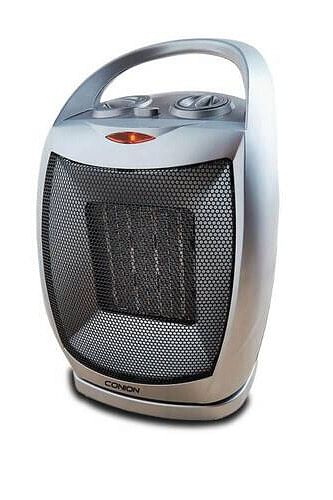 Conion Room Heater BE-950N
Price: Tk. 2,290/-
Wattage: 1500 watts
Power supply: 220-240 V
Heat setting: 750/1500 watts
Conion BE-950N is an elegant and compact room heater. It comes with double protection capacity and an adjustable thermostat. The model offers a noiseless experience along with a faster heating technique. One of its best features is its ability to work in a fan-only mode. With its elegant design and dark ash colour, this heater will add a little glamour to the house.
Miyako Room Heater PTC-A3
Price: Tk. 2,800/-
Wattage: 1500 watts
Power supply: 220-240 V
Heat setting: 1500/8502 watts
The Miyako PTC-A3 is a lightweight electric heater suitable for 100 to 120 sq. ft space. Weighing only about 2 kg, you can transport this heater from one place to another. The PTC ceramic and fan inside the heater will disperse the air all over the room. A heat protection machine will automatically shut down when the heat goes up. The thermal efficiency will adjust the room temperature accordingly.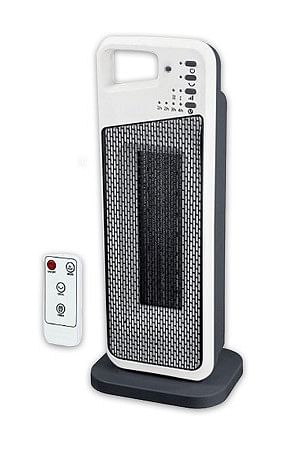 Nova Electric Room Heater NOVA-1202
Price: Tk. 3,890/-
Wattage: 2000 watts
Power supply: 220 V
Heat setting: 1000/2000 watts
NOVA-1202 comes with a power indicator light with its safety fuse inside. You can control the temperature from 15-35 C degrees. It offers three wind settings in cold, warm and hot, so you can adjust freely based on what you want when. It also comes with a remote control that you can turn the heated on and off with. It is also an adjustable moving type room heater, so you get to heat up the surroundings more evenly. Despite it being more expensive than other options in this list, the size and features it has still make it a good option to consider. 
Things to keep in mind before buying a room heater
Despite the rising need for room heaters to combat the chilling temperatures, you need to compare the cost and benefits they bring. No matter what, buying a heater is an investment for your home. So, it's important to invest in a good one. Keep these factors in mind when buying a room heater.
Types
There are several types of heaters. The most prominent ones in our country are radiator heaters, electric heaters and portable heaters. When buying one, keep in mind what your usage is. For instance, if you are sharing one heater, a lightweight, portable one will be more suited to your needs. Fan heaters are gaining more popularity since they are affordable and easier to maintain. Oil-filled radiators are generally costlier but are more energy efficient when compared with the other others. You can make a choice based on your budget and preference.
Capacity
The electrical capacity of the heater should be measured beforehand to get a proper estimate and rule out the unnecessary ones. This will make choosing easier. Measure the space and temperature rise. The temperature rise is the difference between your room and desired temperature. It takes 0.24 BTUs to heat 1 cubic feet of air by 1 degree. From here, you can find the required BTUs. Just divide the number by 3.41 to convert to watts, and that's your required heating power.
Humidity
Check the humidity level since there might be health concerns related to dryness. Doing some research regarding this is better, so you are not bombarded with information in front of the seller.
Electricity
The heater is not just a one-time investment. You need to take care of the electricity bills and maintenance throughout. So, choose one that is compatible with your budget and future consumption. Moreover, make sure its capacity is compatible with your electrical appliances.
Safety 
Always read the safety guidelines. Safe maintenance and installation are key features of room heaters. The power cord and airflow should have safety placement and unrestricted flow. Manufacturers put automatic internal switches as a preventive measure. Make sure all the safety guidelines have been met before purchasing the product.