Here's how to earn a degree online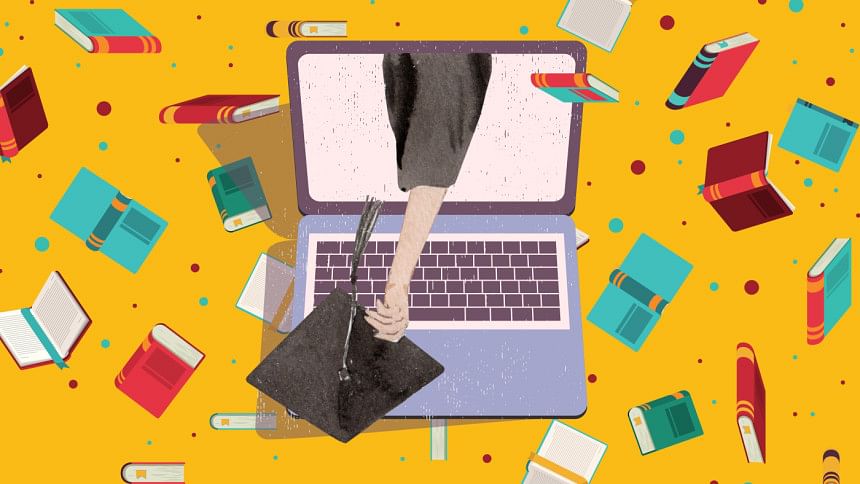 Particularly after the pandemic, the concepts of remote working and e-learning have caught on. Although nothing beats the experience and the standard of an in-person university, education, to many, the idea of earning a degree online can be alluring.
According to a report published by the US Bureau of Labor Statistics, graduates and professionals in online education are working with expertise and reputation in various organisations. In fact, a degree earned online from a reputed university may often be regarded as a higher-value degree compared to a traditional degree from a lower-tier education.
Particularly, online education has established itself as a popular alternative education medium for professionals. For those who want to resume their education after a hiatus or want to earn an additional certificate, but cannot make the time due to work and time constraints, the scope of earning a degree online can be a golden opportunity if they are willing to invest time and effort.
If you are considering it as well, here are the basics of earning a degree online.
The basics
Many global universities now have specialised online programs where students from different countries learn through online classes. Live classes can be attended online through computers with high-speed internet. Many universities also have a blended learning method–meaning a video conferencing system in a live physical class so all the students attend in real-time. 
Usually, similar to a traditional program, a student must fulfil the pre-admission conditions of that university and register by paying the required fee. University authorities provide necessary instructions and information to students through email. All necessary online, and offline if necessary, educational materials are sent to the student's address by email or by post.
Under the online education program of various universities, there are over 3000 courses on over 100 subjects at various levels. Online education includes associate, and professional certificate degrees, including diplomas, bachelor's, master's, and PhDs. Online degrees are offered in accounting, business administration, information technology, management, health sciences, social sciences, nursing, human services, criminal justice, and more.
The biggest advantage of online education is that there is no need to worry about visas. If you do not go to study abroad, the extra money you have to pay for accommodation, food and travel is also saved. A student can also attend a virtual class or take an exam at any time from anywhere in the world through a computer with internet access. And there are no age or educational gaps in most cases, making the learning experience comfortable too. 
Time and cost
Various educational institutions offer scholarships to provide opportunities for students to pursue online courses. Various degrees including MBA can be obtained between 22 to 30 thousand dollars (18 to 25 lakhs). The entire amount does not have to be deposited at once. The deposit is taken on a semester and course basis. 
However, you can apply for the scholarship by following the prescribed rules. Generally, four-five hours of regular classes a week and one exam every four-five weeks are required. Work experience as an apprentice and practical work experience are also taken seriously in many educational institutions' online courses.
Online teaching institutes
There are a variety of opportunities to pursue a master's degree online. Lessons can be taken from online educational platforms like Coursera or edX. Various universities also have this opportunity on their own online platforms.
Some universities that offer online degree programs are the London School of Economics Online, the University of London online, Arizona State University, Purdue University, University of Phoenix, Boston University, Indira Gandhi National Open University, Visvesvaraya Technology University, Devry University, Walden University, the University of Nottingham, Liberty University, Open University Malaysia, Harvard University Online Masters Program, University of Illinois Online Masters Program, INSEAD Masters Program etc.