XI JINPING: Destined to reign
He was sent to a poor village in the countryside at a tender age of 15 to work there for seven years. He did the same work as locals used to do and lived the way they did. Villagers accepted and praised him for his honesty, sincerity and hard work.
When he studied at Tsinghua University, according to a report by The Telegraph, his classmate Qiao Mu recalled that "most of professors and students around us said he would be an emerging leader for next decade".
Their prediction came true. He is now the most powerful Chinese ruler since Mao Zedong, founding father of People's Republic of China. Xi Jinping, the president of China, the world superpower next to the US, is now holding all three offices required to be China's paramount leader.
Xi was well prepared for the leadership position long before he took the helm due to China's meritocratic selection system, according to Yongnian Zheng, professor and director of East Asian Institute, National University of Singapore.
"In the 1980s, he was placed as one of the candidates for the future generation of leaders. It is believed that he had already formulated his vision of China when he took over power from Hu Jintao," writes Zheng in an article in last March.
When Xi became top leader of Chinese Communist Party in November 2012 and was confirmed as the next head of the state for next one decade, The Telegraph of UK published his life-sketch titled "Xi Jinping: profile of the man born to lead China."
When he assumed the presidency in March 2013, public confidence in CPC was eroding due to corruption by many high officials of the party and administration. In efforts to consolidate further his party's base in the country, he issued a note of warning against corruption.
Records say he was always tough on corrupt people. When he was the chairman of the standing committee of the Provincial People's Congress in Zhejiang province, he warned officials in 2004: "Rein in your spouses, children, relatives, friends and staff, and vow not to use power for personal gain."
The anti-corruption measures he initiated as head of the state has been lauded globally by many.
Bloomberg News in a report in March 4, 2014, said, "His campaign against corruption is growing into one of the broadest in China's modern history, snaring dozens of businessmen and government officials and positioning Xi as the country's most powerful leader in decades."
Forbes Magazine in 2015 said Xi has fought harder than his predecessors against corruption and in favor of greater economic and security alliances.
In Global stage, his vision is to take China to a new height. He is been moving with an assertive foreign policy for expansion of Chinese's influence on the global stage particularly on Asia.
Soon after assuming the presidency, he began his world tour with his vision. He visited so far 40 foreign countries with his ambitious mission to build a new Silk Road economic belt under "One Belt and One Road" initiative.
This has been Xi's foreign policy priority and China has been pouring billions of dollars in large-scale infrastructure projects in foreign countries with the aim of building the network for connecting Asian countries with Europe and Africa.
Beijing looks to garner international favour through a massive investment effort in Europe and Asia to surpass the US on the world stage, said Sputnik in a report on June 3 this year.
In recent years, China planned infrastructure projects involving over $200 billion for construction, and $1 trillion for other projects are on the horizon, dwarfing US foreign investment by several orders of magnitude, mentioned the online news and radio broadcast service established by the Russian government-controlled news agency Rossiya Segodnya.
When he took the rein, China has become the second largest economy of the world, next to the US.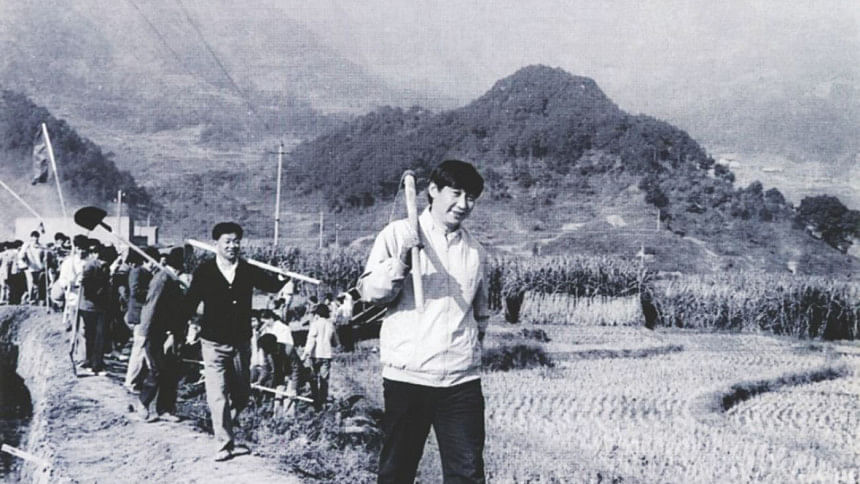 NOT AN EASY TRIP
Born in Beijing in 1953, Xi could have been an army officer as his father had managed a job in Chinese army for him. But he was unwilling to do army job. He preferred to go to village. And in 1969 he was then sent to the remote village of Liangjiahe in Shaanxi province.
In an interview in 2004, Xi recalled the moments he left Beijing for the remote village.
"Everyone was crying, there wasn't anyone on the train who didn't cry," he remembered in his interview posted on Sina.com and other websites. But he felt elated to escape the political stresses of Beijing, where his father has been purged by Mao Zedong.
His father Xi Zhongxun, one of the first generation of Chinese communist leaders and also a vice-prime minister under Mao Zedong, was purged from the post in 1962 prior to the Cultural Revolution and eventually imprisoned.
"But I was smiling, the only one smiling. Of course, my relatives beside the train asked me, 'Why are you smiling?' I told them that if I had to stay then I'd be crying, because I wouldn't even know if I'd survive," he remembered.
Xi described his seven rural years as a life-transforming immersion in poverty, hard work, spartan eating and bed fleas.
He left the village in 1975 to go to Tsinghua University in Beijing to study.
However, it was very difficult for him to get membership in the party. According to reports of the Associated Press, he tried to join the Communist Party at least nine times but was rejected because of his father's issues.
Finally, he was accepted into the party in 1974 when his father was still in prison. At the beginning, Xi served as a local party secretary in Hebei province and then went on to ever more senior roles in Fujian and then Zhejiang provinces.
He held regional leadership positions in four provinces before being appointed to the nine-man Politburo Standing Committee in 2007, and was named vice president in 2008.
In 2010 he became vice-chairman of the CPC Central Military Commission.
In 2012 he became general secretary of CPC. In March, 2013, he became China's president and chairman of the central military commission. In 2014, he became head of China's new national security commission. Xi thus emerged as the most powerful leader of China after Mao Zedong.