'I HAVE TO WORK FOR PEOPLE'
this was the only thought when I started Brac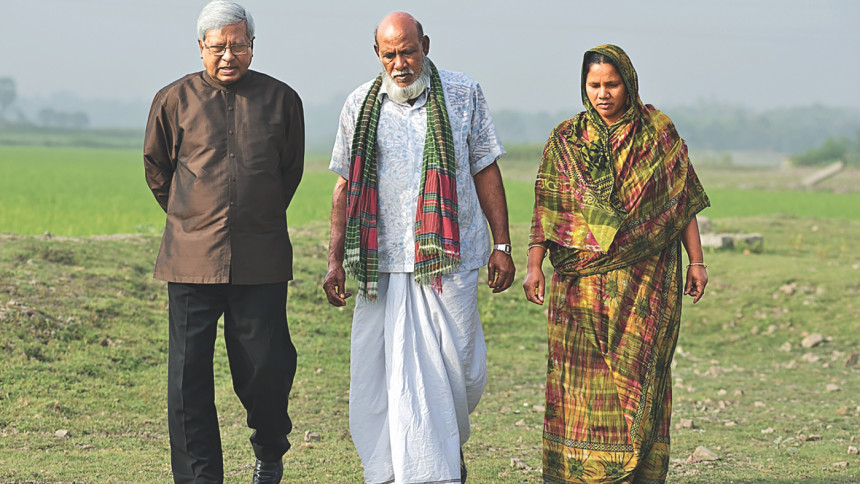 Before the 1970 election on the night of November 11, a huge cyclone and tidal wave hit the country. A devastating disaster came down on the coastal islands of Chittagong and Noakhali that night. Many people died in the three islands --- Sandeep, Hatia and Manpura. The islands turned into absolute ruins. About three million people died. Only 13,000 survived out of 56,000 people, who used to live on the island of Manpura. The rest had all died. It was very urgent to stand next to the people affected by the cyclone. Such a humanitarian disaster shook the entire nation. We naturally became busy with relief and resettlement programmes in the region.
The thirteen thousand people surviving on the island of Manpura had lost all their belongings. It was crucial to extend a helping hand to them. We went to work in the cyclone-hit areas. Even though we worked in Shell, we did not go there on behalf of the company. A couple of us formed a group called 'Help'. This was three to four days after the cyclone. The organisation was created to stand by the people affected by the cyclone. I was not alone. There were three or four others. Among them were barrister Vikarul Islam Chowdhury and Kaiser Zaman, my colleague at Shell, now living in the US. We started working in Manpura through 'Help'.
I asked Kaiser Zaman to quit his job at Shell. He did so and joined 'Help' fulltime. I was still in Shell, working to raise funds for 'Help'. At that time, Father Tim used to teach at the Notre Dame College in Dhaka.  I wrote a letter to the college governing body saying that we want Father Tim to work for 'Help' for six months. Father Tim came and started working as a field coordinator in Manpura.
Around early May, I decided to leave for England, where I knew some people from before. I thought after going to England, I would form an organisation to assist in the Liberation War. At that time, one needed a permit to go from Dhaka to Karachi. I did not face problem in going to Karachi because of my tiger-marked identity card (an identity card issued by the then Pakistani government). After arriving at the Karachi airport, the Bangalees were being interrogated separately. They let me off easily because of my tiger-marked identity card.
On the way out of the airport, I met a colleague from Shell. He came to Karachi for a vacation. He wanted to know why I was there.
I told him that I was also on vacation. I would return after a few days.
After staying in Karachi for a few days, I moved to Islamabad. There I lodged at my friend Asaf-ud-Daula's house. He was then a deputy secretary of the Pakistan government. The next day, I went to see a friend from Shell in Islamabad. I was thinking of meeting him, as I was staying in Islamabad for a few days. As I was talking with him, some people from Inter Services Intelligence (ISI) came to his house after a while.
They told me, "You have to come with us."
Later, I learned that the colleague I met at the airport had told our company chairman about me. The chairman wrote a letter to ISI to find me. He complained that I fled Dhaka without telling anyone anything. The chairman also wrote to the Punjab governor that one of his officers had escaped and he should be caught.
The ISI officers took me to their colonel. I was interrogated a lot. All my belongings were brought from Asaf-ud-Daula's house and searched extensively.
But they could not find anything against me.
They repeatedly asked me why I came there. I got a promotion three to four months ago. The paper was with him. There was a mention of my salary --- four thousand one hundred taka. A lot of money then. The ISI officers couldn't believe that I left such as a well-paid job.
They asked, 'Why did you come leaving such a well-paid job? You're an eligible bachelor. Why didn't you get married?'
Two days later, I was released. The friend from 'Shell' company, whom I went to visit, dropped me at Asaf-ud-Daula's place. Then, he said, 'If you really want to get out of the country, take a taxi right now and go to Afghanistan through the Khyber Pass.'
So was my intention. I went to Islamabad to go to England via Afghanistan.
At that time, almost everyone was going to India. I could have easily gone to India too. But I didn't want to go to India because I knew I couldn't do anything in India. I could do many more things if I go to England. I am familiar with London. I studied there. I also have many local and foreign friends there. My intention was not just to escape the country. I thought I could either collect money or create public opinion, whichever, much better if I go to England than to India.
It was not easy to travel to Afghanistan from Pakistan. In the end, I chose the difficult path. The next morning, I reached Peshawar by taxi from Islamabad. It took four to five hours. I went to Peshawar and got into a hotel. I don't remember the hotel's name. It was the best hotel in Peshawar. I didn't have more than two to three thousand taka with me. Yet, I checked into a big hotel thinking that in a smaller one, people may get the chance to ask questions.
The next morning, I boarded a bus to go to Khyber Pass. After crossing the check-post by showing my passport, I entered Afghanistan. From there I boarded another bus to Jalalabad. From there I took another bus to Kabul. I had left Peshawar in the morning and it was almost evening when I arrived in Kabul.
It was the month of May. Arriving in Kabul, I checked-in at the Hotel Kabul. From there, by telegram I brought a ticket for going to London. Then from Kabul to Istanbul and Istanbul to London. Arriving in London, I found that my friends were trying to create an organisation called 'Action Bangladesh'.
It was the month of June. Justice Abu Saeed Chowdhury had arrived in London He was raising funds for the Liberation War by inspiring the expatriate Bangalees in London. Later, he was nominated as a representative of the Mujibnagar government. This helped us in our work. He continued the fundraising.
We realised that work needs to be done in many areas and started to meet British MPs. We explained to them in detail about the inhuman horror of the situation. We continued to negotiate with them to raise the question relating to Bangladesh in the British Parliament. We started going to the neighbouring countries and went to Paris and Copenhagen.
We didn't want to limit our activities to England. The European countries were very sympathetic to humanitarian issues. I knew they would become active if we could portray the actual situation to them.
I was in Copenhagen on the 6th of December, the day India recognised Bangladesh as an independent sovereign country. On that day, we had gone to meet with the Foreign Minister of that country. I asked the minister, 'India has recognised us today. When will you give us recognition?'
He said, 'As soon as possible. We want to be the first in Europe to recognise Bangladesh. But we will wait a few more days.'
Bangladesh became independent on December 16. On February 4, 1972, Denmark as well as Britain, West Germany, Finland, Sweden, Norway, Iceland and Israel recognised us.
Vikarul Islam Chowdhury was staying in Shillong at that time. He was trying to get Assam government's permission to send food to the Sylhet region. He wrote to me, 'Come back soon. We will go to Bangladesh now.'
Vikarul Islam Chowdhury entered Sylhet through the Tamabil border with the other refugees of Sylhet region in Assam.
I returned home on January 17.
Vikarul Islam Chowdhury said that Shalla was Hindu majority area in Sylhet. Pakistani troops have destroyed the entire area. We went to see the people living in the rubble. Then Suranjit Sengupta was the MPA there. Suranjit Sengupta had met Vikarul Islam Chowdhury in Sunamganj. He too told us to go to that area.
I went to Shalla and found that many villages were almost wiped out. There was no existence of any houses.
We decided to work in Shalla. We thought that many would do a lot of things in the city. Many would not want to come to the remote villages. But it is important to work for the people of this region. Those, who have lost everything and become destitute, it would be difficult for them to survive. What could be more important than to save the people of the country, now that the country achieved independence after so much struggle and bloodshed.
I was working abroad for the freedom of the country. Now, I started working for the rehabilitation of the poor, helpless and impoverished people of the free country. An organisation was needed for that work. Since we will be working for village people, I named the organisation 'Bangladesh Rehabilitation Assistance Committee', in short, 'Brac'.
This was in February 1972.
When I returned from abroad after independence, I didn't have much money. The money we collected from various sources was spent on different purposes of the expatriate Mujibnagar government.
Vikarul Islam Chowdhury had 25,000 Indian Rupees in his bank account in Calcutta. This meagre amount was not enough to start the work. More money was needed.
No matter how strong our desire to work was, we could not continue for long without money. Therefore, our main task became raising funds.
I had a small flat in London. When I was working for Bangladesh on foreign soil, I didn't have a job. I had sold the flat to run my own expenses. I had obtained 6800 pounds from the sale and kept the money in a bank in London, thinking I would use this for the next three or four years.
In order to start Brac's work, I withdrew the money from the bank in London and brought it home. The first operation of Brac started with the 25,000 Indian Rupees from Vikarul Islam Chowdhury's account in Calcutta and the 6,800 British pound from the proceed of my flat's sale. I started a 'Relief and Rehabilitation' program for the people of Shalla. From that perspective, I, myself, was the first 'donor' of Brac.
I have to work for people, this was the only thought when I started Brac.  I never thought that Brac would be the largest NGO in the world, nor did I think that it would spread its programmes beyond the country's border into the international arena.
I've always tried to be aware of one thing. I didn't want to do anything that I couldn't do properly. Whatever I do, I'll do well, that is my motto.
This was in my head even when I started Brac.
I started Brac's operation with my own money. Our money wasn't much, but we started to work with it in a very planned manner. That is why we have achieved success. Subsequently, foreign donors provided funding for our activities. As a result, it became easier to work.
The first foreign organisation to provide fund to Brac was Oxfam-GB. Oxfam gave about two hundred thousand pounds. We did a lot of work with this money.
In October 1972, I went to London. I met Oxfam officials. I noticed that they were very happy with our work. They said we have about seven hundred projects all over the world. Brac is one of the projects that are doing the best. In a short time, BRAC has done a lot of work, which was very crucial in saving people's lives. The high-ups of Oxfam had good reason for this satisfaction. Actually, we did a lot of work in a short period of time.
I still remember the difficult situation of the first day I went to Shalla in March.  There was no place to stay. I did not know where I could sleep. I had to sleep on a bench of a shop in the local market. It rained heavily at night. The rain dripped on the bench all night. I could not sleep. The next day I stayed at the rest house.
I was thirty-six then. I walked seventeen miles. I considered everything as a part of life. I never thought of backing out after facing obstacles.
A lot of people supported us in our work. Many freedom fighters joined our work upon their return. Together, we worked hard. We worked for people. BRAC is the result of that hard labour.
 (Excerpts from the book 'Fazle Hasan Abed and Brac')