Tk-10 accounts benefit farmers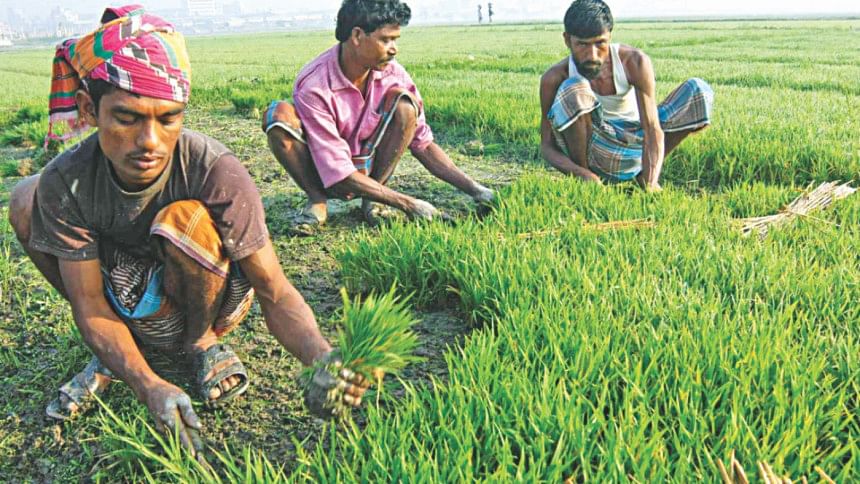 The Tk-10 bank account enabled Md Abdul Khaleq to take a collateral-free loan of Tk 50,000 from a bank for the first time in life.
"I used the money to harvest rice. My elder brother also remits money to me from abroad through the channel and I deposit my surplus money with the account," he said.
Khaleq said his economic activities increased threefold in the last three years.
"It has been four years that I started using the account," the farmer from Raomari of Kurigram told The Daily Star.
In September of 2010, Bangladesh Bank instructed public banks to help the ultra-poor open the Tk-10 accounts so that they can get the benefits of the safety net programmes. Private commercial banks later followed suit of their state-owned peers.
The use of the account has helped underprivileged people engage in various economic activities and change their lives.
The marginal and landless farmers, small shop owners, hawkers and people affected by river erosion now take loans under a Tk 200-crore refinance scheme of the central bank by using the accounts for an interest rate of 9.5 percent.
As of June 30, 2017, banks opened 1.71 crore Tk-10 accounts where people deposited Tk 1,311 crore.
Md Abul Bashar, general manager of the financial inclusion department of Bangladesh Bank, said the banks have been asked not to classify the accounts as dormant, as the holders of such accounts may not make transaction for long. So far, banks disbursed Tk 53.82 crore in loans among the Tk-10 account-holders, he said.
With the account, a client gets a maximum of Tk 50,000 in credit for a year, with a six-month grace period.
The no-frills account enables the poor earn additional money by doing small businesses, said Shafiqul Alam, managing director of Jamuna Bank. The accounts ensure inclusion of more poor people in business activities which in turn spurs the country's economic growth, he said.