Looking back as we move ahead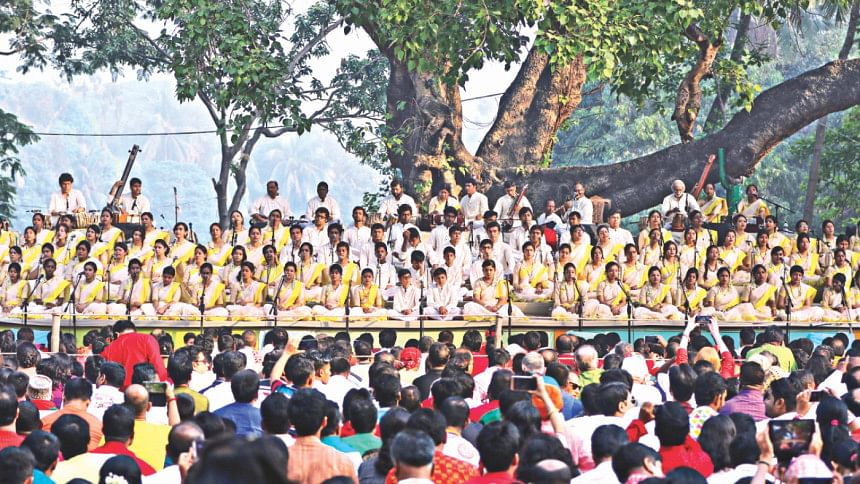 For most of us, major events of our lives are marked by the Gregorian calendar. But we reserve a special sentiment, even reverence, for Pahela Baishakh. The day holds a central place in our psyche since it not only marks the advent of the Bengali New Year, it is a celebration of our cultural and historical heritage. Like all important milestones on the journey of life, Pahela Baishak is also a time of reflection on the year gone by, of lessons learned from the past, and about plans for the future.
For many of my generation, Pahela Baishakh evokes mixed feelings. Especially when we pause and ponder on its significance as we celebrated it in our youth in the late sixties. Because for us Pahela Baishakh was not merely a New Year celebration, it was an occasion for making a bold statement about our cultural identity. The first day of Baishakh and Choitro Shongkranti (the last day of the year) have always been celebrated in Bengal in a traditional fashion–starting with a pooja or prayer, followed by the closing of accounts (both literally and metaphorically), a special meal and maybe a musical evening with friends. However, with the rising tide of Bengali nationalism in the 60s, the Bangla New Year assumed a different socio-political significance.
If February 21 was about asserting the importance of Bangla as our mother tongue, Pahela Baishakh became the symbol of our cultural heritage and ethos. I cannot clearly remember how this transition came about. Perhaps in the mid- sixties when the struggle for equal rights and opportunities for the people of East Pakistan began. Fortuitously, at that point in time I was studying music in Chhayanaut, which was more than a music school. The teachers helped us develop a deep love and appreciation for Bengali art and culture. It was this cultural awareness that instilled a sense of pride in our Bengali identity and inspired many of us to fight for our independence as a nation. A significant part of this evolution was the Pahela Baishakh celebration. Some time in the mid sixties, I remember our music guru Waheedul Haque informing us that we would welcome the Bengali New Year singing songs of new beginnings at dawn in the Ramna Park under the Banyan tree. It was quite a revolutionary idea at that time, but there was also an element of romance and adventure in this new mission!
As we sang "Esho he baisakh" invoking the Divine to scorch out the earth's impurities, I was overawed by a feeling of devotion and great love for my "Golden Bengal". Sitting under the cool shade of the Banyan tree, watching the orange hue spread on the morning sky, I was mesmerised by Fahmida Khatun paying homage to the motherland with her soulful rendition of Aji Bangladesher hridoy hote (You have emerged from the heart of Bangladesh, my Mother, in all your glory and splendour). Looking back, I realise that Pahela Baishakh was what instilled a deep sense of love and pride in the youth of my generation for the Bangladesh that was still a mere idea in its formative stage. Whether it was singing in the open air at dawn or the many school, university and private musical events, for me it was all part of the process of evolving as a"Bangali".Unwittingly, I had stepped into a very important crossroad of history and was destined to be a part of a much larger phenomenon–of sharing my deep consciousness about the richness and beauty of Bengal's heritage with others and the need to preserve and protect it from the onslaughts of the Pakistani hostile regime.
Today Pahela Baishakh has become an intrinsic part of Bangladeshi life–it is no longer a movement to create awareness about Bengali ethos, but has transformed into a festival of food, music and, if I may add, ethnic fashion. It is encouraging to see that every part of the country comes alive for the occasion with fun and laughter, sharing good will and exchanging gifts. What stands out, as a stark contrast from my days is not just the magnitude and span of the celebrations today, but also the lavishness. The simplicity has been replaced by a kind of opulence that has diminished the spiritual aspect of Pahela Baishakh. The other day I happened to see some photographs of Pahela Baishakh celebrations of our youth that a friend shared on Facebook. Even I was surprised by the minimalist stage decorations and the modest attire of the performers. But then, why is it that living through those times I was always overwhelmed by the intensity of my emotions and never found the extraneous elements to be lacking in anything? Perhaps because there was so much of soul in the celebrations. Sometimes I wonder whether in focusing too much on the external adornments, we are losing out on the true spirit of the Bangla New Year. 
I realise that change is inevitable and that Pahela Baishakh will reflect the pace and emotions of  the new generation of the 21st century. However, my ardent wish would be to ask our youth to ensure that their version of Pahela Baishakh is in sync with the ideals of our struggle for Independence in 1971. For the lessons from the past provide a foundation on which a firm future rests.
The writer is a renowned Rabindra Sangeet exponent and a former employee of the World Bank.