My great mentor, Dr Kalachand Roy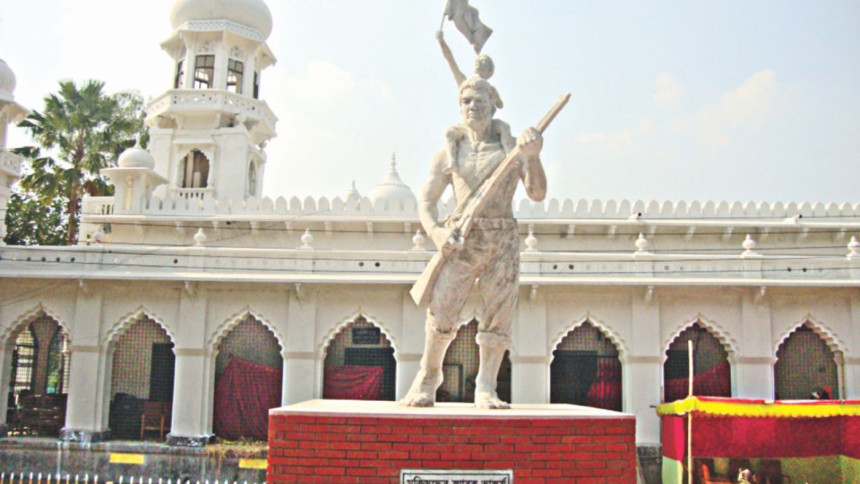 That was the moment when I embarked into the college life leaving the high school years. My everyday mode of transportation for the long and wearisome road was rickshaw. College was nearly four miles away from the city. The memories of that fearful commuting of the innocent college girl are still vivid in my mind. I was supposed to be admitted at Eden College of Dhaka. Though later, my wise parents decided not to send their girl out of Sylhet city. After much speculation, I was enrolled in the science section of 'Murari Chand College'.
After the admission procedure was completed, I found out there were altogether thirty two female students in the higher secondary and undergraduate section of this much-reputed college, all in the science section. There was a separate building for the arts and humanity group- standing tall side-by-side with the name 'Murari Intermediate College'. The original Murari Chand College remained camouflaged behind the signboard of Government College from the year 1966 to 1988. Murari Chand College got back its lost glory and name when the dispute about its real identity was settled later.
Within a short time after my admission, the name of the college was changed. The principal also received lucrative prize money from the government! Our classes started from the October 10 in full swing. Walking down memory lane, I found myself standing like a fish out of water, as that was the first time I was receiving co-education. The number of male students outweighed the number of female students. The combined number of students from both the sections was nearly 250 while there were only 9 girls, of whom 5 were Hindus and 4 Muslims. I was put into 'group A'. I could not find any trace of the girls of my group on that day. Also, their presence was nowhere to be found in the first class. I was leafing through my exercise book and carefully scouring the routine; no teachers name was mentioned for the chemistry class. I started feeling helpless, as there was no name or room number given for the chemistry class. Even, there was no one nearby whom I could ask. My freshmen eyes failed to locate most of the departments. In that moment of confusion, I saw a stout, young man slowly prodding on the fresh green grass! While entering the teachers' room, he suddenly came to a halt and stood beside me. He looked back! He looked back at me!
 And inquired, "Are you waiting for anybody?"  Gathering all my courage, I explained my situation to him. After listening patiently, he said "Which group?" I replied, "Group A" "Oh great! You're in my class. Go, attend the class."
I was nervous. Still mustering some courage, I said, "Sir, I don't know the room number." "Let me show you." On the way, he asked me all kinds of questions about myself. After hearing my father's name, he respectfully said, "Oh! You are the daughter of Advocate Birja Babu!" It was my first class. I felt like a trapped mouse. And I knew in my heart, that college would be a completely different experience.
He entered the classroom! It was impossible to trace his face from a distance because of his height. He delivered a full English lecture on "Organic Chemistry." For his height, he had to literally jump to write on the black board. The boys at the back laughed out loud for his fits. He turned to them with a face devoid of any expression and sternly looked at the whole class. There was pin drop silence. While leaving the class, he told us with a grave voice,'it is fine to have a little humor in the Chemistry class, but you should remember that balancing your act everywhere is the sign of intelligence and maturity.' And these wise words set the stage! Nobody ever dared to crack jokes about his height again. He was our chemistry teacher for the first term, i.e. the first three months. We all used to listen to his lectures silently, never getting bored. In fact, the senior girls used to warn us again and again about his classes, saying that he wouldn't tolerate any disrespect.
He was immensely respected by all the students and faculty, as he was a man of his word. While other teachers were busy gossiping, he used to remain silent. Most of the time, he was seen with a book in his hands. I remember with fond memories that he always showed special care for me after we first met. He used to take special care of me in his practical classes as well. I had thought that it was probably because of my flair in writing. I was a regular contributor for the 'Jugoberi' and 'Shangbad'. I never knew that he was following my write ups regularly. To my amazement, one day he called me and scolded me. I was wondering about my fault. Later, I realized that he disliked one of my write ups. I wrote a poem in the weekly 'Jugoberi' after this particular incident. The title was, 'Death: I am almighty' when I met him after that, he told me smilingly, "Roll number 69, It was a good poem. Things turn great when one can combine imagination and reality. By the way, what made you study science, girl?"
Scratching my head, I answered "I'm here to obey my father's wishes, sir!"
He laughed heartily seeing my reaction. I had never experienced such gracious laughter from anybody before. I had great difficulty understanding chemistry at first. Because of his lively and simple way of explaining different matters, my troubles were soon sorted out. Time ticked away so fast! With the passing time, the student body president election was approaching too. Previously, it was a rule that, members of the student's wing would be selected by the autonomous decision of the principal. It was surprising that he called for a proper election in our time. I presented myself as a candidate for the post of the General Secretary of the East Pakistan female student union. On the other hand, Momtaz Begum who was the sister-in-law of the head of the department of chemistry, Dr. Hafiz Ahmed, contested from Chattra League. Dr. Hafiz Ahmed was an extremely prejudiced person. He started campaigning for his own sister-in-law.
Before the elections, I became the target of the opposition who attempted to throw acid at me at the Jail road; they even tried to run me over with their motorbikes. The organisation took measures for my safety. As the whole conspiracy came to light, Sir Kalachand told me one day, "It would've been better if you had avoided the hassle. Be careful! Dr. Hafiz is very angry with you." I became upset for valid reasons. Later, I received accolades and awards for different subjects in various competitions; though surprisingly, they discarded my poem about February 21 (that received an award): In the name of Treason. Their vengeance didn't stop there. They expelled me from the college for this crime on the suggestion of Hafiz Ahmed.
I won the election. For some unknown reason, I was not selected to be on the committee. Later on, I came to know that it was all due to Dr. Hafiz Ahmed's ploys. After hearing the news, Professor Sudheen Paul of the Bangla department and Sir Kalachand summoned and told me, "This is a completely outrageous and heinous act! We don't appreciate this act of Dr. Ahmed."  We never met again after I was rusticated from the college. Later, I received the whereabouts of my dear teacher again on Sector 2, in 1971, at the base camp of Karimganj, during the great liberation war.
Dr. Kalachand Roy was then posted at Carmichael College. By the order of the principal of the college, he and his wife, dancer Monjusree Roy had been taken. Both of them were murdered along with the other teachers. Munna and Shumon, two of his descendants had been saved by his neighbor, a Muslim professor. Long after the war had ended, he sent them to the in-laws abode of Professor Kalachand Roy.
Professor Kalachand Roy was born at the village of Kamellah of Comilla district in 1936. He was married to Manjusree, the daughter of Mr. Fanindra Das, who was a bard and the owner of the Kutichand press at the same time. As a human being, Professor Kalachand Roy was modest, humble, cultural minded and a little docile. Teaching was his only passion and profession. This maker of enlightened minds was a very successful professional in his field of work. He used to stand out in the crowd for his brilliance. Would he or people like him, be remembered by the historians? Has he been acknowledged for his sacrifice at the altar of liberation war? Has anybody tried to know the whereabouts of his descendants? How are they? What are they doing now? How are they managing their life? The son and daughter of this martyred professor have both become victims of sheer neglect of our great nation.
Does anybody care about how they are judging us? We never stop to question ourselves.
Such an ungrateful free nation we are!
The article was first published in Bangla Academy's publication, Smriti: 1971 Vol. IV, and translated by Ayesha Chowdhury, Senior Teacher, Scholastica School.