Family cars: The other name of convenience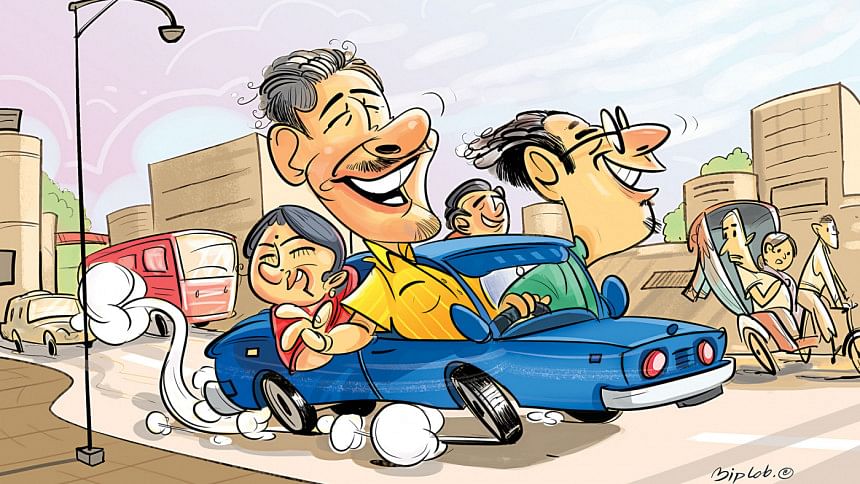 With time, the number of vehicles getting registered in Bangladesh is on the rise. According to 2019 statistics from BRTA, about 500,000 motor vehicles were registered in 2019 alone and among these, 150,000 were passenger cars, in addition to buses and motorbikes.
Family cars in general are manufactured with convenience in mind, and in Dhaka, the number of sedans and mid-sized SUVs are on the rise as prices have become more affordable and monetary funds, such as bank loans,have become more accessible.
Second hand cars meant to push traffic as of now, have been getting more affordable to the point it can be said used, cheap cars are getting better in terms of the Bangladeshi standard where there are cars in any budget, from the bare minimum to high end cars meant to push traffic.
There are reasons as to why family cars are considered a more convenient way to commute; firstly, the personal space and privacy that is achieved from the cabin, and secondly, exposure to dust, grime and pollution is minimal compared to motorcycles and public transport.
Cars are safe and can be used to commute with less exposure to pollution, however, it occupies a larger footprint on the road, which means a large chunk of time is spent in traffic jams. From a Bangladeshi point of view, people usually complain about how they have to push through thick traffic congestions. Even though driving around local buses and rush hour traffic can be a bit cumbersome, but in the end, it is a small price to pay for private commuting.
Additionally, cars provide an easier way to accommodate a larger number of people. Family vehicles can seat up to eight people on average. As a result, families can travel together more easily as opposed to using public transport, bikes, rickshaws, etc. They are also a safer way to send kids to school, as working parents can just send their children to school with their chauffeur.
Abdul Mannan, a professional chauffeur who, by design of his profession, spends most of his day on the road, thinks that people who are driving on the road should enjoy their convenience responsibly.
"Sometimes it feels like I am on a race track when driving, everybody thinks they are the only ones in a hurry. People should understand that cars allow us to travel comfortably and with air conditioning during the summer," he shared.
Although the second hand car market is becoming saturated, prices are still competitive. Usually, one manages to get a good deal only if they buy a car from direct parties, otherwise they are redirected to second hand car showrooms, through brokers or third-parties.
Zaheen Chowdhury, owner of a car sales showroom in Dhaka, shares how people's buying habits have changed over time.
"If you ask me about how the reconditioned market is moving in general, people are mostly moving towards buying hybrid vehicles and SUVs that are cheaper to buy in general, as hybrid taxes are lower," he shared.
Cars are a great investment for movement. If you want to commute fast while still having a car, hatchbacks are great options to look at. Even though commuting will not be faster than a bike, it won't be slower than a bus. It's a common middle ground which is more popular.
Newer brands of cars are coming through to meet demands, and in my opinion, this is the best time to get your hands behind the wheel. There are many options to choose from – big or small –and at the end of the day, commuting will be more comfortable.
Araf Afzal, a local businessman said, "When we bought our SUV, it was primarily so we could regularly go on family trips during the weekend. Without a large vehicle, coordinating the commute can become quite tedious, as we have a big family. Our SUV also allows us to go on random drives whenever we feel like it, and this was particularly useful during the lockdown when everything was closed and we could not go anywhere."
A car that gets driven daily can be compared to a moving house. And manufacturing companies are now focusing on comfort, drivability and efficiency even more to ensure that more families consider the option of getting a family car.