Family hauler: 2015 Toyota Avanza
After the facelifted Avanza, Toyota's Multiple Purpose Vehicle (MPV), has become one of the hottest selling cars in the global market. In Bangladesh, two variants are brought in: 1.3L and 1.5L engines with automatic transmission. We got to review the 1.5L with automatic transmission, and we found it to be extremely practical. Passenger comfort especially, a thing that many vehicles in this category lack, was well taken care of.
Starting with the exterior, dimensions and design: the car we reviewed is the 2nd generation Avanza. Its slightly larger and wider compared to its predecessor. Another major difference between the two generations is the design makeover. The front got a Yaris-like-snout making it look much better than the previous generation. The second thing that caught our attention were the arrow-like headlamps. The body used to be really plain in the previous generation but it now has curves, courtesy of subtle flame surfacing. The car really hulked up a bit. We would definitely want to know which gym it joined. The 15 inch alloys of the Avanza might look a bit out of place, but we made our peace with it since it helps keep the cost down and ensures soft ride quality for the passengers.
Now, time for the interior. Let's face facts: the Avanza is a utilitarian vehicle, so its primary purpose is to move people or luggage. The interior of the Avanza is nothing but utilitarian. The seatbacks are thin and the doors are trimmed to make more room for the 7 passengers inside the vehicle. Average Bangladeshi passengers will be able to squeeze in without making much effort. Both the S and TX model has power steering, electric windows and central remote locking as well as a 2nd set of AC vents for the rear, CD/AM/FM sound system, USB input and dual climate control.
A quick glance at the dashboard: it's a plastic affair, light grey plastic to be exact. The latest generation comes with dual airbags for both the driver and the passenger.  It lacks Bluetooth connectivity, but that is excusable. The boot space can easily be doubled by folding the last row of seast. This makes your car really useful for carrying most sizes of luggage.
As mentioned before it comes with two different engines- 1.3L and 1.5L VVT-I. The 3SZVE and K3VE engines offer great mileage: with AC you can easily get 13 KM/litre urban mileage with mild traffic.
It was, surprisingly, a delight to drive. The shock absorber rebound rates are quite high which was evident after we drove smoothly over potholes and humps at more than average speed for Dhaka roads. The visibility is quite good. Any average Bangladeshi can see most of the hood from behind the steering wheel.
Verdict:
Avanza is perfect if you want to build a fleet for your executives or if you have a tight group of friends with whom you frequently indulge on road trips, or even if you have a slightly bigger than average family. The base model (1.3L with automatic transmission) starts at Tk. 25.75 lakh and the premium one (1.5L with automatic transmission) is priced at Tk. 29.90 lakh. If you're looking for a no-frills automobile offering comfortable ride and decent fuel economy, then the Avanza is highly recommended.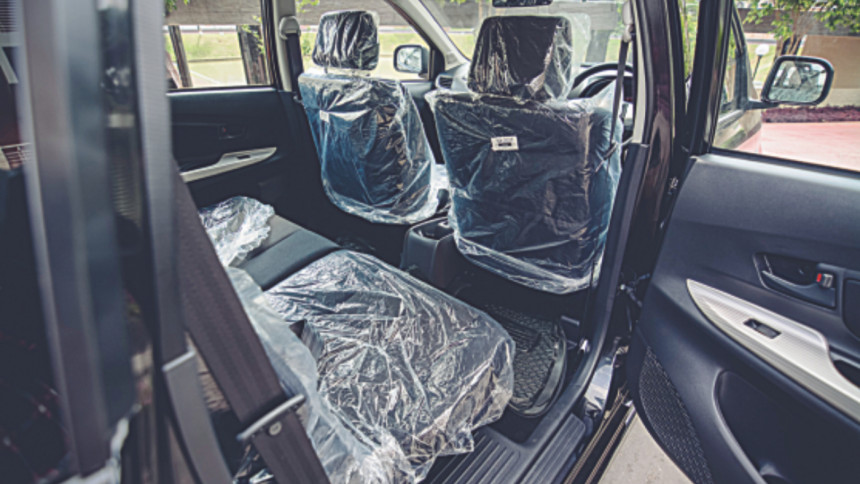 Specs
2015 Toyota Avanza
Engine: 1500cc 4 cylinder 3SZVE VVT-I gasoline engine (102 hp @6000 RPM, 100 lb-ft torque @4400 RPM); 1300cc 4 cylinder K3VE VVTI gasoline engine (90 hp @6000 RPM, 86 lb-ft torque @4400 RPM).
Transmission:4 speed automatic. 
Brakes: Disc brakes front, drum brakes rear, ABS. 
Features:7 seats; dual airbags; 4 speaker (1.3 Avanza) or 6 speaker (1.5 Avanza) stereo system with USB, Aux, and AM/FM/CD; LED brake light; rear wiper; 7 available colours.
Price: Starts from
25.75 lakh taka (1300cc)
For details, contact Navana Ltd.