Local production propelling the AC market in Bangladesh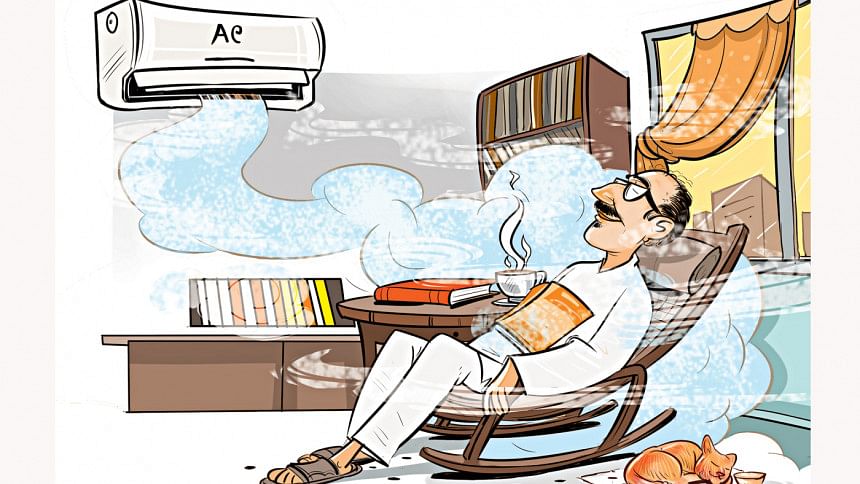 Previously, AC was a luxury product for upper-class people, but gradually, it is getting popular among all classes due to the country's hot weather, 100 per cent electrification, swelling purchasing power, affordable prices and quick services for the product.
Locally manufactured air conditioners (ACs) are starting to dominate the domestic market as consumers are pleased to be getting good quality cooling systems at reasonable prices.
Over the past decade, the AC market has been growing steadily in Bangladesh due to the country's hot and humid climate, along with the increased purchasing power of affluent people.
As such, the demand for air conditioners in both residential and commercial sectors has grown significantly. According to market insiders, locally manufactured units of GREE, Walton, Singer, Media, and Vision now occupy around 70 to 75 per cent of the AC market in Bangladesh.
Besides, international brands, such as Panasonic, Daikin, LG, Samsung, Sharp, General, Toshiba, and Whirlpool are available as higher middle-class and premium customers prefer globally renowned brands.
However, both foreign and local brands of AC offer a wide range of different features and prices to cater to the diverse needs and preferences of consumers.
On the number of ACs being sold, reliable data is hard to come by. Industry people estimate that at least 500,000 units meant for homes would be sold this year, while it was around 400,000 last year.
They say the projected rise in sales is mainly due to rising temperatures in Dhaka city, which recently reached a six-decade-high of 40.5 degrees Celsius. On average, Tk 5,000 crore worth of ACs are sold for residential and commercial purposes every year.
According to them, the market grew at around 10 per cent annually as prices came down over the last 10 years.
The split air conditioner segment is the largest in the market, followed by the window air conditioner segment.
In addition to non-inverter ACs, the market is also seeing an increase in demand for inverter units, which are more energy-efficient and environmentally friendly.
According to Statista, a market assessment firm, the AC market in Bangladesh is anticipated to grow in coming years on account of rising urbanisation and an increase in per capita income due to Vision 2021 and 2041.
Moreover, acceptance of air conditioning systems as a utility product rather than a luxury item is also augmenting the market's growth.
Further, an increase in sales of power-efficient air conditioning systems, along with rising adoption of superior technology, is anticipated to proliferate the double-digit growth of the local market.
However, the Covid-19 pandemic hampered the overall economic growth of Bangladesh, restraining the growth of the AC market as well.
According to 6Wresearch, a Delhi-based one-stop market intelligence and advisory centre, Bangladesh's AC market size will grow by around 16 per cent annually until 2026.
The AC market is projected to grow at a healthy rate in the coming period as the economy is returning to normalcy.
Nurul Afsar, deputy managing director of Electro Mart Limited, which manufactures and retails GREE ACs, said the market has been increasing by 10 to 12 per cent annually during the last 10 years.
This is because prices came within the reach of middle-class people due to growing local production.
Besides, the government has given exemption of value added tax (VAT) on imports of raw materials for refrigerators and ACs.
With this backdrop, international brands like Samsung and LG invested in local assembly and manufacturing to catch the growing market.
According to him, local and international brands have invested around Tk 3,000 crore to set up manufacturing plants over the last 10 years, creating around 100,000 opportunities for direct and indirect employment.
ACs of GREE, also known as the "World Brand", are among the most popular due to their unique features, affordable prices and after-sales service. Also, GREE's compressors are well known in the domestic market for longevity, he claimed.
"If customers are looking for an energy-efficient AC, then GREE can be a great choice," he said, adding that the country's growing middle economy is constantly increasing the demand for budget home appliances.
GREE ACs are available in the market in the price range of Tk 36,000 to Tk 100,000.
Saidur Rahman Khan, head of marketing at Rangs eMart, which retails ACs of Panasonic, Samsung, LG and Hisense brands, said higher middle-class to premium-class customers are their targeted group.
Bangladesh has changed in the past decade, with the demand for ACs having increased in line with the growing purchasing power of the general people. Besides, the tropical weather of the country is also propelling sales, he added.
Tanvir Rahman, chief business officer of Walton Air Conditioner, said the demand for ACs is growing very fast in Bangladesh.
Previously, it was a luxury product for upper-class people, but gradually, it is getting popular among all classes due to the country's hot weather, 100 per cent electrification, swelling purchasing power, affordable prices and quick services for the product.
Referring to their market study, he said they expect sales growth of around 20 per cent year-on-year in 2023.
Walton, one of the largest AC manufacturers in Bangladesh, has a yearly production capacity of 200,000 units. The company has 49 models of inverter and non-inverter residential ACs available in the market, along with 19 models of cassette and ceiling-type commercial ACs, as well as various capacities of VRFs and chillers.
Walton has a strong research and innovation team with highly efficient engineers and gives the highest priority to making highly energy-efficient and environmentally friendly ACs, he added.
According to Rahman, around 40 per cent of the demand for ACs comes from Dhaka alone.
Moztaba Nadim, brand manager of Elite AC, said the demand for window-type units had been replaced by split ACs.
"Along with more time and increased income, people are changing their lifestyles and expect more comfort," he added.
Elite locally manufactures and retails Media ACs, which is an international brand.
Nadim then said they import basic parts of the product and assemble them in Bangladesh, which helps bring down prices.
Fahima Pervin, head of products at Singer Bangladesh Limited, said ACs are no longer considered a luxury product as they are now a necessity.
"Due to the unbearable heatwave, we are seeing an unexpected spike in AC sales. With the increased demand, we expect around 20 per cent growth in the market," she added.
Regarding the higher demand for ACs, Pervin said changing weather, growth in the middle-class and upper-middle class segments, and changing lifestyles are fuelling the local AC market.
According to her, Singer has introduced a new range of inverter series with eco-friendly R32 gas. The product is very efficient with fast cooling with its four-in-one filter and zone follow features.
She also said they ran a free AC cleaning service campaign before summer started this year.
"During the peak season, Singer ensured 99 per cent on-time installation," Pervin added.