Sporsho's Journey of Conquering Vision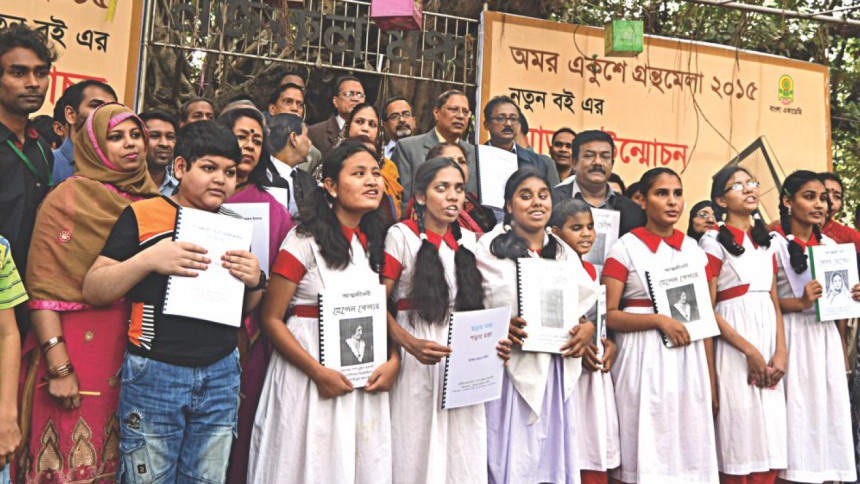 Have you ever imagined what would it be like to not be able to see your surroundings, the faces of your loved ones, the pages of your favourite books? According to a 2011 study, there are at least 200,000 youths in Bangladesh who are irreversibly visually impaired. For these youths, this beautiful world is forever dark but their mind is just as enlightened and creative as any other human being. They also want to read stories, poems, novels and know about their surroundings and the world. However, where could they find tactile Bengali books, which could be read by touching the raised alphabets printed in Braille? Sporsho Braille Prokashona came forward for these young booklovers. This unique organisation took the initiative to publish Braille books for the visually impaired readers.
So far, Sporsho has published 61 books of renowned writers in Braille. This includes several popular books of Muhammad Zafar Iqbal, several juvenile novels by Humayun Ahmed, poems of Syed Shamsul Huq, children's literature by Lutfor Rahman Riton and books by Mofidul Haque, Anisul Hoque and many others. On January 6, 2018, Sporsho marked its 10-year anniversary of enlightening the visually impaired people of our country. The celebration was preceded by the first ever debate, chess and music competition participated exclusively by visually impaired students in Bangladesh. On January 6 this year, the winners of those competitions were awarded ceremoniously through a grand cultural programme. Also, the first Braille book stall in the history of Bangladesh's Ekushey Book Fair was set by Sporsho in 2011.
Sporsho's journey started in 2009 under the visionary leadership of its founder Nazia Jabeen. Nazia realised the grief of vision loss when one of her close family members' eyes were injured in a serious road accident. From that realisation, Nazia started to work for a non-government organisation called "Prerona" where she first came close to visually impaired youth and students.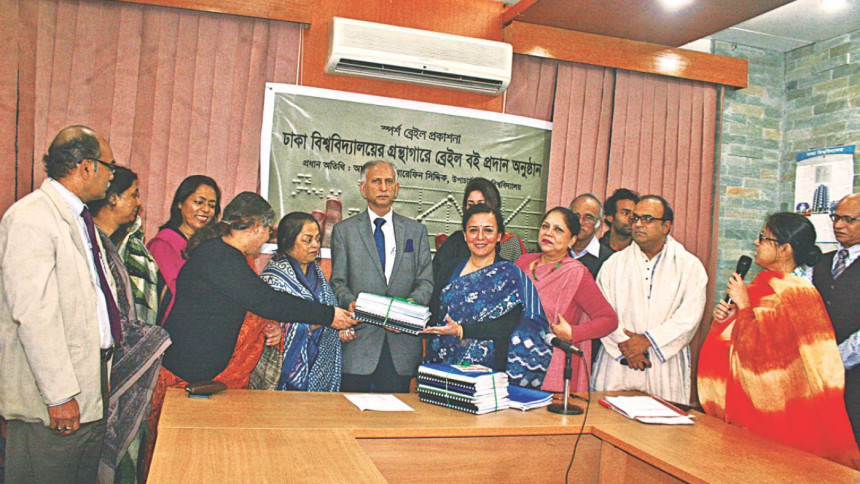 Thanks to Nazia's decade long movement, several Braille printing presses have recently been established as the demand for Braille books is growing. Besides publishing Braille books, Nazia and her team at Sporsho have also been working to give visually impaired students an open space for learning and self-development. Sporsho is developing an audio library for these students where they can study freely. Sporsho also organises music, poetry recitation and indoor games classes for the visually impaired students. "My dream is to build an open knowledge centre for all where visually impaired youths will get completely barrier free access. They will reach it and study without any discrimination just like any other student. By initiating knowledge and learning based activities, Sporsho's dream is to establish an inclusive, discrimination-free society for all, especially for the visually impaired people," says a hopeful Nazia. Sporsho is not just an organisation; it's a movement. As long as this movement continues, there is hope of an inclusive society in Bangladesh.