Youth Opportunities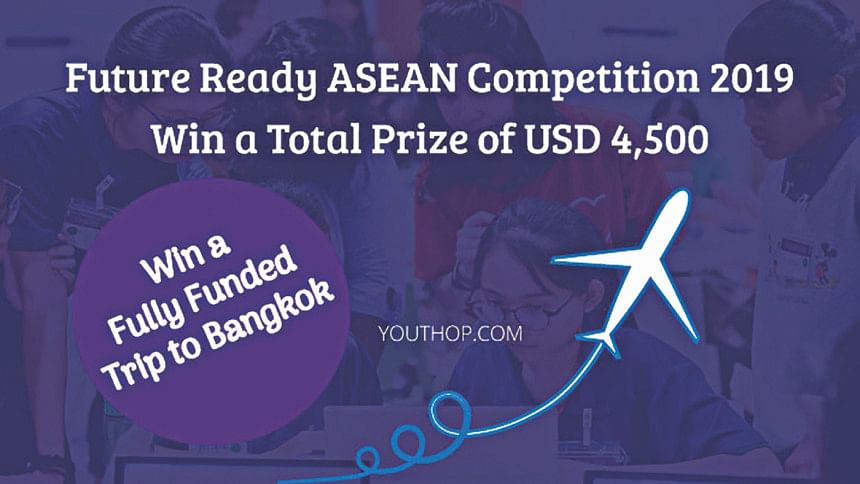 FutureReady ASEAN Competition 2019 (Win a Fully funded Trip to Bangkok)
Applications are now open for the FutureReady ASEAN Competition 2019. The theme of the competition is "Create a Blog Site on Sustainability". It is a front-end web development competition based on the Future Ready ASEAN platform's Digital Citizen track.
DEADLINE: October 13, 2019 | Competition
https://www.youthop.com/competitions/futureready-asean-competition-2019-win-a-fully-funded-trip-to-bangkok
Become an Ashoka Young Changemaker
Ashoka Bangladesh is inviting nominations for the Ashoka Young Changemakers. It is a carefully selected network of young people who have found their power to create positive changes and are ready to take on a new role as co-leaders of the Everyone a Changemaker™  movement.
DEADLINE: October 15 | Competition
https://www.youthop.com/bd/competitions/become-an-ashoka-young-changemaker
Asia Pacific Millennials Conference 2019 in Malaysia
Do you want to be a successful millennial in the 4.0 era? Do you care enough to understand what will happen in 4.0 challenges? What kind of preparations will make you the #MillennialWinner for world challenges? Millennials will play a large role in adopting to the challenges of the future. It is time for you to boost your personal growth in the 4.0 era, derive your competence by world recognition standards, upgrade your vision to be a part a part of world-class initiatives and collaborate with 150 millennial leaders from different countries to sharpen up your World Wide Network!
DEADLINE: October, 20 | Conference
https://www.youthop.com/conferences/asia-pacific-millennials-conference-2019-in-malaysia