The wheels that set her free
Takia Sultana Nova, a third-year student of International Islamic University Chittagong, received the IVD Bangladesh Volunteer Award 2021, securing the third place.  She has successfully empowered over 400 women by teaching them how to ride scooters.
Takia's journey dates back to her days at Hazera-Taju Degree College. "My college was quite far from my house, and with buses stopping every ten minutes for passengers, it was tough to be on time for classes," she shares. "On some days, the buses had no female passengers, which made me feel unsafe."
Back then, Takia was inspired by a friend's elder sister Mahmuda Khanom, who rode her scooter to work.
Initially, she learned scooter riding from Mahmuda, and later, from her uncle.
Her father and uncle surprised her with a scooter in 2018. Takia is also grateful for her mother's support.
She started the Facebook page RoadBook BD in 2019. "At first, people were skeptical about girls riding scooters, but their attitudes are gradually changing," she asserts.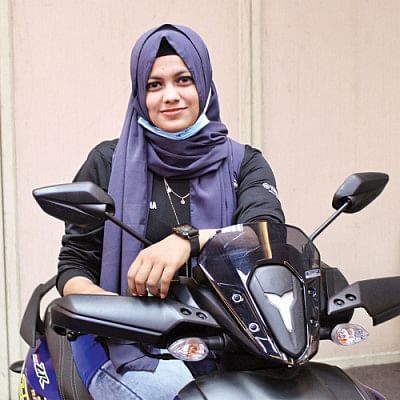 Jannatul Afsan, a school teacher of Chattogram and graduate trainee of RoadBook BD, faced harassment in public transportation on a regular basis. She has been riding her scooter to her workplace for the last year and a half. It saved much of her time and travel expenses, especially during the lockdowns.
"Scooters are no longer a luxury for women. They are a need," she adds. "Takia has made women riding scooters acceptable, even in the rural areas of Chattogram."
Takia believes that riding scooters gives women an unparalleled sense of freedom and confidence.
Recently, she was appointed as the Speed Girl Riding trainer of Chattogram by YAMAHA Riding Academy, a programme that is active in seven more districts.
"I attune my trainees with the road rules through tours, which not only equip them with practical experiences, but also refresh their minds," she adds.
In the future, Takia plans to set up her own office, make the licensing process easier for new riders, and open a space where girls can practice riding.  
The author is a freelance journalist. Email: [email protected].