Life (and death) of Rohingya children
No place to hide: Life (and death) of Rohingya children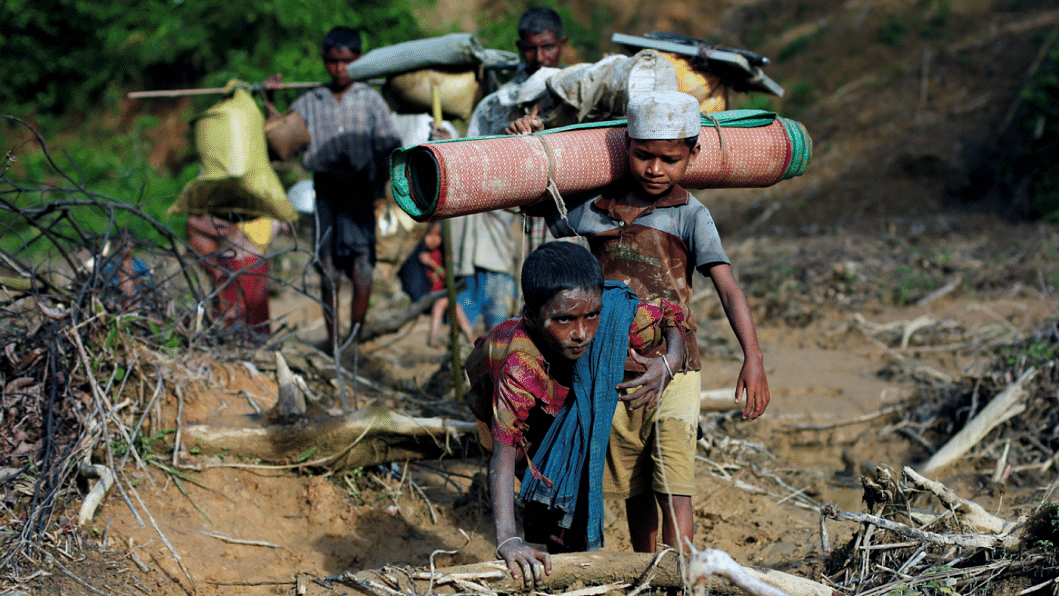 Playing hide and seek is a much loved game for children throughout the world. In conflict zones, adults frequently use the metaphor of the game to explain to their young children that they need to hide and should try their best not to be found. The larger role of adults in the lives of children is protecting them from violence as best as they are able to. Sadly, persecuted children are denied sanctuary to hide from political violence instigated by adults. This is a global phenomenon. This piece briefly narrates the context and effects of the current spate of violence on children in Western Burma/Myanmar.
The context
Derived from Rohang, the ancient name of Arakan, the Muslims of Burma's west coast identify themselves as Rohingya. Realising the deeply embedded prejudice the term carries with it, many Rohingya in recent decades prefer to be labelled simply as Arakan Muslims. In all formal and most of the informal discussions in Myanmar, the widely used term for Rohingya is "Bengali Muslims" or "illegal Bangladeshis". The key problem of legitimacy and citizenship for the Rohingya is linked to this debate about what exactly to call these persecuted people. While all identity groups should have the right to name their own group, through census programmes, textbook revisions and the systematic silencing of Rohingya in broader public discourse, they have been wiped out from the living memory of modern Myanmar. A handful of academics who have until now explored the crisis of identity at the heart of the Rohingya "crisis" have analysed these exclusionary politics of citizenship through the lens of race vs ethnic group identity. Nick Cheesman argues that "National races or taingyintha is among the pre-eminent political ideas in Myanmar today. " Cheesman also notes "lexically and legally, national races trump citizenship. To talk of the political community 'Myanmar' is to talk of taingyintha, and to talk to that community is above all to address its members not as citizens but as national races." As such, the questions of how and why the Rohingya community is being systematically wiped out through certain genocidal and "ethnic cleansing" practices must also be explained through the understanding of what kind of systematic processes does an ethnic group legitimately belong to in modern-day Myanmar. This argument cannot be won by suggesting that Rohingya belonged to ancient Arakan that is part of modern Myanmar but rather with reference to the "Myanmafication" of the state in which "Burma" became "Myanmar" (Gustaaf Houtman, 1999). What I am suggesting is that to understand and successfully resolve the plight of the Rohingya, the political history of intractable conflicts and militarisation of Burma/Myanmar must be considered. Bangladesh has very little understanding of Myanmar. This must be changed to figure out long-term solutions to the massive forced displacement the country is dealing with.
Rohingya's erasure from Myanmar's state and societal memory also occurred against the backdrop of the protracted conflicts that touched all ethnic groups in the country over the last 60 years. Hundreds of thousands of people of diverse ethnicities, faiths and cultures were killed, tortured, raped and displaced and were forced to seek refuge beyond Myanmar's borders. There are also more than half a million internally displaced people (IDPs) within Myanmar. Many of them, including children, work under slave labour conditions. In this context, Rohingya citizenship status has simply not been a priority issue for any unified human rights movements.
Myanmar has returned to some stability recently, but the situation for Rohingya remains complex and vexed. This is due to the legacy of political, social and psychological trauma and persecution across Myanmar society. There is little or no unified civil society response for Rohingya, leading to a culture of impunity and the absence of a proposal for peaceful co-existence within Myanmar's multi-ethnic society. Myanmar's other ethnic groups in many instances genuinely do not believe that Rohingya belong to the modern nation-state of Myanmar. Despite there being only three percent being Muslims in Myanmar, there is a genuine anxiety that Islamisation will spread. Indonesia is often cited as an example in this context.
Sadly, the human rights organisations and women's rights organisations in Myanmar have not publicly defended Rohingya. Karen Women's Organisation is a notable exception.
Statelessness and disenfranchisement
There are eight major national ethnic groups that could be broken down into another 135 ethnic groups. Myanmar, through its 1982 Citizenship Law recognises the Kaman and Bamar Muslims in its Muslim populations. Its population also includes Chinese Muslims and Indian Muslims. However, the largest Muslim population living in the Rakhine State, the Rohingya, are not recognised in the list—this has effectively rendered them stateless.
The forced migration of Rohingya that generated the recent crisis beginning from 1942 is well documented. What is less known, at least in Bangladesh, is that from 1920s, the word kala was being widely used to describe Indian Muslims, Indian Hindus and Burmese Muslims. There were anti-Muslim riots led by primarily ethnic Bamar in 1926 and 1938. In 1930 there were serious anti-Indian riots. The "Burma for Burmese" campaign of the late 1930s is deeply embedded in the discourse of the Myanmafication of Burma that I noted earlier.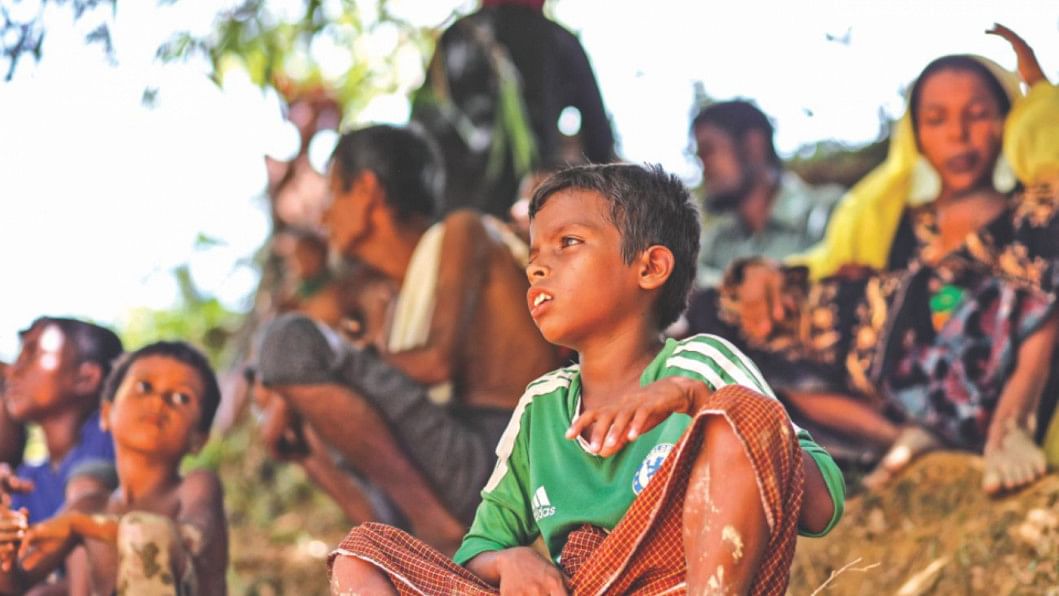 We are also familiar with some of the key exclusion policies and strategies in Burma/Myanmar that started with the military coup, after which freedom of movement was restricted in 1962; the promulgation of the Emergency Immigration Act designed to prevent people entering from India, China and Bangladesh in 1974; the census programme Nagamin, to check identification cards and take action against illegal aliens in 1977; and finally the 1982 Citizenship Law enacted, following the 1978 exodus, when many Rohingya returned or attempted to return to Myanmar.
In Myanmar's first openly contested election in 25 years in November last year, 2015 Nobel Laureate Aung San Suu Kyi's National League for Democracy won a landslide victory. The 2008 constitution also reserves 25 percent of seats in the Parliament for members of the military, which primarily controls security policies and practices of Myanmar. The electoral politics prior to general election and the restriction imposed on political rights contributed to the further disenfranchisement of the Rohingya. The right of temporary identity cards of an estimated 700,000 Rohingya and other minority groups to vote were revoked in May 2015 (See OHCHR report on Rohingya, June 28, 2016). The new Parliament has no Muslim members.
U Ko Ni, Aung San Suu Kyi's advisor, a well-known lawyer and one of the most prominent Muslims in Myanmar was assassinated in January 2017. This event marked the beginning of the end that we are now witnessing in 2017. U Ko Ni was widely believed to be the one who advised forming the position of State Counsellor for Aung San Suu Kyi as she was barred from the presidency under Article 59(f) of the 2008 Constitution primarily drafted by the military. In recent years, U Ko Ni had publicly pushed for constitutional reforms and advocated for a drastic reduction of the military's political powers. A former military officer was suspected of the killing. Aung San Suu Kyi was not only remarkably silent for a while after the assassination but she didn't attend his funeral. It is worth noting that Aung San Suu Kyi has been criticised for her silence in responding to the plight of Kachins when the Tatmadaw launched ground and airstrikes in Kachin State. Following a 17-year ceasefire in Kachin and northern Shan states, armed conflicts emerged when KIO (Kachin Independence Organisation) turned down government proposals to ethnic armed groups and economic development projects such as the Myitsone hydropower dam, generating "new" grievances. Thousands of Kachin refugees were turned away by China.
Implications for children
While the forced displacement of Rohingya has been a constant factor even before Bangladesh became an independent country in 1971, in order to understand the most recent surge, it is worthwhile to go back to 2012. Following allegations of rape and murder of Thida Htwe, a Rakhine women, the Rakhine mob lynched 10 Rohingya men in June, 2012 (see for details: "The Rohingya and the denial of the 'right to have rights'"). The international community did not pay sufficient attention to the deafening silences projected by the government in Myanmar and counter the strategy of self-censorship that was employed to strategically and innovatively deliver humanitarian assistance to affected people. These strategies had backfired by 2017.
Systematic persecution, extreme poverty and alienation have led Rohingya to seek asylum in other countries. An OHCHR report estimates that 2,000 Rohingya and Bangladeshis died at sea between 2012 and 2015 (submitted to the Human Rights Council, 32nd session, June 2, 2016). While there are no reliable figures, there are reports that many of them are children.
On October 9, 2016, nine border guards were killed in three attacks in Myanmar's north-western border with Bangladesh. The President's Office held a previously unknown Rohingya group liable (Human Rights Watch report). Soon after troops started to arrive in Maungdaw, a regional curfew was declared and 400 schools around the area were closed. While access is restricted in the Rakhine state, the following statements indicate the gravity of the situation. Pierre Peron, the spokesperson of the Coordination of Humanitarian Affairs (OCHA) in Myanmar, estimated that over 30,000 people were displaced by the attacks carried out by the Tatmadaw.
Currently there are 146,500 internally displaced people in the Rakhine state. Mostly comprising of Muslims, there are some Buddhists, and almost all the IDPs live in camps. More than 51 percent are girls and women, with more than 54 percent children (Shelter/NFI/CCCM cluster, Rakhine cluster analysis report, November 1 , 2014, on file with IDMC). Following the renewed crackdown since last year, these camps have been severely affected. Due to the crackdown in the area by mid-November 2016, more than 3,000 Buddhist Rakhine were displaced. In northern Rakhine, one-fifth of children under the age of five suffer acute malnutrition (UNICEF factsheet).
Food and medical supplies in the camps provided by the international organisations have either been either restricted or completely stopped, contributing to the further vulnerability of children. Sexual abuse, lack of proper sanitation and medical supplies have several affected sexual and reproductive health of girls and young women.
Widespread accusations of rape of Rohingya girls and women were either denied or shrugged off by the authorities. However, some of the responses to the accusations indicate how deeply the Rohingya are despised. For example, Aung Win, the chairman of Rakhine investigation committee in his interview with the BBC last year laughed and stated that the soldiers would never rape Rohingya women because "they are very dirty". These responses and the most recent denials clearly show how Rohingya, especially women and girls, can be quickly dismissed from any recourse to justice.
Children are also vulnerable when they are crossing treacherous borders to seek refuge. On August 25, 2017, ARSA (Arakan Rohingya Salvation Army), a Rohingya insurgent group, which according to the International Crisis Group was formed after the 2012 violence, attacked police posts and attempted to raid an army base in 25 locations. The disproportionate counter-offensive carried out by Tatmadaw forced Rohingya population to flee across the border to Bangladesh.
Referring to the humanitarian crisis and the resulting displacement, UN Secretary General António Guterres called for "swift action" to prevent further instability and find durable solutions. UN agencies are now seeking more funds to cope with the massive displacement. During a joint meeting with the Emergency Relief Co-ordinator and UN Under-Secretary-General for Humanitarian Affairs Mark Lowcock, UNICEF Executive Director Anthony Lake advised, "We shouldn't let the numbers of this crisis numb us to the fact that every one of these numbers represents a human life, the majority of whom are children—children who need our urgent help". As of September 30, an estimated 501,800 people have entered Bangladesh since the attacks, with more than 15,000 people coming in every day. People continue to come in through different crossing points, including by marine routes in coastal areas on the Bay of Bengal, over the Naf River in Teknaf and via land crossing points in Ukhia and Bandarban District.
Nearly half of the newly displaced are children. Up to 60 percent of the new arrivals are children and 30 percent are children under five years old. Seven percent are infants less one year old. Three percent of the newly arrived refugees are pregnant, and seven percent are breastfeeding women. They narrate stories of violence that tell a tale of international crimes. UNICEF estimates that there are over 1,600 unaccompanied children who are at particular risk of human trafficking, sexual abuse, child labour and child marriage. There are 720,000 Rohingya children (both from previous and current displacement statistics) who remain vulnerable and require urgent support. Up to one in five refugee households are headed by women, and five percent by children. Over 45,000 children are malnourished.;
UNFPA stated that the horrific accounts of rape and sexual assault against Rohingya women and girls could be "just the tip of the iceberg", and that 120,000 of the recent displacement in Cox's Bazar since August 25 are women of reproductive age and 24,000 are either pregnant or breastfeeding. About 60 percent of Rohingya girls were married before the age of 18. It is worth noting here that a UNHCR Report published in 2016 on mixed movements in Southeast Asia noted that one in every three women and girls said that they were victims of domestic violence.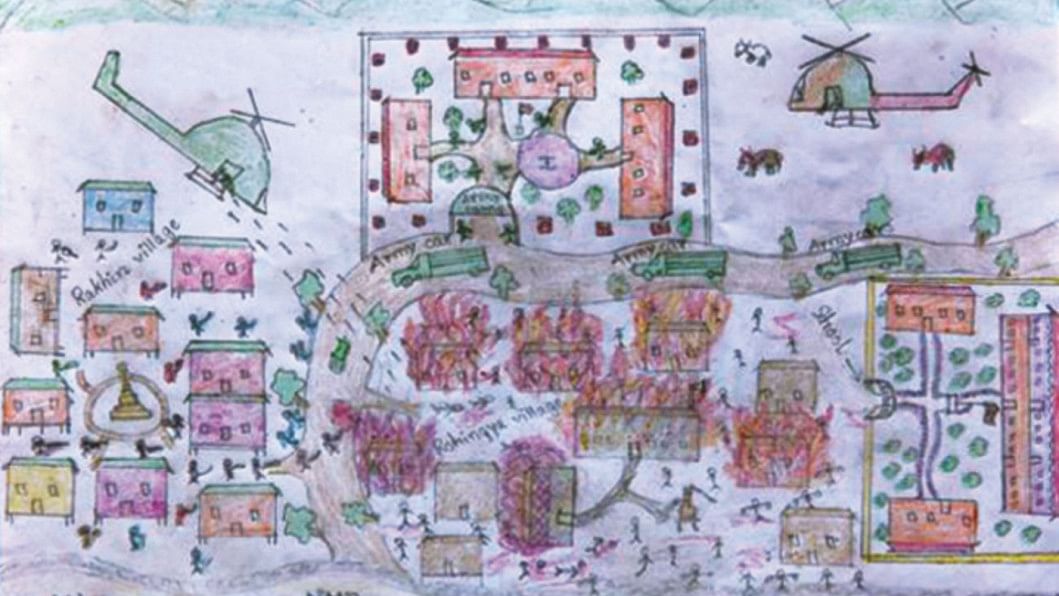 There are currently 23 camps along the border and a number of makeshift camps. Bangladesh had originally reserved 2,000 acres of land near to Kutapalong camps for new arrivals. After the number of arrivals exceeded 500,000, another 1,000 acres has been sent aside. Bangladesh has plans to construct a "mega camp" for 800,000 Rohingya in this new refugee zone. The refugees are living in dire conditions. Displaced Rohingya children need special support and this support must include undocumented children and those in make-shift camps. Children are arriving exhausted, hungry, traumatised and in desperate need for food, clean water, sanitation and healthcare.
The Leda camp is now sheltering 30,000 Rohingya. This camp occupies 25 acres in the hills near Teknaf. Since it started as a makeshift camp in 2007 and the population was not registered with the Bangladeshi government, children did not have access to public services, including education, health and psycho-social support. While long-term solutions are being considered, children in make-shift camps need immediate and adequate access to services as well.
The recent wave of forced displacement also has broader regional implications. Leda is close to a Rakhine village where only 120 Rakhine families live. People in this village are worried that the inter-communal tension will spill over across the border and there is grave concern that the minority Buddhist community in Bangladesh will be targeted by extremists, where minorities and indigenous populations have been attacked and displaced numerous times under a range of pretexts. Some zealous local Bangladeshi Muslims have attacked indigenous Bangladeshis and Buddhists, including monks, in different incidents. The Bangladesh Buddhist Federation has repeatedly condemned the ongoing repression. Raja Devasish Roy, a widely respected leader of Bangladeshi civil society and the Chakma Circle Chief, issued statements urging the government to engage in bilateral and international diplomatic initiatives. Protesting the persecution of Rohingya, the Buddhist community in Bangladesh cancelled flying fanush during Probarona Festival, the second largest religious festival of Buddhists on October 5. These are positive examples of the spirit of solidarity (shouhardyo) and compassion (karuna) that should be upheld and celebrated in Bangladesh and Myanmar.
We need more civil society voices, particularly those from faith-based institutions who have symbolic authority, to speak up and unite diverse opinions. It is really important to recognise and denounce hate speech. Myanmar needs to prioritise inter-communal dialogue in Rakhine state. Access to humanitarian actors in Rakhine state to provide services to children and their communities is crucial to save lives.
Every child has a right to live in dignity and has a right to childhood; they all have a right to be protected from violence.
---
References
1. Nick Cheesman (2017) 'How in Myanmar "National Races" Came to Surpass Citizenship and Exclude Rohingya', Journal of Contemporary Asia, 47:3, 461-483
2. Bina D'Costa (2012)  'Rohingya and the 'Rights to Have Rights', Forum, The crisis has broader regional implications'. Vol 6, Issue 08, The Daily Star.
3. Houtman, G. 1999. Mental Culture in Burmese Crisis Politics: Aung San Suu Kyi and the National League for Democracy. Tokyo: Tokyo University of Foreign Studies.
---
Dr Bina D'Costa, Lead Migration Research and Evaluation Specialist, UNICEF Office of Research-Innocenti and Associate Professor, Department of International Relations, Coral Bell School of Asia Pacific Affairs, College of Asia and the Pacific, the Australian National University.
Views expressed are the author's own and do not represent any institution and government.
(The print version of the article was published under the byline "BDC" as the author had not yet received permission from the organisation she works in.)
---
See 

In the shadow of violence

 for the full list of articles on this special issue of Star Weekend.
---