spotlight
10 stories to look back at
As we all try our best to look forward to the New Year – make lists of things to do (better!), to read more, lose weight – in a nutshell, be a better person – we can't help but take a sneak peak at the past. Turn to pages 7-9 and take a look at 10 Star Weekend stories published in the last one year, that we believe have changed us for the better. On a brighter note, the Star Weekend team would like to wish you a happy new 2017!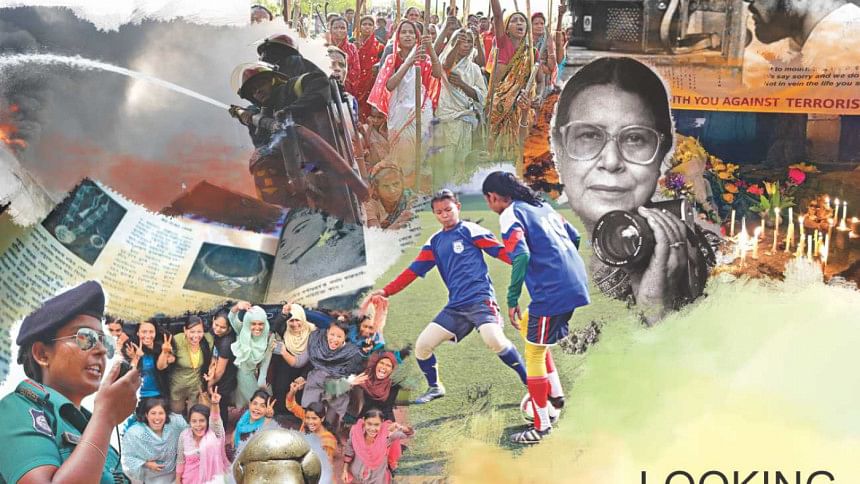 She Aims Shoots Scores! 
Published on the very first day of 2016 (January 01, 2016), Fayeka Zabeen Siddiqua (photographer - Kazi Tahsin Agaz Apurbo), wrote about the young Bangladeshi under-14 football team, who had clinched the AFU U-14 Girls' Regional Championship trophy. Beating the host nation Nepal (1-nil), this win was the very first international win for women's football in Bangladesh. Indeed, the year at the Star Weekend did start off at a positive note and everyone around celebrated with the young footballers. However, as weeks and months flew by, our stories began to reflect yet another aspect of society. 
Visit: http://www.thedailystar.net/star-weekend/spotlight/she-aims-shoots-score...
A Fight for Land and Livelihood 
Published in January 22, 2016, Ahmad Ibrahim along with photographer Kazi Tahsin Agaz Apurbo, took a bus to Chandpur Tea Estate in Habiganj and spent a few days with the tea workers. What they experienced was beyond imagination – so much more intense and complicated then what was being written about them on online forums and social media. Living on the land for more than a century, the tea workers were suddenly made foreign to their own homes. The lands were being occupied using force and violence, to which the workers were also responding with courage. 
Visit: http://www.thedailystar.net/star-weekend/spotlight/fight-land-and-liveli...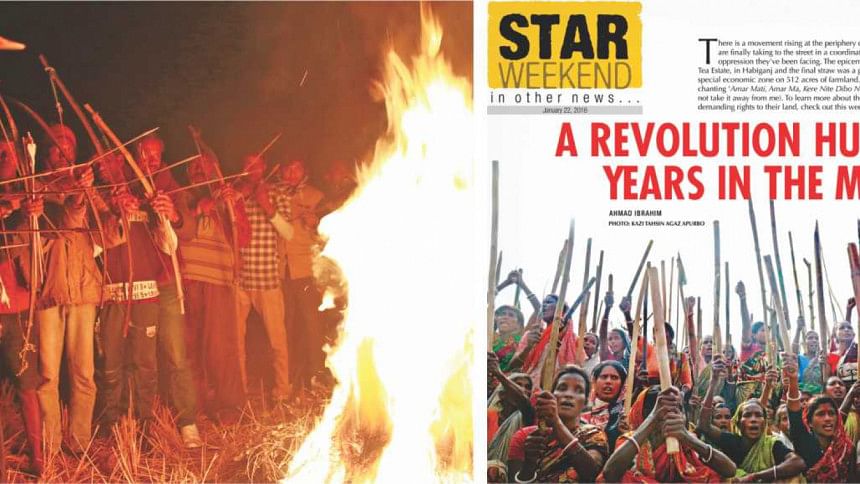 Begum: How One Magazine Began a Revolution
On May 20, 2016, Naziba Basher wrote about the magazine – Begum – which had created history and a revolution amongst the women of Bengal, right from the 40s to date. The magazine would feature writers, thinkers and women rights activists. All in all, the magazine reached many and broke barriers in the conservative Bengali society. Surely, Nurjahan Begum's (Editor of Begum) contribution to the society was commendable. She died just three days after the publication of this story. 
Visit: http://www.thedailystar.net/star-weekend/spotlight/begum-how-one-magazin...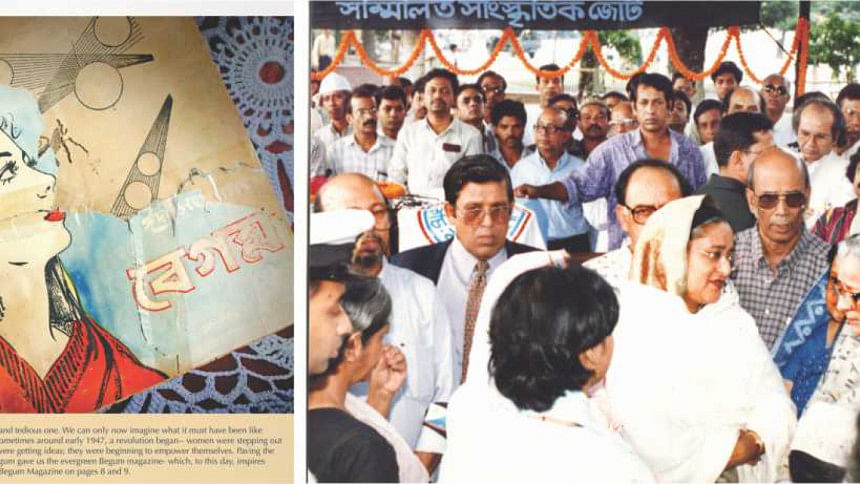 The Girl with A Rolleicord 
On June 3, 2016, Fayeka Zabeen Siddiqua wrote about 79-year-old Sayeda Khanam, the first Bangladeshi woman professional photographer. She showcased courage to chart her own path and eventually became an inspiration for many. She has been a beacon of hope for thousands of women who took courage from her story to break the shackles of society and follow their dreams. 
Visit: http://www.thedailystar.net/star-weekend/spotlight/the-girl-rolleicord-1...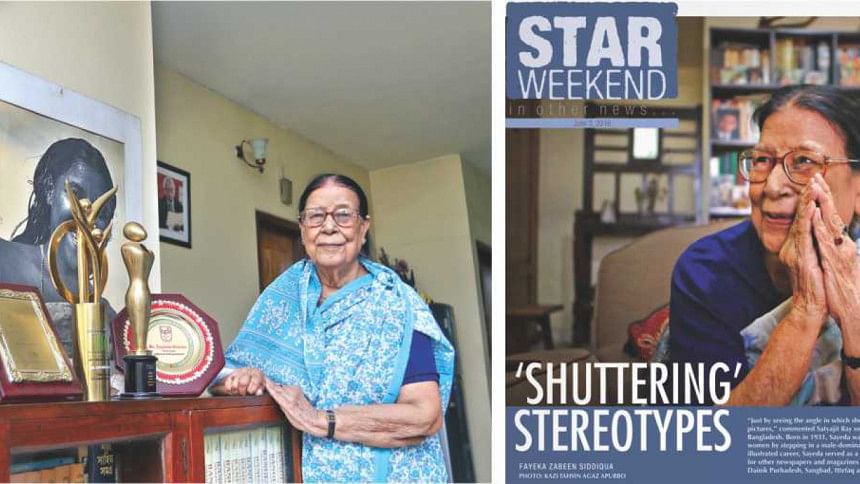 Saluting the Pioneers
On the same day (June 03, 2016), Md Shahnawaz Khan Chandan and photographer Kazi Tahsin Agaz Apurbo covered the hard work of the female traffic officials, who are spread out all over the capital. For the first time, the Bangladesh Police had recruited 28 women to do the difficult job of managing urban transport. Defying the scorching sun, monsoon shower, irritating comments from unruly drivers, these brave women have been doing their round-the-clock duty diligently alongside their male colleagues, perhaps, better than them in many cases, and they still continue to do so. The video where these officials are seen working and managing the traffic has had thousands of shares and likes, on the Daily Star YouTube page. 
Visit: http://www.thedailystar.net/star-weekend/watch-saluting-the-pioneers-123...
Walking on Road 79
The Holey Artisan massacre that took place on July 1 has shattered us all and even today, we get shivers within when we talk about it, or even think about the incident, where loved ones were lost forever. Right after the massacre took place, I would spend days walking on the road where Holey Artisan stands, even today. I would talk to the residents, random mothers and family members placing flowers on the make-shift memorial and try to my best to figure out why the massacre had happened in the first place. Along with photographer Kazi Tahsin Agaz Apurbo, on July 15, 2016, we featured Road 79, the people around and the children with their little notes left with the flowers by the memorial. 
Visit: http://www.thedailystar.net/star-weekend/spotlight/walking-road-79-1253638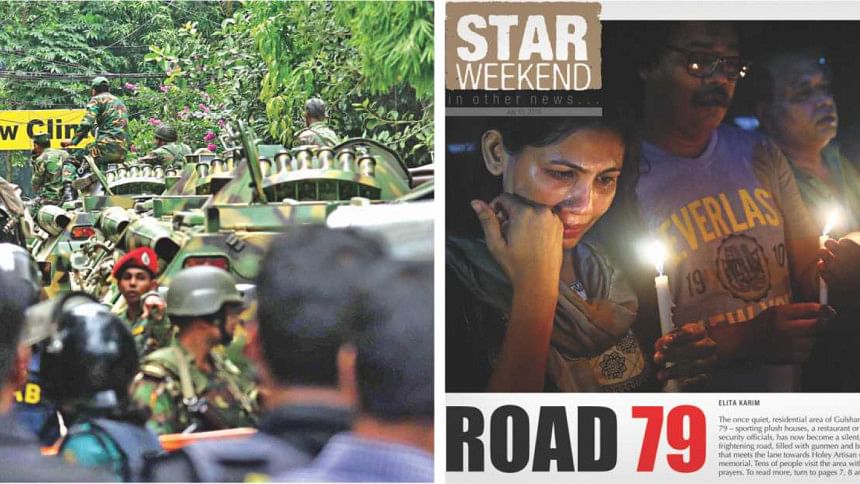 A King without a Crown 
Despite the many losses experienced, life was moving along regularly. On October 07, 2016, Nilima Jahan wrote about Sankar Dhar, an artist, famous for sculpting Goddesses on Durga Puja and Kali Puja. Ever visited the narrow zigzag streets of Tanti Bazaar in the old part of Dhaka? One such narrow lane is called 'Pannitola', where once lived the legends– Subhash Dutta, Nitun Kundu, Jhantu Das and many more. Sankar Dhar as a teenager was influenced by them, as he lived and still resides on the same lane for four generations. 
Visit: http://www.thedailystar.net/star-weekend/spotlight/king-without-crown-12...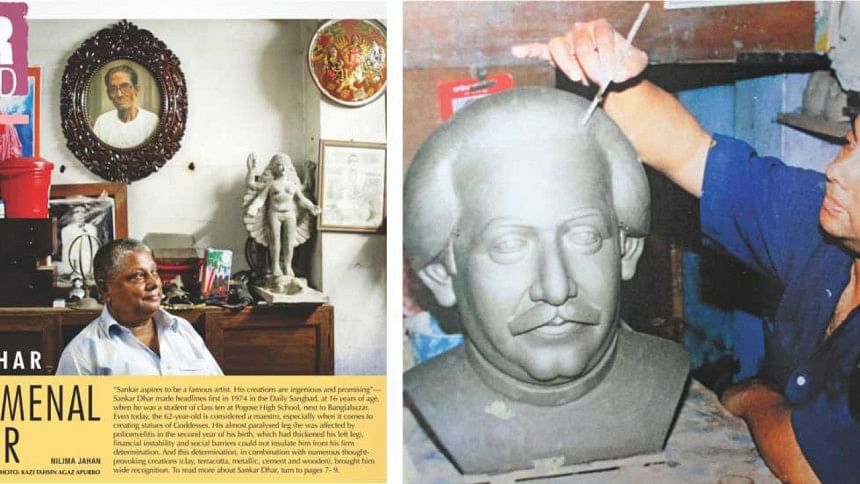 Baptised With Fire: First to arrive, last to leave 
On October 28, 2016, Md Shahnawaz Khan Chandan wrote about the unsung heroes – the firemen. With five hundred and forty nine stations all over the country, these men have been providing all kinds of emergency services to the people. Besides, their community awareness programmes including fire fighting, rescue and evacuation drills are teaching young people life saving skills, thereby creating a new army of dedicated volunteers, everywhere. 
Visit: http://www.thedailystar.net/ special-story/baptised-with-bd-fire-heroes-at-work.html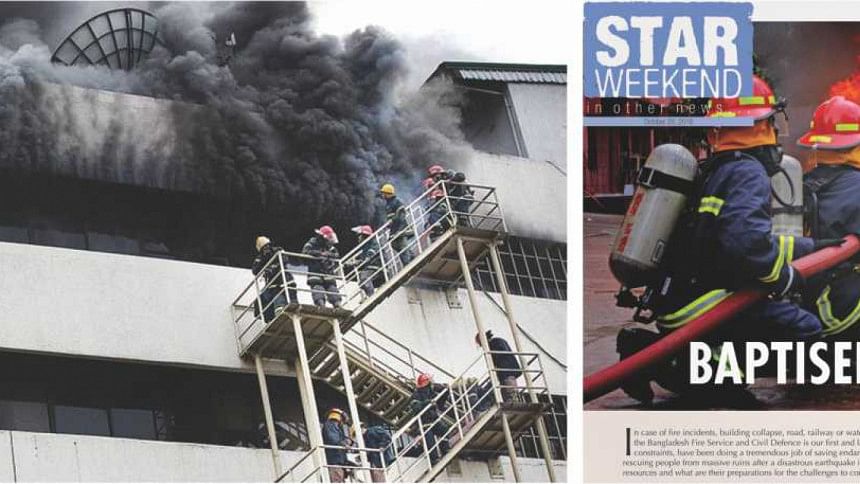 The Workers' Revolution 
Good things happen in Bangladesh all the time and not necessarily only in Dhaka! On November 4, 2016, Apurba Jahangir wrote a special education story for the Star Weekend, which was also published on the front page of the Daily Star. The Asian University for Women, located in Chittagong, established in 2008 – the first regional university to adopt a liberal arts curriculum – enrolled more than thirty RMG workers in their new programme 'Pathways for Promise'. The programme identifies talented young women among Bangladeshi garments factory workers and provides them with the academic, professional, and financial support required to earn their Bachelor's degrees and take leadership positions in their chosen fields. 
Visit: http://www.thedailystar.net/star-weekend/spotlight/the-workers-revolutio...
10 Songs that Inspire
As we celebrated the 45th Victory Day of Bangladesh this year, I decided to share 10 songs that inspire Bangladeshis living all over the world. On December 16, 2016, I listed 10 songs that spoke of tales of victory. Many of these stories were written down in the form of songs – the desires of the people, words of encouragement and the sheer beauty of Bangladesh.
Visit: http://www.thedailystar.net/star-weekend/spotlight/10-songs-inspire-1330387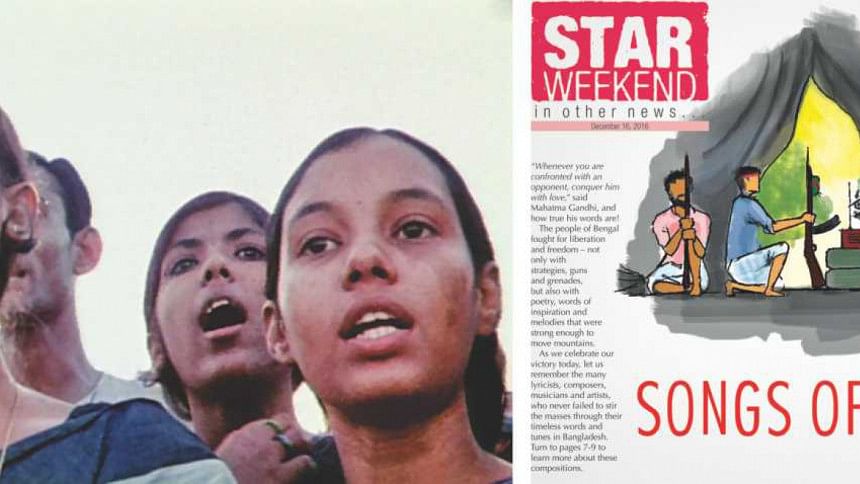 ---
If you would like to go back and read these stories (and more) online, visit http://www.thedailystar.net/star-weekend and do give us your feedback!
Here's wishing you a very happy new 2017!