Business As Usual?
Sexual harassment on buses
Farah Sharmin, an HSC student at Viqarunnisa Noon School and College, escaped an attempted rape while on a journey with her mother from Abdullahpur to Rampura on a Shuprobhat Paribahan vehicle in the evening. As the bus neared Rampura and passengers thinned out, Sharmin and her mother were left alone with some boys sitting at the back.
Suddenly, the driver switched off the lights inside the bus, saying that the headlights would not work otherwise. "Reaching Rampura, my mother got off first, but when I was about to exit, one of the conductors grabbed my hand. I tried my best to break free, but the bus started moving. I heard a voice saying 'Hold on to the girl!' and I did not know what to do. I hit the man with my tiffin box. I don't know how much I hurt him but at least it was enough for him to lose his grip. After pushing him back, I jumped from the bus," reads Sharmin's post on her Facebook wall.
The description is beyond horrific, not least because Sharmin is still a minor.
A garment worker was raped in a moving bus in Dhamrai, Savar late at night on her way back home from work. Afifa, an Uttara University student, also escaped a rape attempt in broad daylight. Priyanka Biswas Priya, an honours student of Eden Mohila College, jumped off a moving bus to get away from her attackers.
Most of these incidents took place in the span of one month. Statistics from the Jatri Kalyan Samity, a passenger welfare association, show that at least 21 women were either raped or gang-raped on public transportation across the country in the last 13 months alone. Also, as per a survey in 2017 by BRAC, 94 percent of women commuting in public transport in Bangladesh experience some form of sexual harassment.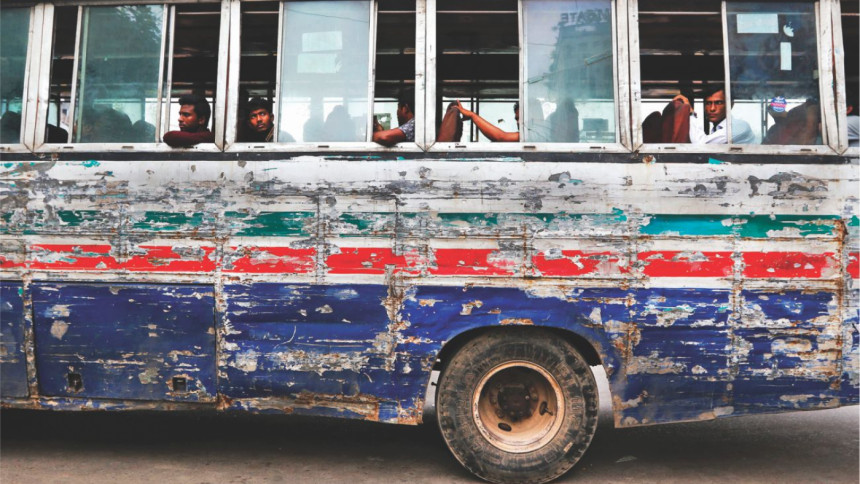 The experiences shared by female commuters who use public transportation on a regular basis highlight the frequency and magnitude of the violence they undergo on a regular basis, be it at the hands of drivers, conductors or passengers.  Shatavisa Antina, an intern doctor at Dr Sirajul Islam Medical College, Maghbazar, argues that sexual harassment on public transport has become such a commonplace affair that people do not even consider it an issue anymore. It was not too long ago," she recalls, "I was on my way to office on a bus of Shuprobhat and sitting on a seat reserved for women. An old man, older than my father, was standing beside me. Suddenly, I noticed that he was trying to touch my breasts, in the name of holding onto my seat, as if he couldn't keep his balance. Initially, I thought it was accidental. But, soon I realised that it was intentional. I started to protest, but nobody around me was paying any heed to me. Some of the passengers asked me to calm down, saying it was unintentional, or that it could happen in a public bus during rush hour. But I know that was intentional."
Another female commuter Rubaiya Binte Masud, a student of Eden Mohila College, points to the sexual harassment by conductors themselves. "I can't tell you how many times conductors shove their genitals towards my hips when I stand in the middle of a bus, in the guise of collecting fares from passengers. Sometimes I yell at them, but most of the time I keep silent, because I really feel humiliated and I don't want to let the whole world know," she says. "Also, while getting in or out, I think every girl faces that unwanted touch of the conductors. And if you simply wear a shirt or pants, take it for granted that you have to tolerate unwarranted comments," she adds.
A number of female commuters also report that they face verbal abuse—catcalls, whistles, comments on out gigure or outfit and so on—while riding on public buses every day.
Women commuters report that such incidents leave them feeling angry, frustrated and even "dirty", but when asked if they have reported or complained about any of the incidents, they reply in the negative. Some highlight the difficulty in reporting due to the fact they don't know the identity of the perpetrator. As Antina says, "Every time something happens, I want to take action against the perpetrator, but it ends up not being feasible. I don't know the perpetrator(s)—and most of the time, they get down after one or two stops. And who would I complain to, anyway? Once I went to the nearest police station to complain against a conductor, but they didn't really show any interest. In fact, one of them passed a comment on my look! After that, I really lost faith in them."
A number of girls concur that they also feel discouraged from reporting an incident as going to the police station to file a complaint is a lengthy and often troublesome process.
However, Mir Rezaul Alam, Addl. Commissioner (traffic), DMP, informs that it is possible for women and girls to easily file a complaint about such incidents. "Even if going to the police station is not possible, they can always approach our traffic police or general surveillance team on duty. Besides, they can seek help by dialling our national emergency services at 999."
When asked if they have a database through which they can track errant staff of a particular bus, Alam says: "The owners of the companies have the information of their staff, which can help the police to trace them."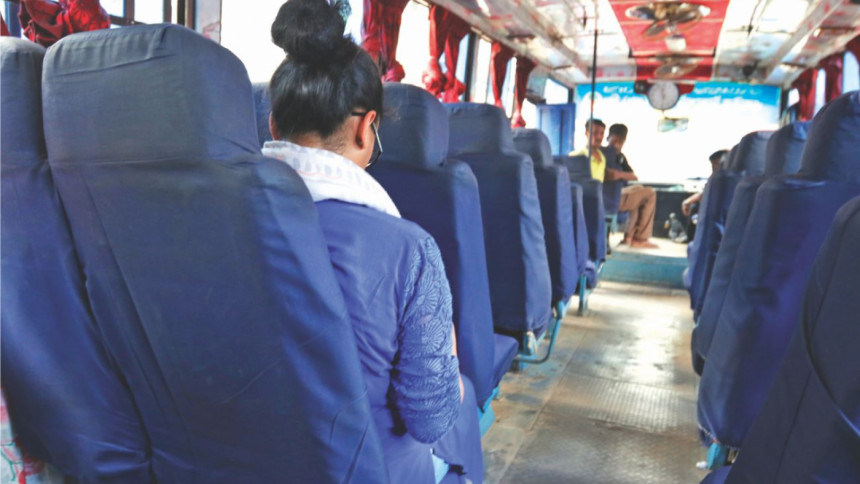 However, Star Weekend spoke to a number of transport owners and found that they do not have databases containing basic information of their drivers. What is more surprising is that none of them have minimum information about conductors as they are appointed and paid by the drivers themselves. But, as per section 23 (1) of the Motor Vehicle Act 1983, every conductor must have a conductor's license to work, which is totally absent in reality.
For example, when asked how they appoint drivers, one of the managing directors of Shikhor Paribahan Ltd admits that although they usually appoint a driver by taking a photocopy of their national identity card and photos, sometimes the workers are appointed based on personal connections.  "Besides, when an accident occurs, the drivers usually flee the scene, change their address and start driving in other areas of the city, using the name of their previous company. As they do not need to show any clearance certificate from their previous employer, they do the same again and again," he adds.
But, do the owners make an active effort to deter sexual violence on their buses?
Several owners admit that they do not have any formal training sessions on gender and harassment but they call workers to meetings if a major incident is brought to their attention. Some note that workers are usually unwilling to attend these meetings. When asked what action they take against bus drivers accused of sexual harassment, only one transport company states they have fired a driver and helper following an incident of sexual harassment on one of their buses. Another admits: "We cannot always fire them because we cannot run our businesses without them."
The transport companies do not have a hotline or a complaint mechanism through which passengers can lodge complaints directly.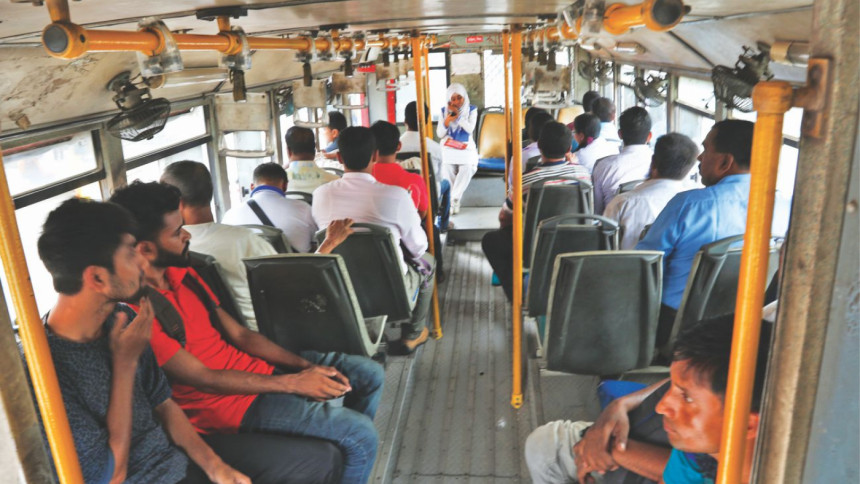 Experts believe that a system should be instituted whereby a database is maintained with information on drivers and conductors on each bus of each company, so that the errant worker can be easily tracked. 
However, Sanaul Haque, assistant director, Bangladesh Road Transport Authority (BRTA), the regulatory body to control, manage and ensure discipline in the road transport sector and road safety related areas, argues that currently, there is no legal obligation for transport owners to maintain the necessary database of their staff. Also, there is no scope at this point to introduce a system through which they can trace which driver or helper works on which vehicle. "Maybe in the future, if the technology advances more, we can launch such a system," says Haque.
Also, when asked about the license of the conductor, Haque admits that although the law mandates the conductors have licenses, it is not followed.
But isn't there any feasible solution to reduce the rate of the incidents of sexual harassment on public transport? Gender experts highlight the lack of accountability and the tendency of victim-blaming as major challenges to ensuring safe cities. Habibur Rahman, head of the Gender Justice and Diversity Initiative of BRAC, believes that it is time to focus on the transport owners and ensure that severe action is taken not just against the drivers but also the companies if there are any occurrences of sexual harassment on a bus.
"Also, it is necessary to give the staff proper training on gender sensitivity. BRAC has been working with them through the road safety programme, but since they are not accountable to us, nothing significant comes out in the end," says Rahman.
Female commuters believe that introducing more women-only buses can be a solution, at least in the short run. Currently, there are only 15 buses dedicated for women. Besides, transport companies can develop their own apps, through which passengers can get details on the staff, and report incidents of sexual harassment and other issues. "The police need not always be involved; the bus companies should be more accountable too," says Tahmina Anowar, who commutes from Mirpur to Mohakhali for her work on a daily basis.
To date, justice has been served in only one case of rape on a bus—four transport workers were given the death penalty in February 12, 2018, in a case filed in August 2017 for raping and killing 27-year-old law student Rupa Khatun Pramanik in a moving bus in Tangail.
Advocate Salma Ali, a human rights lawyer, argues that the existing laws and guidelines should be implemented strictly, and perpetrators given exemplary punishment. "Such offences should be dealt with speedy trials and the perpetrator should be punished in front of the people, so that they at least know that sexual harassment is a punishable offence," she says.
Citing the instance of the 2012 Delhi gang rape, Ali stresses the importance of pressuring the government too in such incidents. "Here, in Bangladesh, if we could incorporate the recommendation of the Verma committee and bring sustainable change in the implementation of our laws, that would be helpful for our girls to ride in comfort and safety," she adds, referring to the Justice Verma committee that was constituted within a few days of the brutal gang rape in Dehli on 2012 to recommend amendments to the criminal law so as to provide for quicker trials and enhanced punishment for criminals accused of committing sexual assault against women.
For a young woman like Sharmin, who was nearly raped on a public bus while with her mother, can we really call our city a safe place for women? It is time to introduce an organised transport system, so that our women can do something as basic as travel to and from school and work without fear of sexual harassment.