THE LAST HUSTLE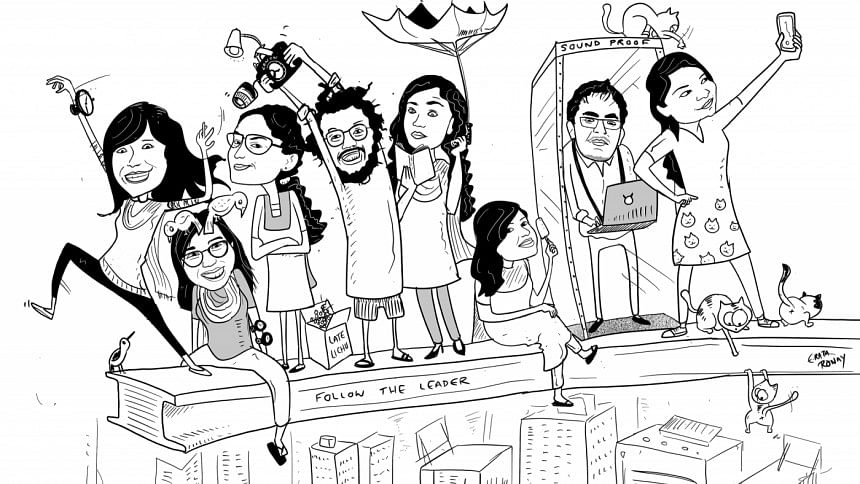 Abida Rahman Chowdhury
The soft light of the setting sun illuminates the entire section every time I walk in, mostly because I AM ALWAYS LATE. On one side white balloons hang, on another side a dart board. There is a coffee corner too, which was introduced by the editor because she "needed" to buy something as she waited in front of a store. The coffee machine served us well for a solid week before breaking down. It was a good week. We invited anyone who would dare walk these alleys to have coffee with us!
The Star Weekend team has had many such phases. There was the winter pitha phase, the pizza phase, the egg roll phase. Then there were the routine Tuesday night breakdowns trying to come up with titles and totally going off on tangents, sometimes ranging from grossly insensitive to just wholesome funny. I could possibly write a novel on all the colleagues (ahem FRIENDS) I have made here. There is Sushmita S Preetha, forever in a hurry. In a hurry to sign off the issue, in a hurry to edit, but always meticulously accurate. Baffles me. There is Kazi Tahsin Agaz Apurbo, moderately angry, walking as though in a race and pushing through beautiful visuals. Just beside him sits Sarah Bari, the first recipient of the glaring sun, always reading anything and everything and also a "cutting machine". She sub-edits, in case that was not clear. The remaining four, Maliha Khan, Shahnawaz Khan Chandan, Nilima Jahan, and Zyma Islam. The former two are the serious ones, always matter-of-fact. In fact, Maliha is the one who said that for her parting words she would write nothing at all. Meanwhile Chandan, well, he just puts his headphones on and powers through the evening as we throw a racket around him.
Zyma Islam boycotts everything, writes the best (imo) investigative pieces, and also looks at cat memes. Lastly my cubicle mate, Nilima Jahan. She is emotional, fierce, and funny and is subjected to cat memes all day long, thanks to yours truly. There was one other person though, Naimul Karim Elin, the one that got away. He left us to do more "world exclusives" and took along with him any semblance of calm we had.
Oh! Also, no goodbye piece would be complete without a shout-out to Aanila Kishwar, regular visitor, break-partner, Kowalski analyst and much, much more (no place to add more words) and to our neighbouring section of Shift, Next Step, and Bytes—aka the mostly "Brodude section".  There is Shaer Reaz, listening in on our conversations and piping in with random anecdotes. And there is Ronny bhai, resident dad-joke maker and funny man. We always forget to inform them that there's food.
I am not known to summarise my writing and I sure cannot summarise this year and a half of stories, reporting, intense debates ranging from topics of human trafficking to commodification of rickshaw art. No, I cannot. So, I simply took the liberty to write a line or two on these people and this section which moonlighted as part-time home for a good year or more.
Sarah Anjum Bari
My colleague Abida wrote of the "soft light of the setting sun" illuminating the rest of the Star Weekend section. Let me clarify: it's anything but soft. The angry fireball glares straight into my eyes for the entire workday until I have a throbbing headache. It's why, on any given day, you'll find me slashing through a 5,000-word feature on my desk while casually donning a pair of very dark sunglasses—indoors—or doing the same canopied under a giant umbrella propped behind my PC, stolen from our neighbours in Shift. The umbrella occasionally sends a flower vase crashing to the floor, water everywhere. There's noise, scampering, mopping of floors, taking of pictures, some dancing around. But we write and sub-edit on.
Such was life at Star Weekend. If ever a newsroom was TV sitcom-material, it was this sun-drenched, colour-in-riot back end of the seventh floor of The Daily Star. There was always tension in the air. Here a story is being added to and typed up by Zyma or Chandan, awaiting the green light through what our magazine editor calls the "will-we-get-arrested" test. Nilima has already handed hers in way ahead of time, having gone undercover to reveal a pyramid scheme or domestic abuse or the plights of rickshaw pullers. Beside me, Apurbo hunches in concentration—over his sketchpad or the computer—as he gives colour and shape and a certain edge to the stories we've spent the past week penning. Occasionally, he snickers at a Facebook post or dancing celebrities online, mutters to himself aloud, asks me which version of an illustration-in-progress I like better.
From a distance, you can hear Abida roaring in laughter as she returns from having done the corrections with graphics downstairs; she's carrying coffee that she will sip while she finishes writing up her story. It will make you care just a little bit more about the environment and its animals. Meanwhile our editor Preetha prances and hops from desk to desk, cooing a "Hey boo," and hollering "Well, well, well," in a voice that cracks like a whip through all the commotion. She manages to retain some sanity as we sludge past, way past our deadlines and bedtimes. But there's no noise from Maliha. She's quietly everywhere, reporting on refugee crises, editing articles, doing corrections, standardising our style guide, completely abreast on celebrity gossip the world over.
Writing, listening, laughing, eating, thinking amidst these characters for the past one year has been an invaluable education in balancing work and fun, in drowning out noise to just write, write, write until I've put down on paper how I truly feel about a book, a movie, an art exhibition. I then ram those words through the straightjacket of a word limit. It breaks my heart but on Friday, reading them afresh on print, I am grateful for these constraints.
Star Weekend has given me over a year of earning a living from discussing art that I loved and art that I hated, art that I discovered and learned from along the way. It has helped me find what are allegedly my secret super powers (shortening an article length and increasing its "poetixxx") and my super weaknesses (not revealing them in print). Literature is what I cherish more than anything else, the one form of magic I believe we interact with every day in this physical world. Every other Friday, being told by someone that the way I wrote about a book made them want to pick it up, made them think for just a little while about the power in the choreography of words—it was transformative. 
But it wasn't just a one-way street. From my team and readers, I've internalised a steady commitment to personal beliefs and opinions, to passion for one's own beat. In return, I've (hopefully) taught them that the best way to end a stressful workday—before you've even left the office—is to watch some good ol' Hum Aapke Hain Kaun. I think my job here is done.
Nilima Jahan
Four years ago, when I joined The Daily Star as an intern for Star Weekend, I never thought that I would become so attached to the place the way I am today. I have been socially awkward all my life; slow at making friends, reluctant to join office parties, and anxious about replying to the work group thread on Facebook (we call it "Monday is the new Tuesday", as we go to print on Tuesday). Even then, I don't know when and how this place has become a home, and my colleagues have turned into my family members. There was a time when I would get up early in the morning, take a bus and come to my cubicle, located at the darkest corner of the section, and take the last CNG ride back home at night. I remember every one of my colleagues, especially Maliha Khan, Zyma Islam, Abida R Chowdhury, and none other than boss lady Sushmita S Preetha apu who all tried their best to help me through life with a "This too shall pass" attitude. This is a note for my colleagues and a thank you isn't really enough to express how grateful and overjoyed you have made me over these years.  And I would like to take this opportunity to thank you, my readers, for accepting me as a writer and reading the stories I would gather every weekend. Every Facebook text, letter and email was a true inspiration for me to write a better piece on human rights, particularly women and child rights, lives and livelihoods of informal sector workers, crimes and corruption. Thank you again, and for sure, this is not a goodbye. 
Zyma Islam
The average word count of one of my articles is 2,000 words. Every week, it takes about four days of dogged reporting, around 32 sleepless hours of sitting in a desk-chair while my cats provide patient company, an entire coffee pot, the most terrible Bollywood dance numbers, and many distracting DIY videos to churn out these 2,000 words. Writing English is not hard, and should not take so much time or effort—just ask our colleagues in the newsroom. News is gathered, reports are constructed and handed over to the press, all in a day's work. But here at Star Weekend, we take up the challenge of not only making you read—but also of making you care. You see, beyond fund-cuts at newsrooms, beyond censorship and newspapers shutting down, our journalism is threatened by how desensitised our readers have gotten to all the wrongs happening around us. We do not blame you for a moment—when the daily rate of incidents of rape is around three, when our elections are questionable and our forests are getting industrialised, when our world is a cruel one, desensitisation is only a basic survival reflex that our bodies kick into.  And yet, the world does not stop being cruel, and those stories must be told. And so, we sit down to figure out what prose, which visuals will best transport you to a fishing village in the Sundarbans, and introduce you to a farmer who was forced to sell their lands off to factories because of rising soil salinity. Or how to take you with us to talk to the petty drug dealers of Karwan Bazar railway slum who have been bearing the brunt of our war on drugs. The aim is to craft a journey for you through places to meet people you would not otherwise encounter, hoping—very ambitiously I must say—that it will make you act, or at the very least, make you care. Hoping that if you are an entrepreneur, you will not forgo the environment for industry, if you are a lawyer, you will know how the system fails our most vulnerable, if you are a development worker, you will be cognisant of who you are underserving, or if you are a citizen, will be aware of the failings of state and society. Before we turn the lights off today, thank you for always challenging us to be better, more compelling, more sensitive storytellers than we could ever have even imagined becoming.
Maliha Khan
I entered The Daily Star around two and a half years ago. Having always wanted to be a journalist like Rory Gilmore, I did not actually know what it entailed. I had not worked at student or college newspapers as many did or even started writing for youth supplements and magazines at a young age. A series of coincidences led me to reporting and journalism at the grand old age of 25 and I am indebted to some of my early mentors and friends and colleagues in the business whose work I admired and tried to learn from. Writing is a painstaking process for me—involving hours and days in front of the computer until something takes shape from the mass of information I have there—and I am afraid I'm not the best company then. So, guys, I'm not actually grumpy all the time, it's just the timing.
Md Shahnawaz Khan Chandan
It is time to bid a tearful farewell to my home, the Star Weekend section of The Daily Star. I joined this department in 2013 when I was a third-year student at Dhaka University. I was a naïve young man who had little idea about journalism. In the last six years, I was fortunate to work with some of the most brilliant minds and in the process, I learned to practice journalism without fear or favour. There is no doubt that my years in Star Weekend have positively transformed me and taught me to be a man of ethics and integrity. My extremely talented supervisors and my amazing colleagues have injected in me the pride of being a member of The Daily Star family. I will really miss those days and from now on, my life will never be the same. However, I will always remain thankful to my colleagues with whom I spent some of the best and most resourceful years of my life.
Kazi Tahsin Agaz Apurbo
A visual representation of my thoughts on this last day.