How to survive the end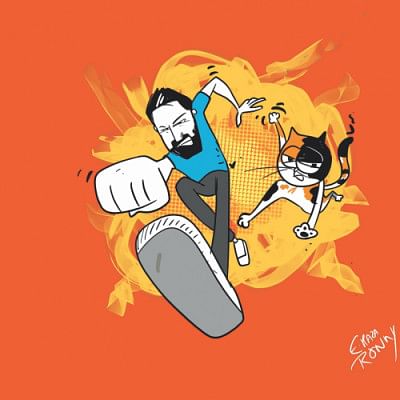 What kind of an end are we talking about here?
If it is a relationship, the rule is to walk backward for a few steps, turn around, and run. Never look back. Like the time I sold my terrible Honda Integra after having it for one month. I drove it for a total of eight days. I loved it. It was beautiful but we were not meant to be. It kept throwing tantrums more often than government-funded digital services. But when it ran, it ran gloriously. I let it go during a good spell so that I did not have to spend any more money on it.
I ended it on a high note.
Elvis Presley on the other hand shot a De Tomaso Pantera because it would not start. More than once. Not quite the end one expected but I bet he was satisfied.
TV shows are a great example of how to end on a high note. And vice versa. Game of Thrones or Lost were both absolute utter poop sludge you find after water goes down from Mirpur roads after every heavy bout of rain. Spoiler alert (although if you have not watched it yet you won't bother): Lost involves six seasons of a group of airplane crash survivors living on an island fighting everything from the supernatural and heartbreaks to conspiracies and body odour. Lost took its viewers on a crazy adventure run promising an intense final rescue of the remaining stranded people on the island. How does it end? Everybody dies because I guess the writers just gave up. The characters go to the afterlife, glowing.
How to really end was properly done by MacGyver gloriously. If you were born in the early 80's, you are already crying. I was a little kid in school pretending to be macho all the time. All my manly-men groups of friends cried. So did all the girls 'cause they all had a crush on the actor Richard Dean Anderson. My wife still gets teary eyed when I mention MacGyver.
The seven seasons wrapped up in 1992 with a long-lost son turning up to solve one final case. What a high note! Father and son rode off on their respective bikes giving us forlorn hope that there will be a MacGyver and Son. Or MacGyver and Grandson. Or even a few years ago, I was hoping for MacGyver and The Senior Citizens. But instead, we were assailed with a new MacGyver in 2016 that was so bad and dull, it truly was the end of hope for the name.
How about when the world ends? We are likely headed there sooner than expected. Bangladeshis are working hard to secure the prestigious title for Most Lung Disease Treatments Performed (MLDTP). This follows closely on the heels of achieving Most Polluted Air Quality Ever Now for Dhaka. This is from the 2018 World Air Quality Report released this year. Greenpeace and AirVisual, who monitor global air quality, prepared the report. How do we survive the end? Planting more trees, planting all the people under the trees, and so on.
How about when this publication ends this week? This is the very last issue of the Star Weekend magazine that has run for the past few hundred years. Or more. Or less. I can't keep count amidst the occasional tears rolling down into my coffee cup.
We don't quite end it, that's how. The weekend publication now transforms into something else, much like Oliver Queen turned into someone else, something else when he became The Arrow. You will now get a tech lifestyle publication every weekend with the hard-hitting investigative material coming at you through the main paper. That is evolution. And that is how you survive the end, quite gloriously too.
Too bad the dinosaurs did not quite realise that the great fiery ball in the sky was NOT the disco ball for the party.
Almost Useful Life Hacks will hack through.