Meet the coal power plants
How China is bankrolling Bangladesh's fossil-fuel-driven energy sector despite moving to green energy itself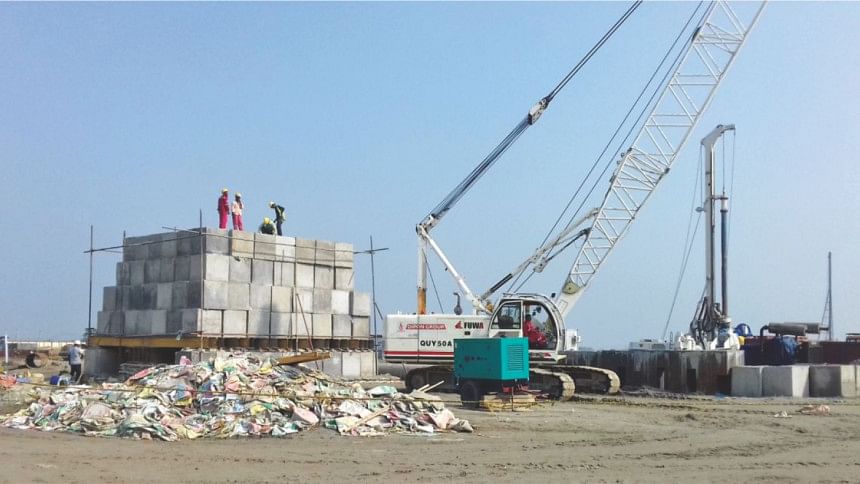 Since its announcement, the Rampal power plant has ignited intense debates. The involvement of National Thermal Power Corporation (NTPC), the Indian company financing it, has been discussed at length. On the other hand, much less is known about the companies bankrolling all the other fossil-fuel power plants popping up around the country, whose total electricity production exceeds that of Rampal. China, currently Bangladesh's largest trading partner, is investing in most of these.
The energy sector has a long history of financial backing by China, but 2016 really stood out for the high number of power plant deals signed—at least seven in number. These credit lines were secured in the same year that President Xi Jinping visited the country.
2016 was the year Chinese investors doubled down on their investments in coal power plants in Bangladesh, but this also stood in stark contrast to what was happening inside China itself.
Early last year, China pulled the plug on over a hundred coal power projects within its own borders, some of which were still under construction. The country diverted its own resources to solar and wind power, pledging to produce an astronomical 130 gigawatts of renewable energy by 2020.
During a session of their parliament in March last year, Li Keqiang, Premier of the State Council of China, said, "It is necessary to phase out, stop construction and slow down the coal-fired power generation capacity by over 50 million kilowatts to [...] create space for clean energy development."
With China making up a quarter of all greenhouse gas emissions worldwide, the move to cap its fossil-fuel-driven energy was lauded internationally. However, the same climate-change conscious point of view was not extended to the rest of the world. The country continued to invest in hundreds of coal-powered projects globally. The biggest recipient countries include India, Pakistan, Zimbabwe, Vietnam and Bangladesh, among others.
The fact that there are to be more coal-fired power plants than ever before in Bangladesh, a country that contributes to only 0.3 percent of global greenhouse gas emissions, is why it is necessary to take stock of the projects at hand. 
One of the biggest of these coal-powered projects include the Chittagong Power Station, colloquially known as the Banshkhali Power Station. Approved in February 2016, the project is worth USD 2.5 billion, and is a joint venture among S Alam group, Shandong Electric Power Construction Corporation (SEPCO3) and STG Development Group. The Bangladeshi-Chinese partnership will put forth 30 percent of the funding and secure the rest internationally. Interestingly, the coal required to fire this power plant will be coming from Indonesia, a country where China invests in coal mining. The power plant would have a capacity of 1,224 megawatts, nearly as much as that of the Rampal Power Station.
Shortly after the power plant was approved, demonstrations swelled in Banshkhali, with four protesters dying in clashes with armed law enforcers. The protests arose out of allegations of forced acquirement of land. "When plans of a coal-fired power plant were announced, the local people were enraged," says Liakat Ali, Convenor of Banshkhali's Homestead and Graveyard Protection Committee in an interview archived online by Center for Bangladesh Studies.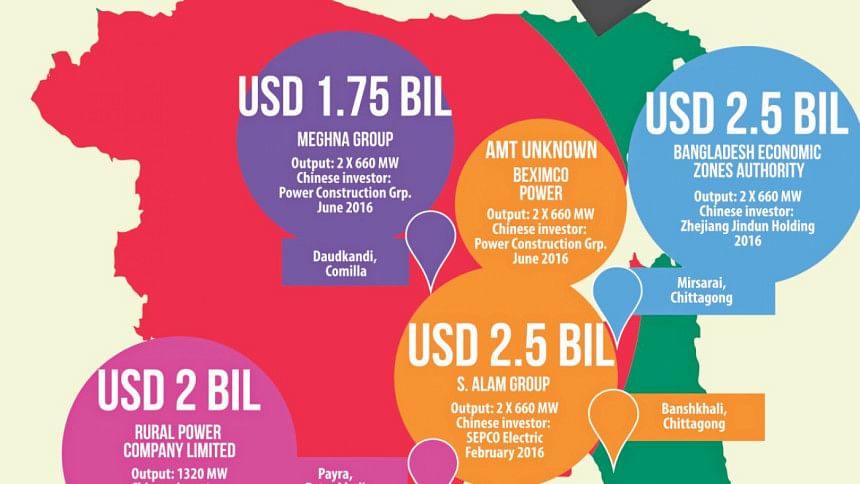 "You are making a mistake by not giving up your land. Your uncles, aunts and cousins will sell off their lands, and all the plots surrounding yours will be filled with sand. There will be no sign of your land. What use will there be by resisting the acquisition?" says Ali, quoting project workers acquiring the land.
Power Construction Group also signed two other deals the same year. In June, a deal was signed between them and Bangladesh Power Development Board (BPDB) for a 1,320-megawatt power plant, in Maheshkhali of Chittagong. Another deal was struck with Meghna Group for two coal-fired power plantsat Daudkandi in Comilla at a cost of USD 1.75 billion, Mostafa Kamal, chairman of Meghna Electricity Generation Co Ltd told The Daily Star.
The second biggest project on the list, which is worth USD 2 billion, was also signed in 2016. It is being constructed as a joint venture between the Bangladeshi government entity Rural Power Company Limited and the company Norinco International China. The 1320-megawatt coal-power plant will be set up in Patuakhali, and 70 percent of the project financing will come as a loan from the the Export-Import Bank of China. Norinco is a state-owned defence company that makes everything from revolvers to long-range missiles. The entity is also involved in mining and oil and gas exploration; power plants however are not featured on their website.
The other company which signed on the biggest shares in 2016 is China Energy Engineering Group, which got on board with two power plant project deals last year. The group first signed with BEXIMCO for two power plants—one of them, in a positive deviation from the rest, is a 200-megawatt solar power plant in Gaibandha. In addition to the solar power deal, the Chinese company is also building BEXIMCO's nascent 660-megawatt coal-fired power plant.
The other project this Chinese company signed up for is the USD 1.56 billion Payra coal-fired power plant, which aims to produce as much electricity as Rampal. The deal was made with an entity called the Bangladesh-China Power Company Limited, which is a joint venture of China National Machinery Import and Export Corporation and Bangladesh's North-West Power Generation Company Limited. 
Just last week, Xinhua News Agency published an interview of the State Minister for Power, Energy and Mineral Resources, Nasrul Hamid, in which he stated that Payra will be developed into a USD 12 billion dollar hub.
Hamid said,"We're thinking of generating at least 9,000 megawatts of power from here, investing USD 10-12 billion in this area." Critics have been quick to point out that the coal power plants are beside the Andharmanik river hilsa sanctuary.
The Power Division of our government aims to generate 19,000 megawatts of coal-powered energy by 2030. If all the deals signed recently come to fruition, they will be 6,000 megawatts closer at least. Interestingly, the same Power Division also included the following in their Master Plan, published on March 2015: "Before the country's natural gas reserves start to decrease in 2018, before the imports of coal and LNG [liquid natural gas] starts to increase in 2021-22, and before the country's industrial structure changes from labour intensive to energy intensive ones, the Government must strive ahead with the promotion of EE&C [Energy Efficiency & Conservation], to urge the general public to lead energy efficient, non-energy wasting and most productive lives." Maybe China could get behind this, too.