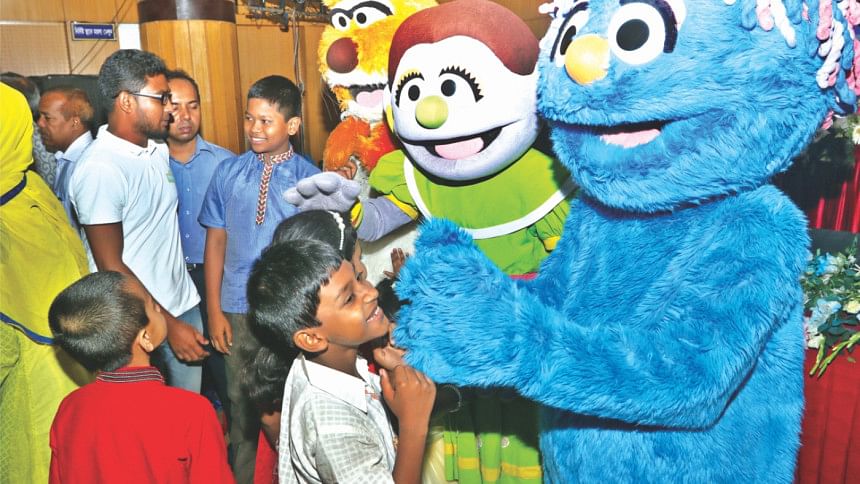 Photos: Prabir Das
Popular American media personality and anti-vaccine activist Jenny McCarthy once said, "Hope is the greatest thing for moms of autism. Hope is what gets us out of bed in the morning. I'm on a mission to tell parents that there is a way".
Jenny knows it well, because she has a son with autism.
Though we have enough compassion and empathy for children with autism, the everyday struggle and suffering that these children and their parents go through are far beyond our knowledge. Those who live with autism and are familiar with the lifestyles of these children know it the best.
As a part of the 9th World Autism Awareness Day celebrations, on April 17, 2016, the Institute of Paediatric Neurodisorder and Autism (IPNA) organised a cultural programme inclusive of children with autism and other neurological diseases, their parents and eminent personalities of the country. The event was held at Shahid Dr. Milon Hall, Bangabandhu Sheikh Mujib Medical University (BSMMU). The entire hall was glimmering with blue light, as the colour represents awareness of autism worldwide.
As part of the event, an essay competition titled "Poran Kotha" (Story of the Soul) was arranged, where parents of children with autism were expected to write about their feelings, experiences and social obstacles of habitual life.
Among the 52 entries, the best 15 were selected by the judges. The winners were handed over awards by the much beloved 'Sisimpur' characters- Halum, Ikri and Tuktuki. The surprise attendance of the characters amused the children present in the programme to a great extent.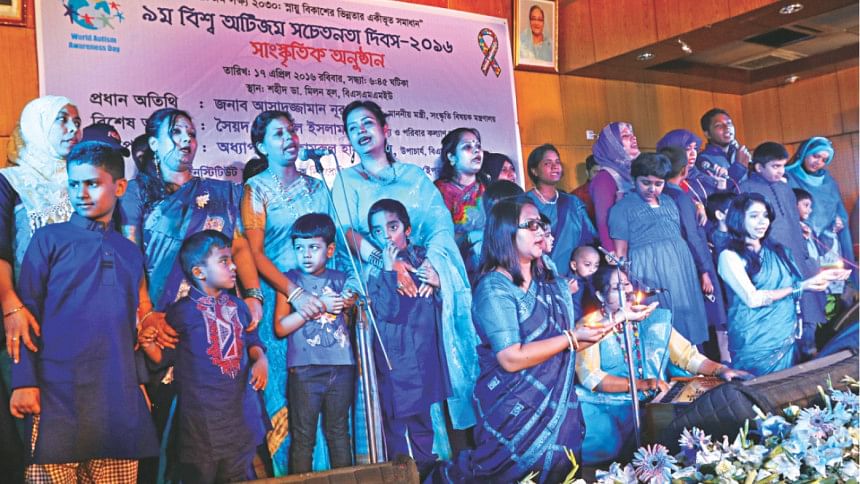 "Portraying these literal feelings into stories or dramas is not very easy," says Anisul Haque, the famous screen-writer and one of the judges of 'Poran Kotha'. "It is very important to bring forward these experiences."
According to Asaduzzaman Noor, MP, Ministry of Cultural Affairs, and the chief guest of the programme, these writings can be transformed into plays in order to create more awareness among people. It is our social responsibility to create an environment for the children with autism and other neurological diseases where there will be no hurdles for them, he believes.
Syed Monjurul Islam, Secretary, Ministry of Health and Family Welfare, as the special guest spoke about the government's efforts for the awareness autism and planning for creating a national policy to protect children with autism.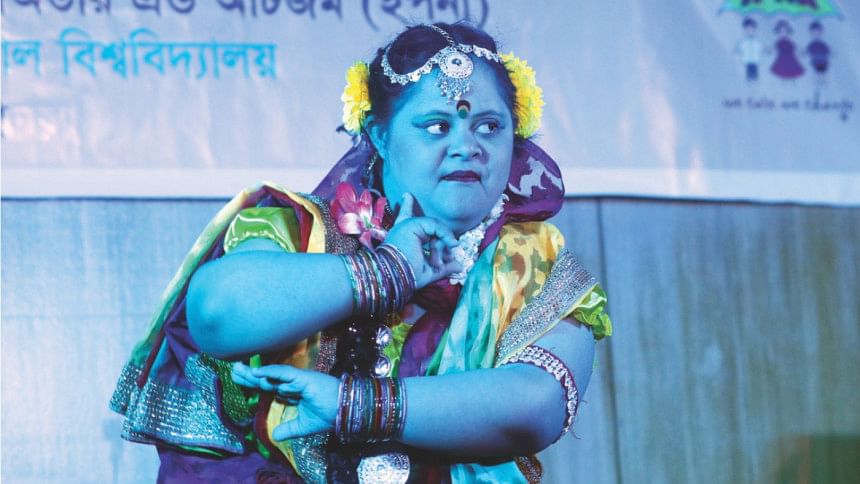 The video of the theme song of IPNA (launched at the event), was also shown to the attendees which gives a message that we should ensure proper care for children with autism and create an environment, where they can grow and develop themselves, overcoming all the impediments. The song was written by Shankar Shaojal, composed by Bappa Majumder and sung by Bappa Majumder, Elita Karim and Konal.
Presided over by Professor Kamrul Hasan, vice-chancellor of BSMMU, Professor Shaheen Akhter, Project Director of IPNA, Professor Iqbal Arsalan, Secretary-General of Bangladesh Medical Association (BMA), Joe Hyun-Gue, Country Director of Korea International Cooperation Agency (KOICA), actor Shankar Shaojal also spoke at the programme.
The event ended with a cultural programme showcasing a play, dance and musical performances by the students and teachers of IPNA.