"Bhalobashar Shohor"
Sometimes great things come in small packages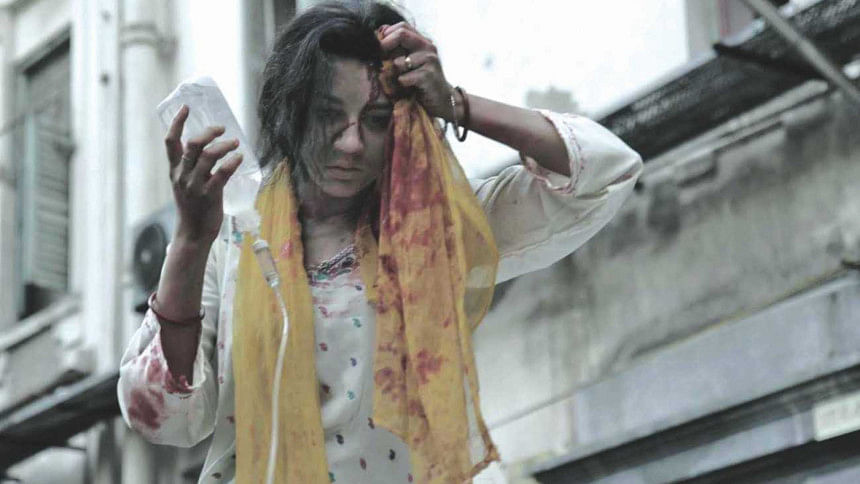 Do you have 31 minutes? But 31 uninterrupted minutes of no distraction. Go to YouTube and watch "Bhalobashar Shohor" (City of Love). You'll understand how and why Jaya Ahsan is Bangladeshi excellence personified. 
If you've been following Jaya's ascending career graph in the Bengali film industry in India [her performance in Kaushik Ganguly's "Bishorjon" has been widely acclaimed by critics and audiences alike and won the award for Best Bengali Film at the recent Indian National Film Awards] and wondering how she has managed to pull off this Herculean feat, this short film provides the answer. The answer is, as an artiste, she is hungry. That hunger—to leave a lasting impression on the audience—is evident in "Bhalobashar Shohor", her first short film. 
Directed by Indranil Roychowdhury, the short film was released on YouTube on June 30 [for viewers outside Bangladesh and India, the film is available on Vimeo]. The film follows a lower middle class woman, Annapurna, living in a crowded Kolkata neighbourhood with her elderly father and comatose daughter. Annapurna works two jobs to make ends meet, seemingly crushed by her reality every day. Through flashback, the audience learns she had eloped with Adil [played by Ritwick Chakraborty] and moved to Homs, Syria in search of a better life. That better life was interrupted as war broke out, leaving shrapnel in her daughter Noorie's head and forcing Annapurna to leave Adil behind. The universal message is this: we all wait for our loved ones to return. In that sense every city is "bhalobashar shohor" – Homs, Kolkata or Dhaka. 
Working with a shoestring budget, Indranil Roychowdhury has successfully narrated a global story within a modest frame. Use of the song "Rangeela" [written by Jasimuddin and originally recorded by SD Burman] sounds appropriate, as it heightens the nuance. As an audience, my only gripe would be an unclear ending.
After the closing credits, details are provided for viewers interested in making monetary contribution to cover production costs. By taking the film directly to the audiences, the director has avoided the snags that usually come with involving major production houses, distributors and a big budget. So far, the film has been viewed over 50K times. 
Watch the movie:
Karim Waheed is the Editor of SHOUT and can be reached at [email protected].