Business
Bangladesh at 2018 Sentiments that will drive the Year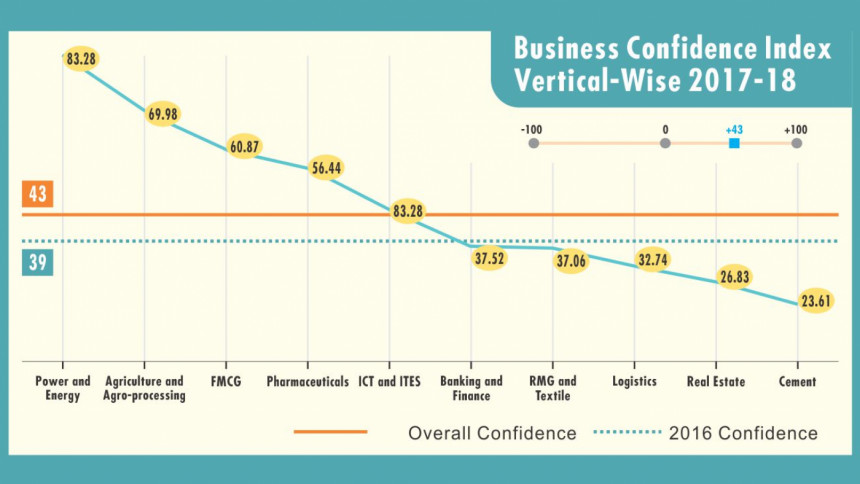 Predicting the future is rarely an easy task, but even partial indications of what would happen can give you a significant strategic edge. Hence, we are excited to launch the Business Confidence Index which gives you a sneak peak into what the private sector of Bangladesh is thinking—which industries are businesses most optimistic about? Which sectors may face difficulties? How do they feel about the profitability of their own enterprises? Where do they see the opportunity space for Bangladesh and what are the greatest challenges?
To understand these sentiments better we surveyed 102-plus CXOs and members of the leadership team across 20-plus different sectors clubbed into primary, secondary and tertiary. Using harmonised business confidence index we calculated sentiment scores across different industry verticals and an overall confidence score.
The overall business sentiment is "Cautiously Optimistic" with an index of +43 on a scale of -100 to +100. Industry representatives cited increased investment in power generation, green revolution and mechanisation in the agriculture sector, higher disposable income and consumer spending, growing health awareness, and the government's particular interest in the ICT sector as factors contributing to their optimism for Bangladesh as an investment destination.
However, business leaders were cautious due to need for financial sector reform (fault lines have been created by the classified loan conditions), bureaucratic red tapes in commencing and operating businesses, slump in apparel prices, infrastructure issues such as port congestion and problems related to transportation and logistics.
If we are to summarise the sentiments—the future of the economy will hinge on three key themes.
Accelerating the discovery of the 3rd Engine: Our forex reserve is dependent on our two twin engines—remittance and export of RMG industry (making up approximately 80 percent of our total export basket). However, as we move forward we need to figure out our third engine.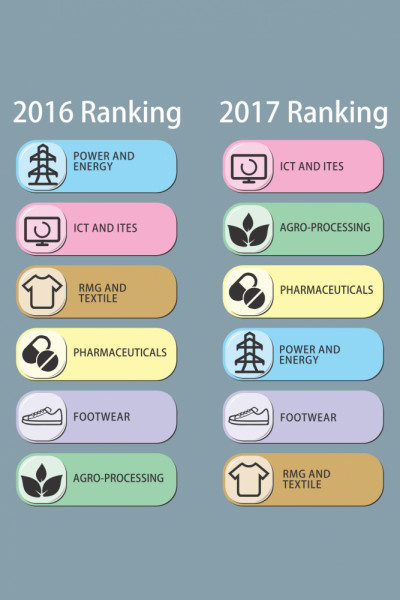 If we look at the rankings of verticals according to confidence from all industry stakeholders (question was to rank top two most promising sectors) we will see that ICT/ITES has moved onto the top of the list—with Pharma and Footwear being close competitors. ICT/ITES enjoying strong support from the government (via tax breaks and export incentives) is marked to reach USD 5 billion by 2021 while Pharma, riding on a thriving domestic industry, is eyeing the export market currently at approximately USD 90-plus million growing at a rate of approximately 9 percent per annum, however with FDA approvals (Square and Beximco cleared initially and now seeking limits for specific drugs) and TRIPS extension till 2032, there is high export potentials to Asia, MENA, US and European markets.
Agriculture is the new Tech: Ag-business was on the top six last time, and in the latest confidence survey has moved up to number two. While government budget allocation plays a role, growing demand for processed consumer foods coupled with rise in per capita income, rise of disposable income of cities all around the country (the number of middle income cities to rise to 33 from 10 by 2025) and opportunities to use Ag-tech to boost productivity have pushed optimism. Mechanisation is already playing a critical role and ODA (overseas development assistance) is also focusing on migrating technologies starting from high yielding Ag-inputs to funding private satellite imaging for better crop management. Additionally, innovative financial instruments via agent banking and even impact investments have started finding its way into the sector. Accelerator and incubation programmes, which were once only part of the ICT/Tech industry has started for Ag-SMEs as well with Spark, Unnoty, Open Accelerator being early in the field.
Talent at our Core: While we have grown with 6-plus per cent + GDP over a decade with a growing demographic bulge, the country faces an absence of ready-to-use talent. While ICT/ITES stands at the top of potential sectors—the potential would stay unfulfilled if we cannot develop our talents at the same pace with up-to-date skills. Stronger industry-academia linkage is needed to develop talent pipelines and create industry-complementary expertise. At the same time, the curriculum has to reflect more critical thinking and communication components geared towards setting up small businesses that would accelerate employment creation.
Bangladesh is at a cross-roads waiting to drive into the highway leading to advanced economies. Hence it's imperative we optimize our resources and strategic intent so that we focus on the right verticals and position ourselves as the "heart of Asia".
Bijon Islam, CEO of LightCastle Partners. He can be reached at bijon.islam@lightcastlebd.com