1 minute please
Mithila Rashid is an actor, a Programme Manager, Education at BRAC International and a mother. She is often in news for the amazing roles that she plays on television. However, very recently, she made the columns for earning a 4.00 (CGPA) and a gold medal, after completing her Masters in Early Childhood Development. Mithila takes out a few minutes to speak to the Star Weekend.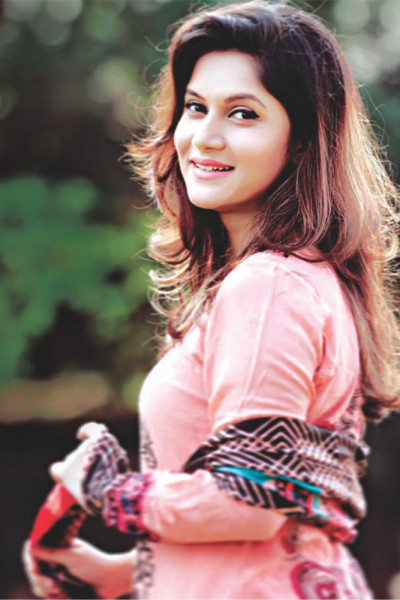 If you were given an opportunity to change something in your life, what would that be?

Nothing! I'm not trying to say that my life is perfect. But I enjoy the imperfections in life.
Mountains, sea, or both?

Both. Because I get mesmerised by the vastness. Ocean and mountains, both symbolise generosity, kindness and greatness.
What was the last picture that you took with your phone?

My daughter's photo on the first day of 2017.
If you could personally witness something (including an event from history), what would that be?

Salvador Dali creating one of his masterpieces! 
If you could be any age for a month, what age would that be?

Any age between 13 to 19. School and college life was fun, free and fabulous! 
You're a new addition to the crayon box. What color would you be and why?

I would be a blend of all human skin colours, which are used to practice racism (white, black, brown, yellow), just to prove that blending in makes it beautiful and unique!
Name the first three songs from your very own mixed tape. 

Brittalpona, Durotto, Rodela dupure – all written by me and performed by Tahsan Khan. 
Who or what do you cherish the most?

My daughter, Ayra. 
What is the one character from a book that you would like to play on screen?

Deepaboli from Shaatkahon.
Academician or TV personality, or both? 

A mother, a humanitarian and a performer. That's how I define myself based on my priorities in life. And I feel equally passionate about all three dimensions of my personal and professional endeavours. 
Your advice to the younger people trying to get into the acting industry.

First, ask yourself 'why?' And then if you feel possessed by the answer you get, tell yourself, 'why not!' And then put all your effort in learning. Don't get caught by the glam and glitter. Do read, reflect and respect.



— Elita Karim

Photo: Reza Hasan, Glam up photography