Catching lilies
The night had passed them. They reached the fated spot after walking through a few bushes: an array of waterlilies seemed to have just come out of slumber. As they sat, the storks came down to say their hellos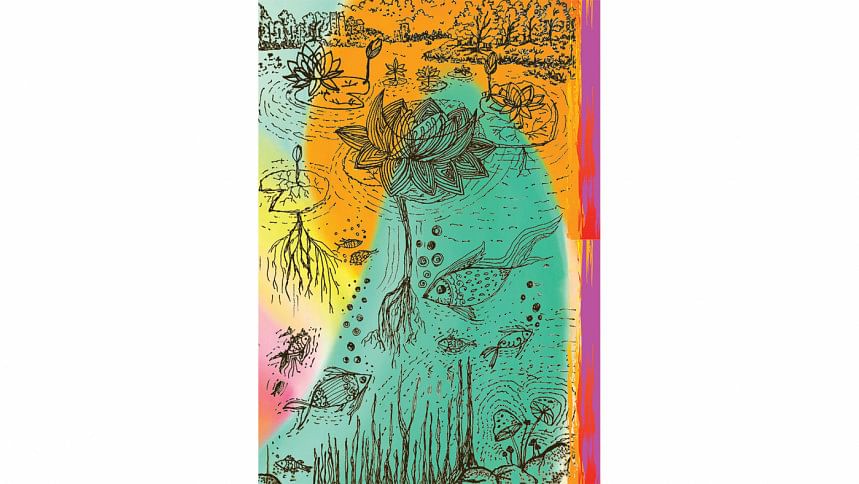 "Listen, I have a plan but you have to say yes," said Naya as her eyes traced Noorie's computer screen, checking to see if she finished typing the rest of the sentence. With a last click on the full stop, Noorie bent backward to see Naya's face gleaming.
"I wonder what bad idea you're going to spill now," said Noorie, as she gave away a smile to Naya, the kind which neither you nor I, but only two close compatriots could decode–a smile that spoke: 'this will be interesting'. 
"I want you to hear me out first before you start breaking it down into tiny little itty bitty pieces and then squeeze the spontaneity out of it," said Naya, holding back an eye roll. 
"Naya, I'm all ears and I'm here to…." Before Noorie could finish, Naya started, "The plan is we go out wandering in the old University after our shifts are over."
Standing in the middle of the crossroads of the campus, the two seemed unable to decide. The only source of light was the lamp posts lining the roads. They graduated from this place, were veterans, but the cloak of darkness seemed to confuse them still.
Although it fled in a few brief moments, time seemed to operate in periods between Naya and Noorie's glance, as though they had somehow finished an entire conversation without a single exchange of words.
"I'm in!" Noorie said. Naya seemed pleased.
"So, we'll take a bus to the outskirts and I'll bring the snacks and drinks," says Naya, hyping her up. But truthfully, there were no additions required. The two had hardly any time to breathe since their 5-10 shifts started. Their social lives had been obliterated; any shot of respite in that week would be the treacherous after hours—a time that was reserved for heavy vehicles to enter the city and the vermins that lurked within the streets in search of people's wallets.
And so, our brave duo set out into the night on a Monday, riding on what should be called a 'public-carrying metal box with wheels' instead of a bus.
After taking their seats, Naya popped out two buns and some juice, exclaiming "time for dinner" and passing one to Noorie.
"I have some mishti to add to the bite," said Naya, taking a big bite.
"What are we, kings? This is fantastic!" Noorie chirped approvingly.
"Did I tell you my ex started texting me again? It's always in the middle of the night. I mean, where was all this interest when I was still into him?" Naya asked Noorie without expecting an answer.
"I think it's just common psychology. A child only realises he wants the toy he's ignored when some other kid decides to take an interest," Noorie replied. They burst out laughing.
"You're right. He's a total man-child. But in all honesty, I have to give it to him. He really knows my taste in music. These days, whenever I'm looking for new music, I just go to our chats, and voila! I have five new songs that I love," said Naya.
"Honestly, Naya, don't let this Pied Piper back in your head. You know he'll be asking you out again soon enough," Noorie said as she took a sip from the water bottle to make it easier to swallow the dry bread.
"I know, I know! Oh! We're here. Get your things, Noor." Naya got off her seat, Noorie quickly followed.
The grandeur of the university hit them as soon as they got off the bus. They took a few moments to take it all in.
"Does the gate seem smaller now somehow?" asked Noorie.
"No, I think it's still the same. It's just that the perspective shifts when you graduate," Naya replied. "Well, we can't stand here all night, let's go!"
The two new gatemen seemed not to notice them go in, and they didn't mind not being asked why two ex-students wanted to visit the university in the middle of the night.
"Looks like our youth hasn't left us," said Noorie, putting her arm around Naya as they walked towards the canteen. "What a relief. Thank you baby cheeks!" Naya said, pulling Noorie's cheeks.
"We need to find a place to settle down and get the party started," Noorie suggested, but Naya exclaimed, "I have to pee first to store all the drinks in me!"
The two start walking toward the medical centre, which was rumoured to have the cleanest washrooms (and it was true).
"Now, we find our spot," Naya said upon coming out of the washroom.
Standing in the middle of the crossroads of the campus, the two seemed unable to decide. The only source of light was the lamp posts lining the roads. They graduated from this place, were veterans, but the cloak of darkness seemed to confuse them still.
"Naya, how about we just choose the roads that seem inviting?"
"Which one seems more inviting, then?"
Noorie raised her hand and pointed left. So they set off.
There wasn't a lot happening  in the university at 1 AM. Many students were in their dorms, nose-deep in textbooks. Some had raised their white flags against the massive reading list and sunk into their beds instead. Others were playing cards with their fake money and almost getting into fistfights.
"Did I tell you my parents met at this university? I've heard so many stories of where they used to hang out that half of my campus life felt like déjà vu. Even after they had graduated, we used to come here in the winter to see all the storks and foreign birds near the preserved ponds," Noorie said, taking a gulp out of the juice bottle.
"How come you've never told me this?" Naya asked, grabbing the bottle out of Noorie's hands and taking a sip.
"Well…I…don't like talking about my parents much. They have the most convoluted story in the history of relationships. And they're so bitter towards each other now that when I remember those stories, it..."
"Brings you nothing but pain?"
"Yeah," Noorie replied, taking an enormous gulp.
"Speaking of love," Naya started hesitantly, anticipating  Noorie's reaction. "I want to find the spot where I had the best kiss of my life. But all I remember was that the place had pink lilies."
"Wait, was this Irfan or Farhan? Or was it Kamran?"
"Oh shut up! But yes, it was Irfan. I never liked how things ended between the two of us. He said so little and it seemed like he held back so much of what he wanted to say. Like he had a jar for them or something."
"Well, it's almost dawn now. Let's find the spot before the first lights."
And the two walked aimlessly down the road with nothing but the hope that by dawn they would reach their destination. They laughed, danced around, and joked. They visited the seemingly harmless pond that had taken away a dear friend once. They cried when they stood near the spot, said their goodbyes, and then they walked on.
Suddenly, Naya exclaimed, "I see it! I think this is it!"
Noorie rubbed her eyes and looked at the sky. The night had passed them. They reached the fated spot after walking through a few bushes: an array of waterlilies seemed to have just come out of slumber. As they sat, the storks came down to say their hellos.
Naya broke the silence of bewilderment, and without casting a glance at her companion, said, "Remember it always. Remember that you and I made this journey and together, we went to a place where there was nowhere left to go."
"Arundhuti Roy?" Noorie inquired.
"Who else can come up with a line like that?"
"Will you? Remember?" Naya said, now looking up at Noorie.
"A place, just for us to see the sun."
"With the trees that bear testament of our tales."
"This night will be our namesake," said Noorie, smiling back at Naya, and secretly memorising every little detail of that moment.
Nazifa Raidah is a sub-editor at the City Desk of The Daily Star and a student of Media and Communication, Global Studies and Governance at Independent University, Bangladesh (IUB). Reach her at [email protected].