Tiger's pacer problem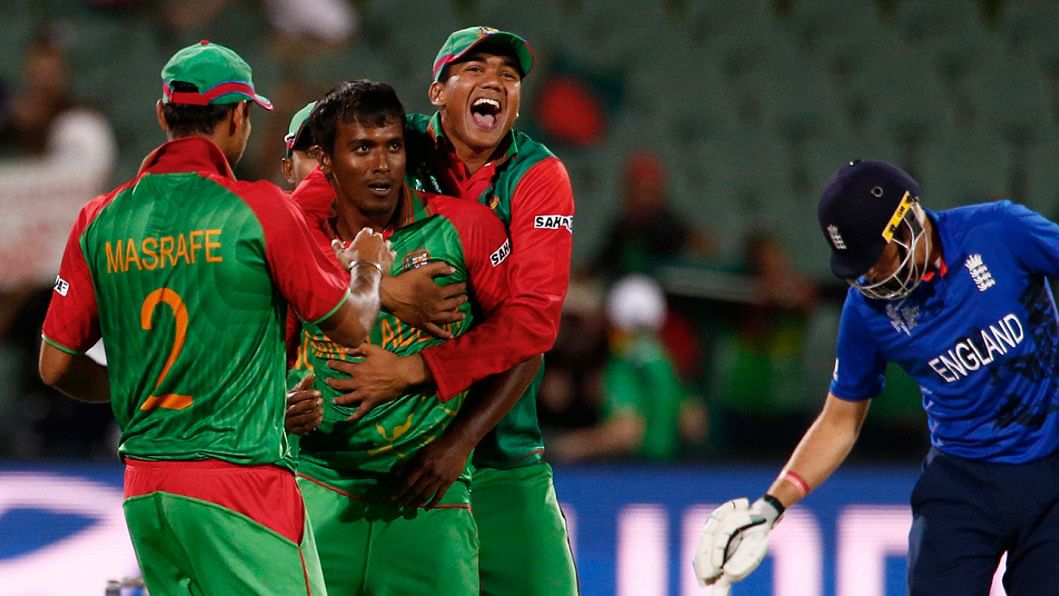 After Bangladesh announced the team before the start of the Test match against India at Fatullah, many eyebrows were raised as Mohammad Shahid was the only pacer in the line-up.
Where India are playing three pacers on the batting pitch at Fatullah, Mohammad Shahid is the lone warrior meant to give Tigers breakthroughs with the new and old ball.
Although Bangladesh's bowling coach Heath Streak said playing three pacers was a luxury for his team, it was expected to see at least two fast bowlers take the field for Tigers.
Test cricket seems to be the place where Bangladesh surprise many with their team selection.
Choosing a single pacer for five-day cricket despite Rubel Hossain in the squad has raised many questions.
If Rubel is not meant to play, why is he in the squad? Does he have any fitness issue?
Perhaps his Test average of 70 and strike-rate of 116.6 don't justify his inclusion.
Since his ODI form has been spectacular off late, he could've played in the sole Test match against India.
With only two Tests to his name, Mohammad Shahid is the leading strike-bowler for Bangladesh. His new-ball partner is Soumya Sarkar, a part-time bowler at best.
Even though Abul Hasan was included in the squad, Tigers' team management decided to play an extra spinner against India.
Since Indian batsmen are most comfortable against spin, what can an additional slow-bowler do on a benign pitch? Not to mention all the slow-bowlers are not specialist spinners.
Lack of fast bowlers in Bangladesh cannot be more evident in recent times. The most successful pacers in the last five years are all out of contention.
From 2010 to 2014, Robiul took 25 wickets in 9 Tests. Rubel captured 21 wickets in 16 matches. Shahadat 12 in 10 Tests and Al-Amin six in six.
Rubel was not picked for some strange reason. Shahadat is out with injury. Robiul's form in BCL was nothing to write home about. Al-Amin is on exile from the ICC Cricket World Cup 2015 for disciplinary reasons. Taskin is not ready yet for the longest version of cricket.
After defeat against Pakistan, captain Mushfiqur Rahim blamed the pacers publicly during a press conference.
He even questioned their work ethic and mindset for Test matches besides their inability to keep themselves fit.
The biggest question for now is how Bangladesh Cricket Board will overcome this acute pacer crisis?
The Pacer-Hunt initiative unearthed fast-bowlers like Robiul, Shafiul and Rubel. That programme is stuck in limbo for the last eight years.
The concept of scouting fast-bowlers from all across Bangladesh was Sarwar Imran's creation.
He was understandably aggrieved when reporters asked him about the Pacer-Hunt programme.
"Why didn't you raise a voice when the programme was discontinued?" he rebuked. "Eight years have passed after 2007; still it came to nobody's attention?"
He admitted that the reason behind lack of pacers is the irregularity of scouting programmes.
"I tried to initiate something similar on my own, but it can't be called a Pacer-Hunt programme." Sarwar added.
"You need to pick up 20 wickets to win Test matches. At least two fast bowlers are needed even in spinner-friendly sub continental conditions," he explained.
When a spinner is given the new ball, it puts added pressure on them while destroying their confidence in the process.
You ought to have four pacers in places like England, Australia, South Africa or New Zealand. Bangladesh can't even find one genuine fast bowler!