Kohli stardom supreme as stage set for World Cup opener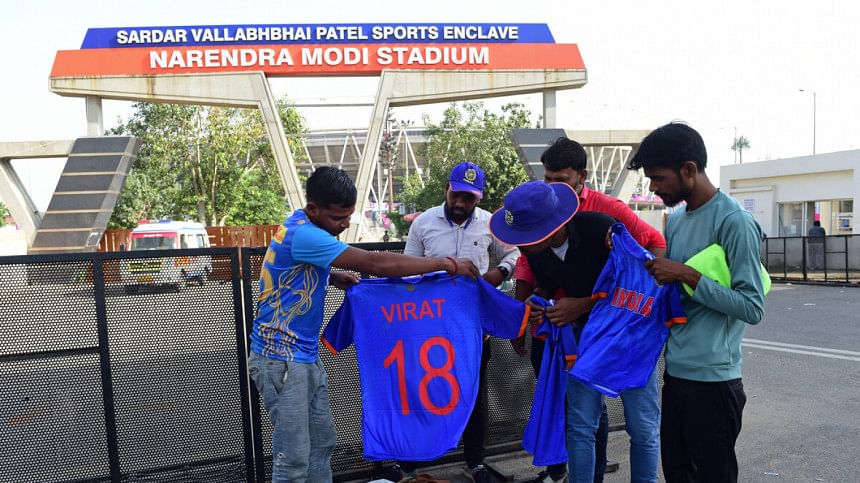 If you can judge a tournament by the number of replica tops sold, the Cricket World Cup in India opening this week already has a winner -- home superstar batsman Virat Kohli.
On the crowded streets outside the world's biggest cricket arena -- the 130,000-capacity Narendra Modi Stadium, which will host the opening match between defending champions England and New Zealand on Thursday -- hawkers report a brisk trade.
Some customers are snapping up the blue top with the name of England captain Jos Buttler, and others the black shirt of Kiwi skipper Kane Williamson.
But Kohli's Number 18 is the outright winner, sellers said.
"There is a huge demand for T-shirts and caps with Kohli's name," said Saurabh, who goes by one name, selling jerseys outside the stadium in Ahmedabad in Gujarat state.
"He is the star along with (India captain) Rohit Sharma -- and we make lot of money because of them."
Known as "King Kohli" for his prolific run-scoring, the star batsman has amassed 13,083 ODI runs including 47 centuries in 281 matches.
Kohli, 34, remains hugely popular on social media with millions of followers. He is a crowd favourite, and fans have previously crashed through security to touch his feet or take a selfie.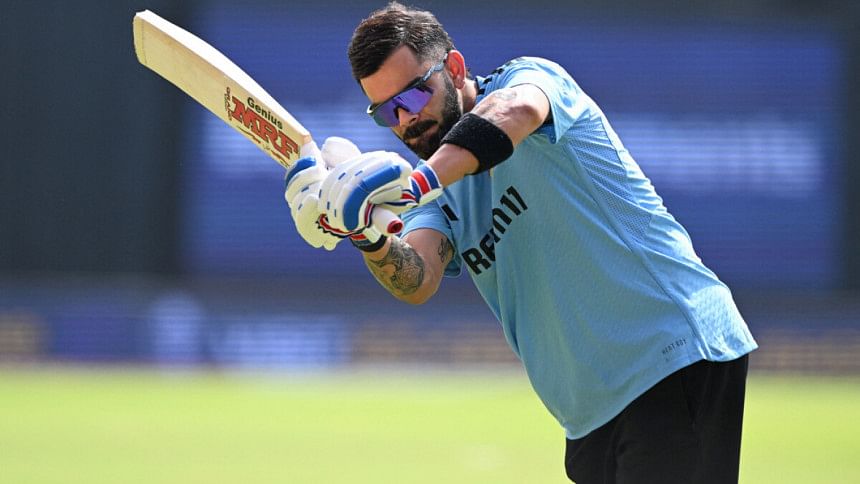 'Crazy about cricket' 
Broadcasters are busy setting up their studios -- with millions in India alone expected to watch live -- while groundstaff labour in blazing 35 degrees Celsius (95 degrees Fahrenheit) heat to get the pitch ready for play.
"People all over Ahmedabad are eagerly awaiting this World Cup," said Ayushi Chain, a local organiser at the stadium, adding that Kohli's presence will attract big crowds including a large "female audience".
The epic tournament features 10 nations playing 48 matches over 46 days at 10 different venues.
The Ahmedabad arena -- nearly a third bigger than the Melbourne Cricket Ground -- will be host to five matches, including the final on November 19.
Organisers and officials say the tournament's blockbuster clash between arch-rivals India and Pakistan on October 14 at the venue remains the most eagerly awaited match, but that demand is strong for other games too.
"The biggest rush is for the India-Pakistan match, and a lot of people will be coming from overseas," chief executive of the Gujarat Cricket Association Dhiraj Jogani told AFP.
For the opener, England verus New Zealand, Jogani expects "around 70,000 fans", meaning the stadium will be just over half full, although tickets are still on sale.
"There is huge demand for tickets in every match," he added. "Maybe the match involving Afghanistan (against South Africa) would be a bit weak, but for the rest there would be a sizeable number."
Chain said demand for the International Cricket Council's official mascots -- cricketing superheroes "Blaze" and "Tonk" -- had been high.
"There was a craze when they made their appearance at a city mall," she said. "There is excitement among the people, we Gujaratis are crazy about cricket."
'Streets will be packed' 
Many shops around the stadium are readying for the huge crowds.
T-shirt seller Saurabh, currently offering the Kohli jerseys for 300 rupees ($3.60), said prices will surge.
"The price will double as the India-Pakistan match approaches", he said. "These streets will be packed."
Tea-seller Vijay, who uses only one name, has just finished refurbishing his stall opposite the stadium's main gate, where he swiftly pours cup after cup of super-sweet and milky tea.
Vijay said around "30,000 policemen" had his tea when the stadium was opened by then US president Donald Trump during a rally with Prime Minister Narendra Modi in 2020.
"I expect a lot of police personnel to be deployed here, especially for the India-Pakistan match," said Vijay. "They all will have tea at my shop."