ICC World Cup 2023 Fixtures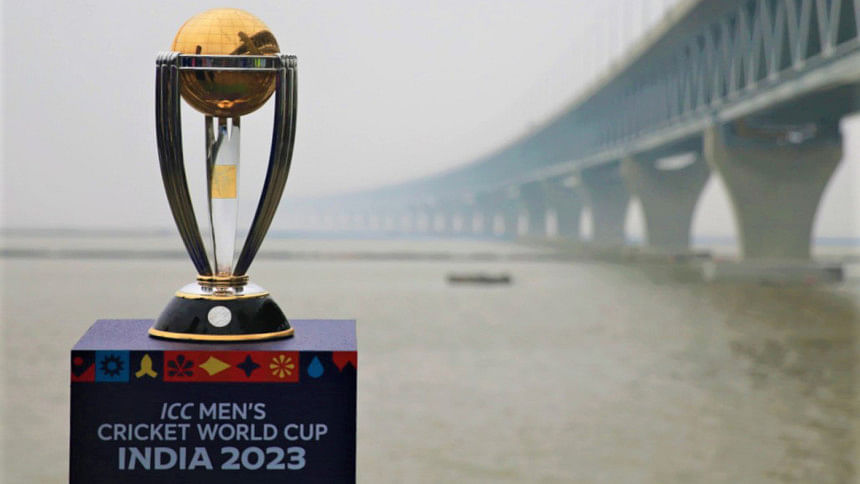 The 13th edition of the ICC ODI World Cup is scheduled to begin on October 5 this year in India.
Ten teams will feature in the 46-day tournament, to be held across 10 cities. Along with Ahmedabad, the other host cities include Bangalore, Chennai, Delhi, Dharamsala, Hyderabad, Kolkata, Lucknow, Mumbai and Pune.
International Cricket Council (ICC) on August 9 released full fixtures by bringing some changes in date and time to the original one.
The eagerly awaited contest between India and Pakistan has been rescheduled to a different day, while details of eight other matches have also been changed.
Full fixtures: 
(All timing are as per Bangladesh Standard Time)
Oct 05: England vs New Zealand
Venue: Narendra Modi Stadium, Ahmedabad
Time: 2:30 PM
Oct 06: Pakistan vs Netherlands
Venue: Rajiv Gandhi International Stadium, Hyderabad
Time: 2:30 PM
Oct 07: Bangladesh vs Afghanistan
Venue: Himachal Pradesh Cricket Association Stadium, Dharamsala
Time: 11:00 AM
Oct 07: South Africa vs Sri Lanka
Venue: Arun Jaitley Stadium, Delhi
Time: 2:30 PM
Oct 08: India vs Australia
Venue: MA Chidambaram Stadium, Chennai
Time: 2:30 PM
Oct 09: New Zealand vs Netherlands
Venue: Rajiv Gandhi International Stadium, Hyderabad
Time: 2:30 PM
Oct 10: England vs Bangladesh
Venue: Himachal Pradesh Cricket Association Stadium, Dharamsala
Time: 11:00 AM
Oct 10:  Pakistan vs Sri Lanka
Venue: Rajiv Gandhi International Stadium, Hyderabad
Time: 2:30 PM
Oct 11: India vs Afghanistan
Venue: Arun Jaitley Stadium, Delhi
Time: 2:30 PM
Oct 12: Australia vs South Africa
Venue: Bharat Ratna Shri Atal Bihari Vajpayee Ekana Cricket Stadium, Lucknow
Time: 2:30 PM
Oct 13: New Zealand vs Bangladesh
Venue: MA Chidambaram Stadium, Chennai
Time: 2:30 PM
Oct 14: India vs Pakistan
Venue: Narendra Modi Stadium, Ahmedabad
Time: 2:30 PM
Oct 15: England vs Afghanistan
Venue: Arun Jaitley Stadium, Delhi
Time: 2:30 PM
Oct 16: Australia vs Sri Lanka
Venue: Bharat Ratna Shri Atal Bihari Vajpayee Ekana Cricket Stadium, Lucknow
Time: 2:30 PM
Oct 17: South Africa vs Netherlands
Venue: Himachal Pradesh Cricket Association Stadium, Dharamsala
Time: 2:30 PM
Oct 18: New Zealand vs Afghanistan
Venue: MA Chidambaram Stadium, Chennai
Time: 2:30 PM
Oct 19: India vs Bangladesh
Venue: Maharashtra Cricket Association Stadium, Pune
Time: 2:30 PM
Oct 20: Australia vs Pakistan
Venue: M.Chinnaswamy Stadium, Bengaluru
Time: 2:30 PM
Oct 21: Netherlands vs Sri Lanka
Venue: Bharat Ratna Shri Atal Bihari Vajpayee Ekana Cricket Stadium, Lucknow
Time: 11:00 AM
Oct 21: England vs South Africa
Venue: Wankhede Stadium, Mumbai
Time: 2:30 PM
Oct 22: India vs New Zealand
Venue: Himachal Pradesh Cricket Association Stadium, Dharamsala
Time: 2:30 PM
Oct 23: Pakistan vs Afghanistan
Venue: MA Chidambaram Stadium, Chennai
Time: 2:30 PM
Oct 24: South Africa vs Bangladesh
Venue: Wankhede Stadium, Mumbai
Time: 2:30 PM
Oct 25: Australia vs Netherlands
Venue: Arun Jaitley Stadium, Delhi
2:30 PM
Oct 26: England vs Sri Lanka
Venue: M.Chinnaswamy Stadium, Bengaluru
Time: 2:30 PM
Oct 27: Pakistan vs South Africa
Venue: MA Chidambaram Stadium, Chennai
Time: 2:30 PM
Oct 28: Australia vs New Zealand
Venue: Himachal Pradesh Cricket Association Stadium, Dharamsala
Time: 11:00 AM
Oct 28: Netherlands vs Bangladesh
Venue: Eden Gardens, Kolkata
Time: 2:30 PM
Oct 29: India vs England
Venue: Bharat Ratna Shri Atal Bihari Vajpayee Ekana Cricket Stadium, Lucknow
Time: 2:30 PM
Oct 30: Afghanistan vs Sri Lanka
Venue: Maharashtra Cricket Association Stadium, Pune
Time: 2:30 PM
Oct 31: Pakistan vs Bangladesh
Venue: Eden Gardens, Kolkata
Time: 2:30 PM
Nov 01: New Zealand vs South Africa
Venue: Maharashtra Cricket Association Stadium, Pune
Time: 2:30 PM
Nov 02: India vs Sri Lanka
Venue: Wankhede Stadium, Mumbai
Time: 2:30 PM
Nov 03: Netherlands vs Afghanistan
Venue: Bharat Ratna Shri Atal Bihari Vajpayee Ekana Cricket Stadium, Lucknow
Time: 2:30 PM
Nov 04: New Zealand vs Pakistan
Venue: M.Chinnaswamy Stadium, Bengaluru
Time: 11:00 AM
Nov 04: England vs Australia
Venue: Narendra Modi Stadium, Ahmedabad
Time: 2:30 PM
Nov 05: India vs South Africa
Venue: Eden Gardens, Kolkata
Time: 2:30 PM
Nov 06: Bangladesh vs Sri Lanka
Venue: Arun Jaitley Stadium, Delhi
Time: 2:30 PM
Nov 07: Australia vs Afghanistan
Venue: Wankhede Stadium, Mumbai
Time: 2:30 PM
Nov 08: England vs Netherlands
Venue: Maharashtra Cricket Association Stadium, Pune
Time: 2:30 PM
Nov 09: New Zealand vs Sri Lanka
Venue: M.Chinnaswamy Stadium, Bengaluru
Time: 2:30 PM
Nov 10: South Africa vs Afghanistan
Venue: Narendra Modi Stadium, Ahmedabad
Time: 2:30 PM
Nov 11: Australia vs Bangladesh
Venue: Maharashtra Cricket Association Stadium, Pune
Time: 11:00 AM
Nov 11: England vs Pakistan
Venue: Eden Gardens, Kolkata
Time: 2:30 PM
Nov 12: India vs Netherlands
Venue: M.Chinnaswamy Stadium, Bengaluru
Time: 2:30 PM
Nov 15: 1st Semi-Final
Venue: Wankhede Stadium, Mumbai
Time: 2:30 PM
Nov 16: 2nd Semi-Final
Venue: Eden Gardens, Kolkata
Time: 2:30 PM
Nov 19: Final
Venue: Narendra Modi Stadium, Ahmedabad
Time: 2:30 PM