'West Indies are showing us why they are better'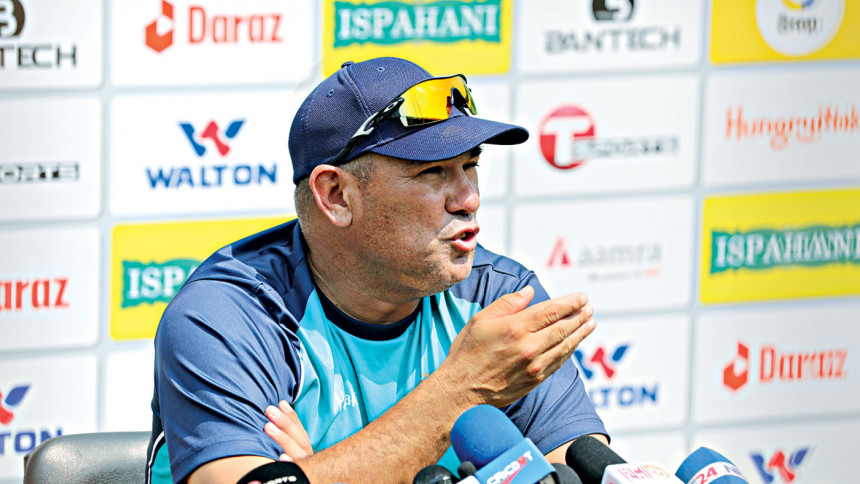 Bangladesh let an opportunity go by in putting West Indies under pressure in the second Test at Saint Lucia yesterday as the hosts recovered from losing four wickets in the first session. Bangladesh head coach Russell Domingo said that West Indies showed how to make your own luck from difficult match scenarios.
West Indies went to lunch on day two at 137 for four but after lunch, Kyle Mayers took charge of the innings and blazed to a hundred. Domingo said that West Indies were showing how to get out of bad situations as the Tigers had been in a similar situation with the bat on day one but their innings crumbled in the middle-order.
"Not good enough. Some serious questions with both the bat and the ball at the moment," Domingo analysed the performances over two days in the second Test while talking to reporters in the press conference.
"It's not a 250 all out wicket. If it weren't for a 30-run partnership at the end, we will be 190 all out. Just not good enough in terms of putting together performances with the bat. West Indies are showing us why they are better than us in this format at the moment," he said.
Windies lost just one wicket after the lunch session as Mayers and Jermaine Blackwood strung together a 116-run fifth-wicket stand. Once Blackwood departed in the third session, Mayers put together an unbroken 92-run partnership with Joshua Da Silva as Windies reached close of play at 340 for 5.
Bangladesh did not have a single fifty-run partnership during their innings.
"They have got a guy who's got a hundred and they got a big score lined up because they managed to build partnerships and withstand the pressure where we have folded and they just batted longer and showed us how to do it," Domingo noted regarding the difference between Bangladesh first innings and Windies first innings.
Tamim Iqbal had struck 46 while Liton Das notched a fifty but Domingo said that Bangladesh needed a big innings to get to better scores and avoid batting disasters.
"Definitely there's a lot of players looking for form and searching for runs and the only way to get through it is to bat for a long periods of time. We are getting a lot of 30s and 40s and odd 50s but nobody is doing what Kyle Mayers is doing and getting a big hundred. That's the difference between 230 and getting 400. Somebody has got to get a 126 like he is doing," he said.
Domingo said that while the match is a big lesson for the Tigers, Mayers' knock showed how to make your own luck. Mayers came out with very attacking intent in the second session and gradually settled down to a sustainable tempo.
"They chased down 400 against us at Chittagong. Kyle Mayers got 200. We're not getting those scores at the moment. Big lessons for the boys. Test match cricket is hard and when you are not batting as well as you should, good teams will punish you and we're being punished at the moment.
"He [Mayers] played really positive cricket and scored in his areas. Kept hitting the ball through covers and stuck to his game plan as long as possible. There is no doubt he had a bit of luck. A few things went his way, a couple of nicks over slip, one or two just wide of slip. But you got to make your own luck. He played with good intensity and put away the bad ball," Domingo concluded.