Tamim 'pleased' after win but rues dropped catches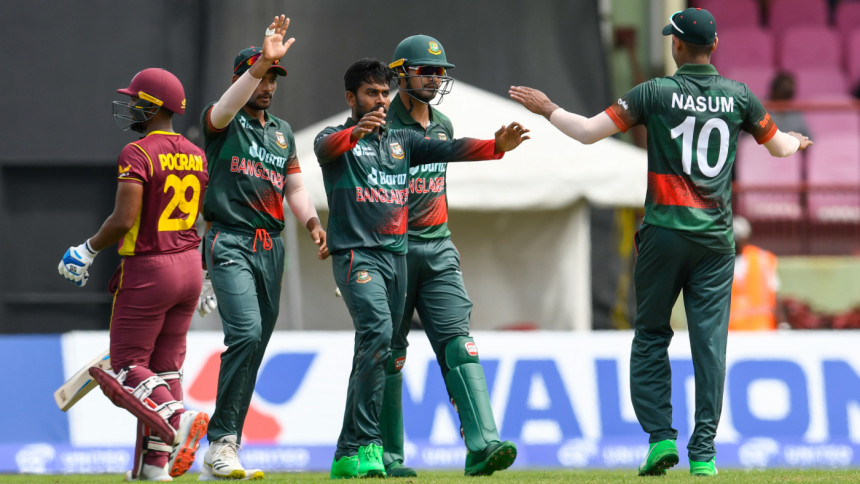 There is hardly anyone who can argue with the fact that Bangladesh know what it takes to win a ODI match much better than the other two formats and they proved it again by winning the first match of the three-match ODI series against West Indies in Guyana on Sunday.
Player-of-the-match Mehedi Hasan Miraz, the spinner who along with pacer Shoriful Islam shared seven wickets between them to restrict West Indies to 149 for nine in a 41-overs-a-side match, also reminded it after their six-wicket victory.
"We haven't been able to practice much in the last 10 days due to the rain. We have played really well in ODI cricket. We won the series against South Africa. Everyone in the team knows their roles," said Miraz, who took three wickets for 36 runs, during a post-match presentation.
Bangladesh picked up their first win in the ongoing tour of the West Indies after humiliating defeats in the Test and T20I series and Bangladesh ODI skipper Tamim Iqbal expressed his satisfaction over the win.
"I am very pleased as I said earlier, losing is no fun. A win changes everything including the environment of the dressing room," Tamim told the reporters after the match.
"The wicket was difficult for both the teams. Winning the toss was the best part of the game. As a team, we didn't get greedy looking at the pitch. [On his run out dismissal] It's not a blame-game here. These things happen. [On Nasum Ahmed] He has been doing well in T20's. Good to see him bowl," he added.
It was the ninth consecutive ODI win for the Tigers against West Indies, who won their last match against Bangladesh at the Sher-e-Bangla National Stadium in Mirpur in December, 2018.
When Tamim's attention was drawn to the aforementioned stat and was asked whether the West Indies is an easy opponent in ODI cricket, the left-handed batter responded with a smile and said: "You didn't ask this question before the match. They are a very good team and they showed it in the Test and T20 series."
Tamim, however, did rue over the dropped catches since the Tigers could have restricted the hosts to a lower total had they not dropped as many as four catches, all of them at the later stage of the game.
"Still we have this area to improve. We made a good start but we can play better cricket. We really have to look at it [the dropped catches]."