'Can't win Tests from being five down for 24'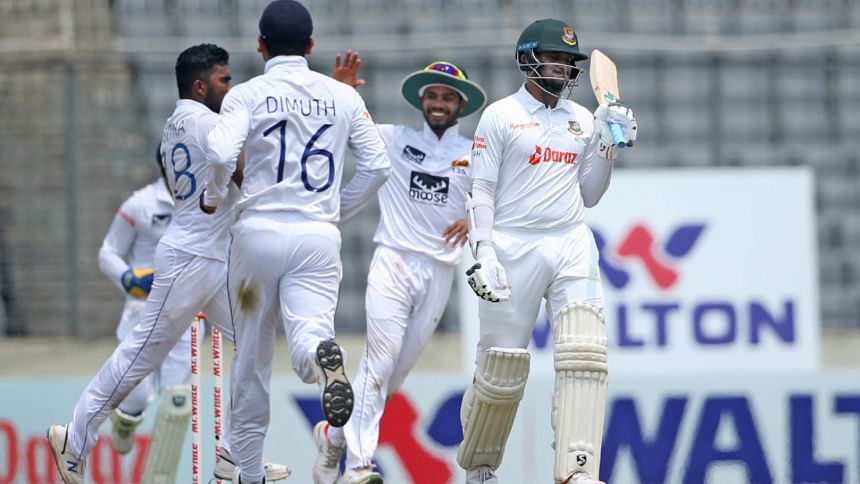 Bangladesh head coach Russell Domingo said that it is not possible to win Tests after suffering horrible batting collapses as the Tigers did in the recently-concluded home Test series against Sri Lanka. 
"We have got to do something different," said Domingo in the post-match press conference following Sri Lanka's 10-wicket win over Bangladesh on the final day of the second Test in Mirpur today. 
Bangladesh suffered top-order collapses in both the innings in their series-deciding Test against Sri Lanka. The Tigers were reduced to 24 for five inside seven overs in the first innings but were fortunately saved by the heroics of Mushfiqur Rahim and Liton Das -- both of whom struck hundreds and stitched a record stand to pull Bangladesh out of a deep hole. 
In the second innings as well, the Tigers' top-order suffered the same fate. At one point, they were reeling at four for 23 and looking at an innings-defeat. But a hundred-run stand between Liton and Shakib Al Hasan saved the Tigers from utter humiliation but still could not avert a heavy thumping by Sri Lanka, who cinched the two-match series 1-0. 
Building on what he said regarding 'doing something different', Domingo hinted that there might be changes in the batting order in the Tigers' upcoming multi-format tour of the West Indies next month. 
"It means there could be changes in the [batting] order or we will change one or two things. In both the innings [in the second Test against Sri Lanka], we were 24 for four and 24 for five in the first innings. We are not going to win Test matches from those positions. We have got to change something. 
"It happened too many times in the last six to eight months. And if that means we have to change the order and look for one or two new options, we possibly have to do that going forward," added Domingo. 
Bangladesh have already announced squads for all three formats for their upcoming tour of the Caribbean, where the Tigers are scheduled to play two Tests, three ODIs and three T20Is. With Mushfiqur Rahim opting out of the tour for performing the Hajj pilgrimage, a few changes in the batting order are set to be made in the West Indies tour. 
Bangladesh were bundled out for under 100 three times in their last seven Tests. Domingo realised that it is a recurring problem for the Tigers and vowed to do something different in the upcoming series.
"Like we did before going to New Zealand, we are going to have to prepare really well [for the tour of the West Indies]. We need to be willing to leave balls and be very patient and go back to old-fashioned Test match batting. We need to do something different and take a look at the batting order. Because if we do the same thing, we will get the same result," Domingo added.