Unfamiliarity the concern for Tigresses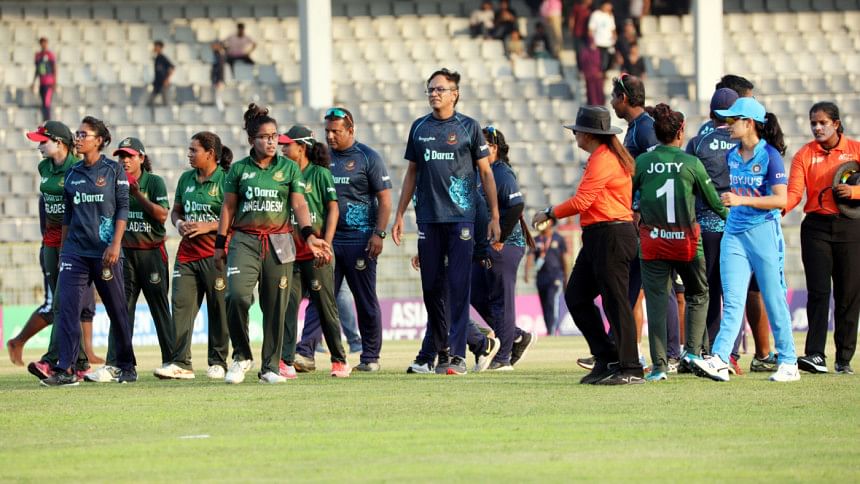 Bangladesh were completely outplayed on Saturday and suffered a heavy 59-run defeat against a fierce Indian side in a Women's Asia Cup encounter at the Sylhet International Cricket Stadium.
However, more concerning than the margin of defeat is the Tigresses' inability to go toe to toe with big teams like India, which was apparent by the way Nigar Sultana Joty's side faltered yesterday.
"Most of the time, we play these [big] teams only during World Cups. We do not play frequent series against them. That's a problem," Joty said at the post-match press conference yesterday.
The other game that the defending champions lost in this edition of the Asia Cup was against Pakistan. However, much of the blame for the nine-wicket thrashing in that game was attributed to a slow and unsporting track at the Sylhet ground 2.
Bangladesh came into this tournament as unbeaten champions in the ICC Women's T20 World Cup Qualifiers, where they convincingly beat the likes of Ireland, Thailand, Scotland, and the USA.
For the Tigresses, as per Joty, the problem lies in their lack of exposure against teams like India throughout the year.
"The teams we play against regularly, we know about their bowlers and their strengths. So, we are doing well against those teams. If we are given the opportunity to play another game against India, we will definitely play better cricket," Joty added.
India posted a big 160-run target and suddenly Bangladesh found themselves in an uncharted territory. Although they did not lose a wicket, the Tigresses could only muster 30 runs in the Powerplay. They played as many as 21 dots during those six overs of initial field restriction.
"When chasing such a big total, the utilisation of the Powerplay remains the most important aspect. If they [the openers] could score 45 runs or around 50 runs in the Powerplay, we would not have lost by such a big margin. We could even have been in with a chance to win the game," Joty realised.
The Tigresses' innings stopped at 100 for seven in 20 overs but they looked to be out of the contest long before that. Bangladesh have two more games to play – against Sri Lanka and the UAE – in the league stage of the tournament and winning any one of them could make the case for seeing the Tigresses progress to the semifinals.
A spot in the semifinals seems all but certain for the hosts but the main headache for this Bangladesh side would be when they might face another unfamiliar opponent at the latter stage of the tournament.