Djokovic sees off Norrie to reach Italian Open quarter-finals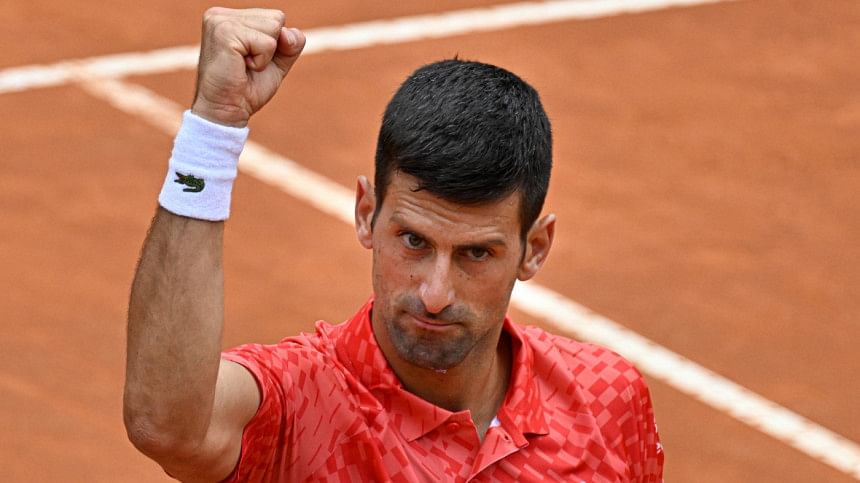 Novak Djokovic eased into the Italian Open quarter-finals on Tuesday after breezing past Cameron Norrie 6-3, 6-4, although there was tension with the Briton after the top seed was hit by a smash.
The Serb has reached the last eight in each of his previous 16 appearances in the Italian capital and he did again on Tuesday, getting past Norrie on centre court to set up a clash with either Alexei Popyrin or Holger Rune.
Djokovic is gunning for a seventh title on clay in Rome and his chances have been made a little bit easier by the shock elimination of Carlos Alcaraz on Monday.
Alcaraz, who won two consecutive tournaments at Barcelona and Madrid, will take world number one spot from Djokovic on May 22 but it is the 22-time Grand Slam champion who could go into Roland Garros with yet another title under his belt.
Djokovic won the first three games against Norrie and closed out the first set with little fuss, without needing to be at his best.
The 35-year-old then took the second set to 2-1 with a break, but in the next game Norrie broke back while angering Djokovic with a smash which hit him on the back of his left leg.
Norrie had the whole court to put the ball away as Djokovic had given up on the point and was walking back to the service line.
Norrie raised his hand to apologise but at the changeover after the Briton moved to 3-2 Djokovic gave him another long beady-eyed stare as he passed him.
And after Djokovic sealed victory with his second match point he gave Norrie a cursory handshake at the net, while avoiding eye contact and exchanging no words with his dispatched opponent.