'I never thought I could win clay title'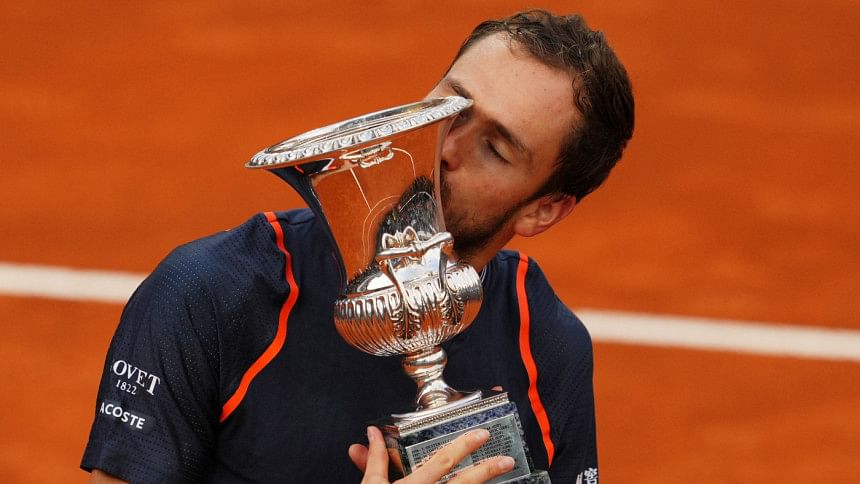 Daniil Medvedev said Sunday that ending his long-standing clay court title jinx was almost equal to capturing the 2021 US Open.
The Russian added a first clay trophy to his 19-title collection with a 7-5, 7-5 win over Holger Rune in the Italian Open final in Rome.
It was his his fifth title of the season and sixth career Masters trophy from six different venues.
"In a way, it's the number one career honour," said the 27-year-old.
"I would never (have) thought I would be able to make this. But I have to be honest -- a Grand Slam is always bigger."
He added: "This one is special because I didn't think it was going happen, I still kind of don't believe - not that I won it, but I played so well this week."
Medvedev, who had been 0-3 in his three previous trips to the Italian capital, had knocked out 2017 champion Alexander Zverev and 2022 runner-up Stefanos Tsitsipas on his way to Sunday's final.
"I didn't think I could win a Masters 1000 on clay in my career because usually I hated it, I hated playing on it. I didn't feel good on it and nothing was working."
The world number three, who will rise to second in Monday's rankings, admitted he was now warming to the slowest surface in the sport.
"I don't love clay, but let's call it a friendship," said Medvedev after his one-hour, 41-minute win over 20-year-old Rune.
"My tennis love is hard court, but I like clay more now."
Medvedev will be seeded second at the French Open, which starts next weekend, behind Carlos Alcaraz with two-time Roland Garros winner Novak Djokovic in third.
Rafael Nadal, the 14-time champion, has already withdrawn due to a hip injury suffered in January.
"I guess it's better to be number two -- Carlos and I don't play for sure before the final, and Novak (there is) maybe a 50 per cent chance he's not in my draw," said Medvedev.
"At the same time I haven't been further than the quarters in Roland Garros."
Medvedev was an opening-round loser in the French capital in all his first four visits before making the quarter-finals in 2021 and last 16 in 2022.
On Sunday, Medvedev was playing his second clay final after Barcelona in 2019 where he lost to Dominic Thiem.
Rune was trying to become the youngest player to win the title in Rome since then-19-year-old Nadal lifted the trophy in 2006.
He defeated Djokovic and Casper Ruud en route to the final and had been hoping to win a second Masters after triumphing at Paris last year.